TREKKING AND HIGH CAMPING TOUR IN CHACHANI MOUNTAIN $170 USD Per Person - Group Service
Climbing The Roof Of The White Mountain 2 Days - 1 Night
Nevado Chachani is the highest stratovolcano near of Arequipa city, located 23 km north of the city, southern of
Peru
(6075m). Chachani means "skirt" in Quechua and a female character is normally attributed to the mountain in local legends. Chachani does not have a permanent ice cap or glaciers Chachani presents a significant hazard potential, particularly because of its height and proximity to
Arequipa
. Suburbs of Arequipa west of the
Rio Chil
i are particularly vulnerable to pyroclastic or mud flows. These are located less than 23 unobstructed kilometers horizontally and 3,000 m vertically from the summit of Chachani. The ascent to the summit is therefore non-technical and can be attempted by inexperienced climbers; climb to Chachani is popular with 1 or 2 day guided trip to the summit, though the altitude is considered challenging for those who are not fully acclimatized.
2Day Trekking And Camping Tour In Chachani Mountain - Climbing Chachani 2Day - Mountaineering Summit Of Chachani Volcan - Trekking Tour To Volca Chachani - Climbing Chachani Volcano - Mount Chachani - Nevado Chachani - Chachani Mount - Trek Tour To Chachani - 4x4 Transport To Chachani Mountain - Climb To Chachani - Picture of Chachani - Chachani Base Camp - Chachani Trek - Chachani Camping Zones - Chachani Mountain Guide Service - Chachani Summit - Chachani Forescat - Maps Of The Route To Chachani - Climb To Chachani 6075M - VolcanChachaniPeru - Tour To Nevado Chachani - Review Of Climb Tours To Chachani Volcano - Mountain Guides For Climb Chachani Arequipa Peru
For serious weather report about Chachani CLICK HERE...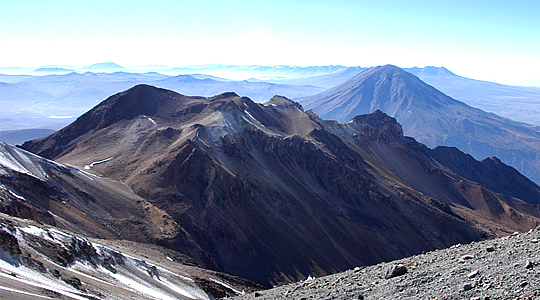 TREK & CLIMB ITINERARY FOR CHACHANI MOUNTAIN
DAY 1: AREQUIPA - AGUADA BLANCA AND SALINAS NATIONAL RESERVE - PURUÑA ROCK FOREST - CHACHANI BASE CAMP
At 9AM we meet at your hotel and travel in our 4WD vehicle for about 3 hours from Arequipa up to end of the road - We drive on dirt road passing steep hills were our driver test the power of our 4x4 – We stop at backside of Chachani on plateau as known as Pampas Cañahuas and recognize as part of the national reserve of Aguada Blanca and Salinas, where it is possible to observe wonderful animals called Vicuñas, Guanacos, Eagles, Viscachas, Deer, Andean foxes and sometimes Condors if you are lucky – All those fauna live at 4000m above sea level, they are protected species by the government of Peru and all communities surrounding the reserve and Chachani Mountain - The most common flora along the way will be AZORELLA COMPACTA as known as Llareta by locals.
TRIP EXTENSION (Puruña Rock Forest)- This will be to visit a forest of rock formation as known as Puruña - This is located inside the National reserve of Aguada Blanca y Salinas but very rarely visited by hikers or climbers - The rock formation valley is thanks to the white ash from the eruptions of Chachani - PERU ADVENTURE TOURS really recommend to enjoy the view of this landscape and practice a short hike (20 min) to get better acclimatize to altitude before you go up to 5200M (base camp).
Then continue a challenge 4x4 off-raoding on the slopes of Chachani until a place named "El Collado" at 5100M of altitude (12:00HRS), this last section of the road is in bad condition for about 40 minutes (if you have a car sick be aware of that) - There we check and pack all our equipment to be used for climb Chachani Mountain – The guide prohibit you to forget any recommend/suggested equipment because is not way to replace it up there – The first part of the hike is very gradual and almost flat following ancient paths in good maintenance and market thanks to mountain guides - The second hour of the hike to includes some gradual uphill passing small and undiscovered Inca ruins on the lower zone of the path – After two hours of hiking carrying all your gear for camping and climbing finally arrive to the base of Chachani (5200m) - Set up the tents and have mountain lunch with spectacular view of the Andes – The base camp includes nice plateau on the north face of the mountain for almost 25 twin tents – After the sunset over the Andes you will be awarded with small but very rich in calories to recover energy for the next day – Lot Coca tea is available all time and rest in four season tents under starry sky or cloudy night according season of the year (L – D).
DAY 2: CHACHANI BASE CAMP - CHACHANI SUMMIT - AREQUIPA
Today between 2AM and 4AM wake-up time and depending how the weather will be and how you feeling with altitude sickness – The tour guide or the cook will offer you a hot and energetic breakfast and then you have to verify all your climbing gear as gloves, boots, headlamp, walking poles, camera, bottle of water, wind proof gear to protect you from cold wind (-12°C or lower).
Today will be the hardest part all the way up (900 meters approx.) to conquest the summit of Chachani (6075m) – All the way up takes between 4 and 6 hours for climbers and this vary according physical conditions and level of acclimatize to altitude of each participants – 80% of climbers get summit of Chachani even if they have headache but being awarded amazing view from the top – The climbers spend around 30 minutes on the top getting spectacular views of the landscapes of Coropuna, Ampato, Hualca Hualca, Sabancaya, Misti, Ubinas, the city of Arequipa and other landscapes – This climb doesn't demand a technical rock or ice wall climbing because Chachani Mount demands just trekking in high altitude.
At mentioned time downhill hike to base camp for about 2 hours and one hour of resting and packing all the gear to get some food and then continue hiking down to find the 4WD vehicle and drive back to Arequipa (3PM) – This final journey takes around 3 hours to your hotel and end of unforgettable experience (B - L).
2DAY TREKKING AND HIGH CAMPING TOUR IN CHACHANI MOUNTAIN INCLUDES

GROUP
SERVICE $170 USD P.P

SEMI-PRIVATE
SERVICE
$292 USD P.P

PRIVATE
SERVICE $535 USD P.P

1 English-Speaking Guide (certified)
2 Shared 4WD up to 5000M (drop off/pick up only)
3 Private 4WD transport at any time
4 Meals on the mountain (2S - 1D - 1B)
5 Tea time (hot drink, biscuit, popcorn and more)
6 Camping gear (Tent & mats)
7 Dining tent, table and camping chairs
8 Porter to carry camping gear (tent, mats, up 18kg)
9 Personal porter to carry personal items
10 Climbing equipment (crampons, ice axe, etc)
11 Headlamp & Walking poles
12 Personal medical bottle of oxygen (1m cubic)
13 4x4 rescue evacuation service at any time
14 First aid kit for all participants and our camp staff
15 Pre-talk trek
16 Food and camping gear for our camp staff

YES
YES
--
YES
--
YES
--
--
--
YES
--
--
--
--
--
YES

YES
YES
--
YES
--
YES
--
YES
--
YES
--
--
--
--
--
YES

YES
--
YES
YES
YES
YES
YES
YES
YES
YES
YES
YES
YES
YES
YES
YES
All prices stated above are subject to change.
SEE OUR CAMPING GEAR,
Click here...
See the climbing map of Chachani Mountain in Arequipa
.
EXCLUDED
Travel insurance
Soft or alcoholic drinks
Salty and sweet snacks
Sleeping bag -15ºC (backpacker service) can be hired from our office for $5 USD per day, in Arequipa
Breakfast on the first day
Mountain boots or rubber boots
Flight confirmation
Phone calls
Tip for guide and camp staff
Wind pants, wind jacket, headlamp, boots, backpacks and others - They can be hire from our local office of Arequipa for additional cost
Personal Medical Oxygen Bottle - This can be hired from our office MORE INFORMATION CLICK HERE...
WHAT YOU NEED TO BRING/CARRY
Backpack 70Lt minimum
6 Liters of drinking water and cook
Sleeping bag -15ºC - Hire $5 USD per day (Group Service)
Windproof jacket & pants
Strong comfortable and waterproof boots
One complete change of clothing
Sweater and thermal pants (something warm)
6 liters of water per person, minimum
Flashlight and batteries (Group Service)
Hat or cap to protect you from the sun
Sun block (sun protection cream)
Toilet paper
Selection of small snacks, chocolate, dried fruit, biscuits etc
Camera, plenty of film and spare batteries
Binoculars
Your personal first aid kit
Walking sticks or poles (Group Service)
THE TREK UP TO TOP OF CHACHANI MOUNTAIN (6070M) WILL BE HARD EVEN IF YOU ARE EXPERIENCED CLIMBER - WE RECOMMEND TO HAVE GOOD ACCLIMATIZE TO ALTITUDE, GOOD PHYSICAL CONDITION AND GOOD WINTER CLOTHES TO AVOID THE COLD.
PERU ADVENTURE TOURS recommend to get good training hiking over 3000 meters above sea level - The training could be around Lake Titicaca or in the Colca canyon - This trek can be very exhausting but very awarded at the end of the trek.
PORTER SERVICE FOR GROUP AND SEMI-PRIVATE SERVICE
This cost $95 USD per day, to carry your personal items. You will need to carry a daypack with your Camera, bottle of water, snacks, a fleece or something warm and a poncho in case of rain (unlikely in Dry season but as a precaution) and anything you will need before lunch as porters do not walk alongside you. Your bag will be waiting for you in your tent at campsite (5200M). Please note there are fines if you give an excess of 18 kilos so try to under pack rather than over pack. You can hire a porter from Arequipa to carry your pack over the base camp.
IMPORTANT BEFORE YOU BOOK A TREK TO CHACHANI MOUNT
PERU ADVENTURE TOURS as a certified tour operator never works as intermediaries or pass our customer to other operator to develop this adventure - We sell our treks/tours/services and we develop them according our own logistics (transportation, guides, equipment's, camp staff and others) without compromise with other tour companies - We really recommend to take lot care before you book a cheap trek to Chachani with other "
tour company
" because easily they can cancel the depart if they don't get more than 4 participants to make a group or they can change the date of your trek to join other later group or they will refund your money saying fake excuses to avoid any responsibility as intermediaries.
GROUP SERVICE $170 USD Per Person (Up to 4 people per each guide):
This service requires 3 participants as minimum to be a group - If you come alone (solo) or your group is not more than 2 people we can accept your reservation but under condition to find more people until a day prior of your trip otherwise we will refund of your money by PayPal - Normally the group size vary between 4 and 8 participants for each two guides.
SEMI-PRIVATE SERVICE $292 USD Per Person (Up to 4 people per each guide):
The minimum number for this service is 2 participants and this can be booked in advance to guarantee the depart according your request - This includes a porter to the camping gear as tents, mats, sleeping bags and other up to 18kg and only to the base camp (4600M) - Reserving this service you have to share the transport with other customers.
PRIVATE SERVICE $535 USD Per Person (Up to 4 people per each guide):
This is fully supported service with private 4x4 transport at any time during the period of the trip - Full porter service to carry all camping/climbing gear, food and your personal items - This also includes a personal bottle of oxygen (1 Cubic Meter) to use during the night and the second day all the way up to the summit - We recommend to reserve this tour in advance to guarantee all services and of course this can be booked one day in advance but the service will be guarantee only if we have available transpor/driver, tour guide and porters.
ALL THESE SERVICES NEEDS A DEPOSIT BY
PAYPAL
AS FIRST PAYMENT - THE FINAL BALANCE OF THE TRIP HAS TO BE PAID IN OUR LOCAL OFFICE OF AREQUIPA OR YOU CAN ARRANGE A SECOND PAYMENT A WEEK PRIOR YOUR TRIP - ALL LAST MOMENT BOOKINGS FOR THIS TREK NEED TO BE PAID IN CASH.
4x4 RESCUE EVACUATION SERVICE (Group & Semi-Private Service)
This service is available at any time and for Group & Semi-Private Service for $175 USD for picking up from the base of the volcano and drop off at your hotel or near hospital - Normally this happen with people feeling high sickness or other accident on the mountain.
Our tour price doesn't include this service but easily can be covered by your travel insurance.
The PRIVATE SERVICE already have included this service at any time.
DISCOUNT FOR TREKKING TO CHACHANI MOUNTAIN
5% FOR TRAVEL AGENTS & TOUR INTERMEDIARIES (Group/Semi-Private & Private Service)
Just certified and recognized agents get the right to get a 5% of discount for each customer going on the trek to Chachani volcano - The discount is not apply only for tours but not for wiring fees of bank or PayPal.
5% FOR GROUPS (Group/Semi-Private & Private Service)
Apply only for groups over 4 or more people booking in advance through our website and with a deposit by PayPal - This discount is apply just for the trek and climb but not for rental equipment's and porter service.
RAIN SEASON
December to March. Some days blue sky with good conditions for trek and climbing to Chachani Mountain (6070M) - During the rainy season easily we can find lot snow close of the summit and for this section of the trail we need to use ice axe, crampons, rope and harness but everything depends how high is the snow up there - Of course we recommend to bring good rain gear as waterproof backpack and hiking boots, and others.
ADVICE FOR CLIMBERS - TREK DIFFICULT
To have good acclimatization, good physical conditions and good quality winter clothes. One day before all the climbers will have meeting with the mountain guide at our office or in the hotel, who will give a BRIEFING about this climb and also you can check the quality of the climb gear will be used on the mountain.
THE TREK TO VOLCAN MISTI IS ONE OF THE HARDEST TREK EVEN DURING THE WET AND DRY SEASON - THE WAY UP IS VERY SANDY AND STEEP MAKING HARDER, COLD, HOT, DUSTY, WINDY AND YOU WILL AWARDED WITH NICE VIEW AROUND - TO ALL CUSTOMERS WE RECOMMEND TO BE IN GOOD SHAPE TO GET THE SUMMIT OTHERWISE OUR CAMP STAFF COULD NOT HELP YOU.
All prices stated above may change prior to the travel date. All prices are subject to availability and or can vary without notice at any time.
The information provided in this tour itinerary is intended for informational purposes only and our company (Peru Adventure Tours) can change or update the itinerary without notice for a better performance of the trip or in case by force majeure such as social problems, natural phenomena (climates, earthquakes, etc).
CONTACT US
For more information about the tour or you request a new date to departure for this tour, please contact us....
Some of our clients e-mail us saying our confirmation e-mails are placed to their spam folder rather than their inbox. We recommend to modify your JUNK or SPAM FILTER SETTINGS to receive our e-mail
peruadventurestours@hotmail.com
on the correct inbox. You may also want to add this email address to your list of known contacts. This will prevent our responses from being filtered into your Junk or Spam mail folder.