Arequipa
Trekking Tours
Climbing Tours
Biking Tours
Horseback Riding
Classic Tours
Sandboarding Tours

COTAHUASI CANYON - LLAMA TREK VERSION $786 USD Per Person
Llama Trek Through Ancient Trails On The Andes 6 Days - 5 Nights
Cotahuasi Canyon - Llama Trek Tthe best ancient adventure trekking on the deepest canyon in the world, situated in the northern of Arequipa, in the Union province. The Cotahuasi canyon, which extends from the foothills of the Solimana snowcapped mountain until the confluence of the Ocoña River, has 3535m deep in the Marpa sector, being the deepest part of a wonderful trip where you can enjoy revitalizing thermo medicinal waters, white glaciers and a great variety of flora and fauna. The canyon is full of a great variety of sceneries that increase its beauty thanks to the vigilant presence of the Snow-capped Coropuna and Solimana Mountains.
The weather diversity in this region has helped creating the adequate habitats for a variegated flora and fauna. Species such as the Andean condor (Vultur gryphus), the vicuña (Vicugna) and the millenarian natural treasures have found in the depths of the Canyon, which added to the archaeological and cultural attractions in the zone, collaborated on it being declared National Tourist Reserved Zone in 1988.
PERU ADVENTURE TOURS offer the experience of enjoying the wonders Coatahuasi canyon has, trekking along dazzling settings, crossing two hanging bridges that cross over the Cotahuasi River. The Cascade of Sipia is an impacting waterfall 150m high. Thanks to it you will be able to appreciate the power of the River and the depth of the Canyon. The water drops jumping everywhere form a constant rainbow that fills the place with magic colours. The place is ideal for the practice of mountain biking, canoeing, rafting, rock scaling, trekking, fishing, horseback riding, etc.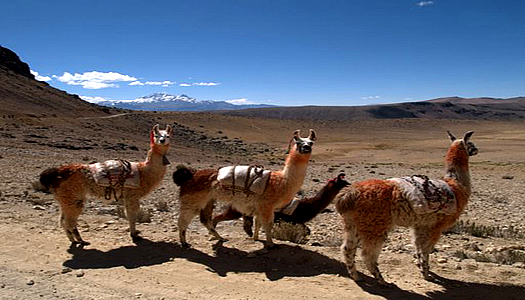 COTAHUASI CANYON - LLAMA TREK VERSION
Tour itinerary is coming soon.
DAY 1: AREQUIPA - MAJES CANYON - CHUQUIBAMBA - VISCAS
DAY 2: VISCAS - HUACHUY
DAY 3: HUACHUY - QUECHUALLA - VELINGA
DAY 4: VELINGA - CHAUPO - SIPIA WATERFALL
DAY 5: SIPIA WATERFALL - COTAHUASI - TOMEPAMPA - LUICHO
DAY 6: LUICHO - COTAHUASI - AREQUIPA
COTAHUASI CANYON INCLUDES
Round trip private 4x4 vehicle (Private Service only)
Public bus service (Backpacker Service only)
Experienced English speaking guide
Camping gear (4 season tents and matresses)
All food mentioned in the program
Llamas to carry all the camping equipment, food and backpacks
Emergency horse in case some one needs
Kitchen and dinning tent with camp tables and chairs (Private Service only)
Guide assistant (Private Service only)
Cooks (Private Service only)
Bottles of water on whole trek (Private Service only)
Oxygen bottle and first aid kit (Private Service only)
Satelite telephone for emergency (Private Service only)
Entrance to Toro Muerto petroglyphs and hot spring
TOUR SCHEDULE & COST 2012
DATE
TOUR
COST
Every day between March to December
COTAHUASI CANYON - LLAMA TREK VERSION $786 USD Per Person

Llama Trek Through Ancient Trails On The Andes 6 Days - 5 Nights
Backpacker Service (public bus)
1 to more participants $789 USD each

Private Service (private 4x4/guide)
2 participants $920 USD each
3-4 paticipants $842 USD each
5 to more participants $799 USD each

Discount: $5 USD of dicount for South American Explorers Club Members
Discount 3%: Tour Operators or Travel Agencies Only
Students: $5 USD of discount only with valid green ISIC card

Organized Groups: We offer private service and departure any time
Group size: 6 participants per guide
BOOK HERE: We highly recommended to book space prior you arrive to Peru
NOT INCLUDE
Hotel in Arequipa
Alcoholic and soft drinks
Sleeping Bag (-15ºC can be hired from our office for $5 USD per day)
Internal flight tickets
Breakfast on the first day/lunch on the last day
Tips for guide and camp staff
WHAT YOU NEED TO BRING/CARRY
Backpack 50lt
Sleeping bag -15ºC minimum (can be hired from our office for $5 USD per day)
Rain jacket or poncho (December - April)
Strong comfortable and waterproof footwear
One complete change of clothing (you can afford to carry more changes of clothing if you hire a personal porters)
Sweater and jacket (something warm)
Bottle of water and purification tablets (Micropur can be bought in local pharmacies in Arequipa/Cusco)
Flashlight and batteries
Hat or cap to protect you from the sun
Sun block (sun protection cream)
Insect repellent
Toiletries, towel and toilet paper
Selection of small snacks, chocolate, dried fruit, biscuits etc,
Camera, plenty of film and spare batteries
Swimsuit for the hot springs between Quechualla and Velinga village
Optional: walking sticks or poles
CONTACT US
For more information about the tour or you request a new date to departure for this tour, please contact us....
Some of our clients e-mail us saying our confirmation e-mails are placed to their spam folder rather than their inbox. We recommend to modify your JUNK or SPAM FILTER SETTINGS to receive our e-mail
peruadventurestours@hotmail.com
on the correct inbox. You may also want to add this email address to your list of known contacts. This will prevent our responses from being filtered into your Junk or Spam mail folder.