PERU ABSEILING TOURS - RAPPEL GUIDED TOUR
ABSEILING TOUR IN LIMA
Abseiling Tour In Lunahuana And River Rafting Tour - 2 Days Guided Tour
ABSEILING TOUR IN AREQUIPA
Abseiling tour itinerary is coming soon.
ABSEILING TOURS IN CUSCO
Abseiling tour itinerary is coming soon.
ABSEILING TOURS IN NAZCA
bseiling tour itinerary is coming soon.
PERU ADVENTURE TOURS offer various safety techniques used to descend ropes as known abseiling or rappel.
PERU ADVENTURE TOURS offers abseiling in Peru, giving you a comprehensive working knowledge of abseiling. Under the expertise of PERU ADVENTURE TOURS supervision, our abseiling activities give you a full understanding of the sport so that you will be able to have exciting and fun, but also serious - the expert tuition and equipment is designed to keep you totally safe while taking part in an activity that will challenge you both mentally and physically and leave you feeling satisfied with a sense of accomplishment. Any level from beginners to experienced.
This is a fantastic group activity for any stag or hen weekend at any time of year. Groups of any size welcome.
We also offer abseiling for charity and promotional events.
The abseiling tour can be done all over Peru, especially in the deep canyons, around the Rocky Mountains located between the coast and the in the Andes of Peru.
ABSEIL SUPERVISOR COURSE
This is a very intensive course for those wishing to work in the field supervising or guiding abseiling. The course covers safety equipment, anchoring, releasable abseils, client care, self and client rescue and many other technical and soft skills.
CONDITIONS- LEVEL OF DIFFICULTY - FITNESS REQUIREMENTS
We cover wide spectra of difficulty from beginner to expert, so whether it is your first time or one of many, we can cater to your particular needs or desires. Our clients range from young to old and from low to high fitness, and neither age or physical condition are barriers to an enjoyable holiday with Go Higher. We have found that the most important factor in you achieving your goals is self-confidence, which we believe we can enhance.
WHO SHOULD DO THIS COURSE?
This course is aimed at the person who is serious about qualifying for a career as a mountaineering adventure guide or anyone who runs group abseiling adventures as part of their work or recreation such as school teachers, camp councilors and social workers.
For prospective mountain professionals this course is usually the first step on the road to qualify as a rock climbing or mountaineering guide.
WHAT WE PROVIDE?
Instructor
All technical equipment as required (rope, helmets, ropes and harness)
Transport to and from the crags (but see specific courses and holidays for exclusions - e.g. airfares).
Book this outdoor activity online and enjoy instant confirmation after your secure payment.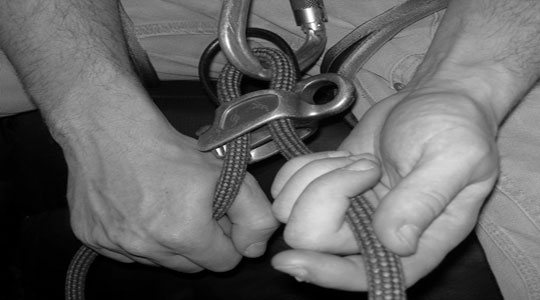 CONTACT US
For more information about the tour or you request a new date to departure for this tour, please contact us....
Some of our clients e-mail us saying our confirmation e-mails are placed to their spam folder rather than their inbox. We recommend to modify your JUNK or SPAM FILTER SETTINGS to receive our e-mails
peruadventurestours@hotmail.com
on the correct inbox. You may also want to add this email address to your list of known contacts. This will prevent our responses from being filtered into your Junk or Spam mail folder.