PERU ADVENTURE CAMPING ZONE - CAMPSITE IN AREQUIPA - AREQUIPA´S CAMPGROUND SINCE $8 USD Per Person
Enjoy Camping And Campfiire Under A Starry Sky
Welcome to the first camping zone in Arequipa – Our campsite is located just 12.5km away from the central plaza of Arequipa.
Our adventure campground is immersed in middle of pure nature with amazing and panoramic view of Arequipa´s countryside - PERU ADVENTURE TOURS build this campsite for travelers making backpacking who are looking for place to set up their tents during their stay in Arequipa region - The campsite is open for experienced campers or for beginners wanting to learn about camping technics and enjoy of a nice food cooking using campfire under a starry sky.
The surrounding offer very peaceful and quiet atmosphere ideally to get deep dreams and a very relaxing waking up with the first sunshine accompanied with the singing of wild birds.
Our campsite is supported by English-speaking staff who works as tour guides leading tourists for adventure trips around Arequipa – Easily you can get the best and reliable information about trekking, climbing, rafting, kayaking, quad biking, MTB biking, 4x4 Off-roading and help with your camping gear.
The campsite has 2000m2 of grass field with nice garden of flowers and roses, fruit trees and an enough area to place up to 10 jeeps and surrounded by a security fence.
CAMPING DESCRIPTION
The campsites are recognized as camping zone or camping pitch – In Peru is not easy to find places where backpacker travelers can use a place for overnight in outdoor – Just very few places in whole Peru are recognize as camping zone with great facilities and location. Camping is an outdoor recreational activity became popular in the early 20th century - The participants (known as campers) leave urban areas, their home region, or civilization and enjoy nature while spending one or several nights outdoors, usually at a campsite located in specific places next of rivers, mountains or beaches - Camping may involve to use camping gear (tent, mats and sleeping bag) – Camping is also used as an inexpensive alternative for backpacking travelers around world.
CAMPING PRICE (U.S Dollars)
FULL CAMPING PACKAGE $38 USD PER PERSON
INCLUDES: Pick up and droop off from/to airport or bus station, all camping and sanitary facilities, camping gear (tent, mats and sleeping bag) and next day plentyr country breakfast per each camper.
NOT INCLUDED: Lunches, diners, laundry service, travel insurance, drinks, phone calls, taxi service, etc.
STANDARD CAMPING PACKAGE $15 USD PER PERSON
INCLUDES: All camping and sanitary facilities, camping gear (tent, mats and sleeping bag).
NOT INCLUDED: Transfer (in/out), breakfast, lunches, diners, laundry service, travel insurance, drinks, phone calls, taxi service, etc
BASIC CAMPING PACKAGE $11 USD PER PERSON
INCLUDES: All camping and sanitary facilities.
NOT INCLUDED: Transfers (in/out), camping gear (tent, mats and sleeping bag), lunches, diners, laundry service, travel insurance, drinks, phone calls, taxi service, etc.
HOW TO GET OUR CAMPISTE?
From airport you can hire a taxi service for around $10 USD and get our campsite in about 40 minutes.
From bus terminal the taxi service cost around $6 USD and takes not more than 25 minutes.
Both prices mentioned above are for entire taxi/service.
OPERATING HOURS & SEASONS
Our campsite receive campers all year around – The reception is open since 7AM to 4PM – The campsite main door is open at 5AM till 8PM every day.
CAMPFIRES AND FIREWOOD
Campfires are the responsibility of the camper and are restricted to fire rings or grills provided. Burning trash in the fire ring or grill is strictly prohibited.
Do not leave fires unattended, and put out all fires before leaving. Do not burn garbage, plastic, glass, cans or other recyclable items.
The campsite administration sold firewood only if is available.
No unauthorized cutting, harvesting or removal of vegetation permitted anywhere in Park.
Watch children very closely around fires - When setting up to use an area, become aware of the location of the fire ring - Watch the wind direction.
Before you make campfire and keep away all flammable materials and put the fire out if wind changes begin to cause concern.
CAMPING RESERVATION
Advanced camping reservations are required to use our campsite – Information required for the reservations must be included:
Name and last name of each camper
Number of campers
Camping dates (Check in – Check out)
All information need to be confirm by e-mail to
peruadventurestours@hotmail.com
TECHNICAL INFORMATION OF OUR CAMPING
Coordinates 16°28'13.30"S - 71°28'22.36"O
Altitude: 2510 meters about sea level
Distance from central plaza of Arequipa: 12.5km
Distance from Airport: 20km
Distance from bus terminal: 16km
CAMPING FACILITIES
PERU ADVENTURE CAMPING ZONE Offer great facilities for novice and experienced campers to enjoy camping in this amazing region of Arequipa.
Camper-Service
Airport and bus terminal pick up/droop off
Money change
Truly tourist information
Electricity connection (220v), running water and sewage
Sat-TV and Internet access
Modern bathrooms
24 hours of hot shower
Swimming pool
Children's playground
Mini market
Café und restaurant
Laundry service
Picnic tables and chairs
Trash containers are provided
Availability charcoal grill
Car parking
Professional tourist information
Camping gear rental
4WD, bicycle and Quad/ATV rental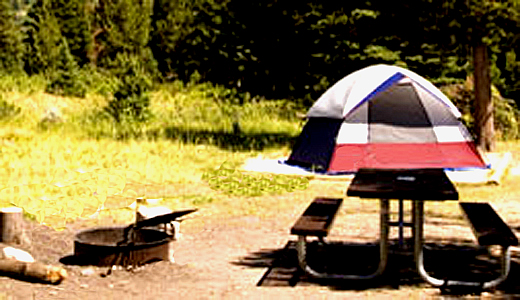 SANITARY FACILITIES
Equipped with high quality sanitary facilities
Hot shower inside modern toilet
Ultramodern sanitary facilities, child friendly, disabled accessible
Washing room
Washing machine and laundry dryer
Waste disposal facilities
CAMPING RULES
Camp only in designated campsites.
Check-in procedures are outlined on the campground entrance sign and apply to all camping customers.
All campers under 18 years old must be accompanied and supervised by the permit holder.
Campers must be at least 18 years old to get a permit. Permit holders must have identification and proof of age, and furnish the full names of everyone in the camping party.
The permit holder is responsible for the conduct of everyone under 18 years old and is liable for any violations of the rules and regulations.
All vehicles and trailers must be on paved or graveled surfaces except as otherwise permitted.
A camping day begins at 10AM each day. Check-out time for all campers is 1PM on the last day of your stay.
Quiet hours are from 10PM to 6AM generators are prohibited during these hours, excessive volumes on radios, televisions, musical instruments, etc. will be enforced - Outside of quiet hours, be considerate of your camping neighbors who are seeking a peaceful outdoor experience and keep noise to a minimum.
All non-camping visitors must leave by 10PM.
The use of electrical insect-killing devices is prohibited.
No personal property may be left unattended longer than 24 hours.
Hanging lanterns or any other items from or in trees, trenching around tents, littering or discharging sewage or gray water on the ground is prohibited.
Do not pick or dig up plants, disturb or feed animals or scavenge dead wood.
Any pets are not permitted in our campsite.
Violation of any campground rule is grounds for eviction. Anyone who is evicted is not entitled to a refund of money or to return for one week.
No person shall attempt to prevent employees from performing their duties by means of intimidation, physical force, or interference.
The discharging of firearms, BB guns, paintball guns, bow and arrows, sling shots or any devices that use burning powder, explosives, compressed gases, etc. is prohibited.
No person shall fail to comply with the instructions contained in a signal department.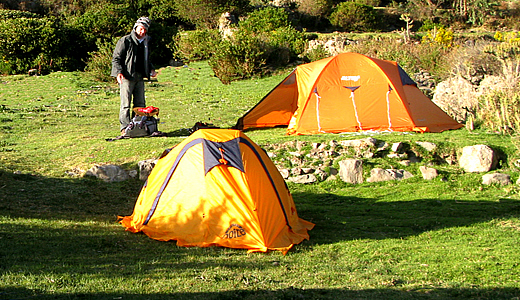 WEATHER
Arequipa has around 300 days of sun and the other days can be heavy raining between January and March – Some days can be raining during the morning or afternoon – For the raining season is recommend to bring waterproof tent and sleeping bag to enjoy your camping time – During the day the temperature can be up to 34°C and during the night go down to 5°C – Usually between 3PM is windy till 7PM.
SUGGESTED CAMPING GEAR
DOITE TENT - PRO ACONCAGUA $6 USD per day - 3 Person 4 Season Expedition

All our camping gears are in good maintenance and after every trekking tour are carefully watched to be used the next time. We provide 3 people capacity tents for 2 people (double) and for solo hikers we supply 2 people capacity tents. We use only four season tents in our trek expeditions, see technical details:
Fly: Poly Rip-Stop PU 7000mm Seam Taped
Inner: Poly Rip-Stop HD 1000mm with BR
Floor: P/OXD PU 5000mm Seam Taped
Weight: 5kg
Height: 1.20m
Width: 2.60m
Length: 0.6m + 2.20m + 0.6m
DOITE TENT - KAILAS $6 USD per person - 3 Person 4 Season Expedition
Fly: Poly Rip-Stop PU 7000mm Seam Taped
Inner: Poly Rip-Stop HD 1000mm with BR
Floor: P/OXD PU 5000mm Seam Taped
Weight: 4.5kg
Height: 1.10m
Width: 1.90m
Length: 1.1m + 2.20m
Poles: 9.5mm
DOITE TENT - EXPEDITION BASE $110 USD per day - 15 people capacity
Expedition base is one of the best dome tent designed for long expedition in extremely wind, snow and rain conditions. This tent is perfect for large group of trekkers, who wants to experience good quality equipment.
DOITE POLAR SLEEPING BAG $5 USD per person (-10°C)
This Polar EX is a synthetic bag for expeditions in extremely cold conditions.
Tem: -29°C
Length: 84" (213 cm); 90" (228 cm)
Total Weight: 3 lbs 13 oz (1717 g); 4 lbs 2 oz (1872 g)
DOITE INFLATE SLEEPING PAD $2 USD per day
Double thickness foam sleeping mattress is one most comfortable to sleep in hard terrains of the Andes. This inflate sleeping mattress include in our Private VIP Service only, because demand to have enough porters to carry it. We have the normal inflate sleeping bag for backpacker service.
OUTDOOR ACTIVITIES
WALKING TOURS:
Enjoy nice walking following local path among agriculture terraces - There are many options for nice walking from 3km to 9km of distance.
MOUNTAIN BIKING TOURS:
Definitely one of the best ways to recognize the countryside of Arequipa – You can hire one available mountain bike and cycle for short or long distance choosing paved or gravel roads – The bike trip are available for beginners and experienced riders - Our mountain bikes can be hire for $15 USD for per day ONLY for customers making camping our campsite.
QUAD BIKING TOURS:
Our All-Terrain Vehicles are available for hiring for hour and you can get amazing experience running up to 45km per hour through the countryside – Half day hiring a Quad bike cost $65 USD for half day.
If you need a customized itinerary to Colca canyon or climbing one of the volcanoes around send us an e-mail and we will response as soon as possible.
Peru Camping – Peru Campsite – Peru Campgrounds – Camping In Peru – Camping Sites – Arequipa Campsite – International Federation of Camping Clubs - Arequipa Camping Zones – Camping Zone In Arequipa – Backpacking Equipment - Camping Zone In Peru – Camping Zones – Camping Pitch – Campgrounds – Campgrounds In Peru – Arequipa Camping Center – Camping Center In Peru – Arequipa Camping Zone – Peru Camping Zones – Arequipa Camping Center – Campsite Area – Adventure Camping – Outdoor Camping – Camping Clubs – Camping Association – Caravanning & Camping In Peru – Peru Backpacking – Motorhome – Peru Camping Equipment – Camping Gear – Camping Facilities – Camping Pictures – Camping Magazine – Camping Information – Campsite Pictures – Campsite Magazine – Camping Pitch – Campfires – Night Camping Zone – Peru Campers – Caravan Parks – Peru Caravan Sites – Backcountry Camping – Caravanning Clubs – Peruvian Authorized Campsites – Peru Safety Camping Zone – Public Camping Zones – Peru Camping Maps - Adventure And Campinp In Arequipa
CONTACT US
For more information about the tour or you request a new date to departure for this tour, please contact us.... Some of our clients e-mail us saying our confirmation e-mails are placed to their spam folder rather than their inbox. We recommend to modify your JUNK or SPAM FILTER SETTINGS to receive our e-mail
peruadventurestours@hotmail.com
on the correct inbox. You may also want to add this email address to your list of known contacts. This will prevent our responses from being filtered into your Junk or Spam mail folder.