REAL LLAMA TREK - ANCIENT INCA TRAVEL SYSTEM $976 USD Per Person
An Unique Andean Cultural Experience In 8 Days
Llama Trek - Incan Travel System is a unique trip where we will show you the real highlands life, passing through high altitude villages (4700m) where farmers practice thousand year old customs, living completely separate from modernization. You can walk like a queen/king on the original ancestral pre-Inca paths connecting the coast with the Andes and the jungle, and experience the Quechua people and culture. You will see flora and fauna, treading upon different ecological layers (up to 5100m) and see the best views of green valleys inside the second deepest canyon in the world, nestled between volcanoes and snowy peaks. If you want an adventurous cultural experience off the beaten path, the Llama Trek is for you.
LlamaTrek - LlamaTrekking - LlamaPath - LlamaTour - LlamaTrail - LlamaExpedition - LlamaPhotos - Llama Hiking & Trekking - Llama Tour And Information - PeruLlamaTrek - Information Of Llama Trek - Andean Llama Trek - Trekking With Llamas - Peru Llama
REAL LLAMA TREK - ANCIENT INCA TRAVEL SYSTEM TREK ITINERARY
DAY 1: AREQUIPA - MAJES VALLEY - CORIRE - APLAO - VOLCANO VALLEY OF ANDAGUA
At 6AM pick you up from your hotel and travel to the volcanoes valley in our own private four wheel drive (4x4). On the way will stop in the Majes Valley to visit the Toro Muerto Petroglyphs and pre-Inca burials. Continue driving and passing long green valleys around the Colca canyon, passing small towns like Corire, Aplao, Viraco, Machaguay, and the highest pass over 4800m on the southeast of Coropuna Mountain (6450m). From this point it is possible to look down Andagua Valley surrounded by small volcanoes.
4PM we will arrive to Andagua valley, surrounded by 68 small volcanoes. Here we will stay our first night at small hostel located at over 3200m. Breakfast + Lunch + Dinner + Lodge.
DAY 2: ANDAGUA VOLCANO VALLEY - ORCOPAMPA - CAYLLOMA ANDEAN VILLAGE
At 6AM before our breakfast we'll climb some of the small volcanoes and explore this beautiful valley created by hundreds volcanic eruptions. Out 2 hours hike will also include a beautiful waterfall called Shankilay, considered a sacred place by the locals. Back to the town for our breakfast and continue travelling to Caylloma. In our journey we stop at the mining town of Orcopampa (3900m) where we can enjoy a nice lunch of fresh white trout, Alpaca steak and mate de coca (coca leaf tea). Driving up to 4500m we will see groups or Llamas, Alpacas, Vicuñas, Eagles, Flacons, Dear and other animals.
4PM we will be in Caylloma (4400m) a dry, dusty, windy and cold town, but very peaceful with friendly locals who are very curious to intereact with foreigners. Here we meet our cooks, Llamas and also the llama handlers. Breakfast + Lunch + Dinner + Lodge.
DAY 3: CAYLLOMA ANDEAN VILLAGE - LOROCCA LAGOON
At 7AM after our delicious breakfast we begin our LLAMA TREK. The animals carry all the gear, and a donkey and mule are available to carry a person if necessary, in case someone gets altitude sickness (Soroche). Hiking up to 4700m we will appreciate groups of Llamas, Alpacas and Vicuñas and a nice view of Mismi volcano from the north face where begins the origin of the Amazon River the most volumous river in the world. This day will be our test day to see how we will feel at this altitude after 5 to 6 hours of hiking. We will camp around the Lorocca Lagoon (4780m) with different groups of Andean birds living at this lake. This place will be one of the coldest nights. Breakfast + Lunch + Dinner + Camping.
DAY 4: LOROCCA LAGOON - LIMAPAMPA VILLAGE
This day will be one of our easy days, because we will hike 4 hours, hiking mostly level and down to get to our second camping place. The scenery changes every 2 kilometers with high mountains, green places called "BOFEDALES" and very peaceful places. We'll observe how the farmers live in this remote part of the Andes of Peru. We will arrive early to Limapampa (4400m) and our cooks will prepare our lunch. Set up our tents and enjoy a free afternoon; you can fishing for trout or teach free lessons to the local children or pass your time with the settlers of this small village. Breakfast + Lunch + Dinner + Camping.
DAY 5: LIMAPAMPA VILLAGE - TOCCALLO VILLAGE
At 6AM after breakfast we begin our longest day trekking and also will cross the highest point on our LLAMA TREK called Tuyunilloc (4900m). From here you will appreciate the impressive views of the Chila mountain range and also the best panoramic views of the big rock walls.
This is the door to pass into the second deepest canyon in the world (Colca). Stop at this pass for long rest and lunch.
Afterwards, we go down into mountains, descending to the Queñuales forest (typical trees form the highlands) crossing small rivers, and after 6 to 7 hours arrive to Toccallo village (4000m), surrounded by big green walls over 5000m high and pre-Inca terraces. It is a small village with a basic primary school, some inhabited and abandoned houses, and curious, friendly and free people in the middle of nature and without tourism. This will be our last night of camping. Breakfast + Lunch + Dinner + Camping.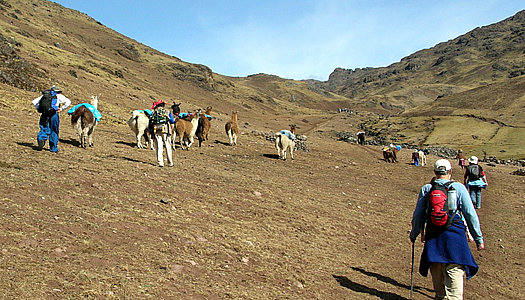 DAY 6: TOCCALLO VILLAGE - FURE VILLAGE
In the early morning we will go to participate in a special ceremony to the Pacha Mama, done by our llama handler leader, who knows ancestral secret customs, coming from pre-Inca times. He practices a very interesting ritual, speaking and calling to the most important and highest mountains around this canyon. After an of this unique highland experience we go back to our camping place for our breakfast.
9AM we start to go down to the bottom of the Colca canyon, descending 900m to the next village, where we will stay our sixth night. On the way down we will see another canyon called Llatica containing Fure village (3100m) a nice place to stay in a family lodge, between terraces and cascades, in the middle of the cactus jungle and a variety of vegetation around the Llatica river.
After 4 hours trekking we will get nice weather (22ºC), accommodation in the bungalows, lunch and a free afternoon to explore or to spend time with local families. Breakfast + Lunch + Dinner + Lodge.
DAY 7: FURE VILLAGE - LLAHAUR LODGE
Before breakfast we will do a short trek to a nice waterfall of Waruro (80m high). It is a hike on the right bank of the Llatica river, following a small path in the middle of the cactuses, walking over the cliffs and after one hour arriving to the powerful waterfall, thundering in a completely green place.
At 9AM breakfast in our lodge and continue trekking going down to Llatica village and cross the river by a hanging bridge, with a little time to explore this quite place.
2pm we will arrive to the deepest area of the Colca Canyon. Llahuar (2100m) is a nice place located between Colca and Llatica rivers, one of the best places to have our lunch with nice views of both canyons. The afternoon is free to enjoy and use the thermal pools (hot springs) around the rivers. Breakfast + Lunch + Dinner + Lodge.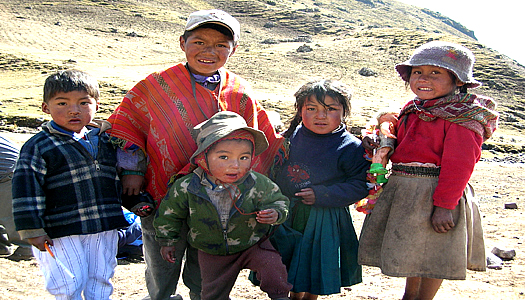 DAY 8: LLAHUAR LODGE - CABANACONDE - CHIVAY - AREQUIPA
At 5AM we will eat breakfast and trek on the left bank of the Colca river, crossing abandoned terraces completely cover by cactus. This small valley is called Soro (2050m) and from here well cross a suspension bridge over the Colca river to the other side and meet the 4x4.
Well travel up to Cabanaconde (3285m) by abandoned dirt track that is 1 hour in our four wheel drive.
At 8AM we will be at the famous Condor Cross (3600m) and wait a maximum of 2 hours to see the flight of the Andean Condor, the biggest birds in the world. We continue travelling by 4x4 visiting different villages like Achoma, Maca, Achoma, Yanque and Chivay, all of them located on the left rim of the Colca Canyon, with nice lookouts, colonial churches, and souvenirs markets, etc.
At 12PM we will have our lunch in a good typical restaurant in Chivay (3600m) and then travel back to Arequipa (4 hours).
5PM Arrival to Arequipa and conclude our LLAMA TREK experience. Breakfast + Lunch + Canyon Entrance.
REAL LLAMA TREK - ANCIENT INCA TRAVEL SYSTEM INCLUDES
Private transport (Round trip)
Experienced English-Speaking guide
Camping gear (4 season tent and mattress)
3 nights in lodges according the program
4 nights of camping
All food mentioned according the trek
Llamas to carry all camping equipment, food and backpacks
Horses for emergency
Dinning tent with camp tables and chairs
Kitchen tent
Guide assistant
Cook and assistant
Bottles of water on all the trip
Oxygen bottle and first aid kit
Satelite telephone for emergency
All the entrances
Camping gear and food for our camp staff
Entrance to the Colca canyon (last day)
TOUR SCHEDULE & COST 2015
DATE
TOUR
COST
Any day
(April - November)
REAL LLAMA TREK - ANCIENT INCA TRAVEL SYSTEM $976 USD Per Person

An Unique Andean Cultural Experience in 8 Days


Backpacker Service (public bus)
Not available departure

Private Service (private van/guide)
2 participants $976 USD each
3-4 participants $936 USD each
5 to more participants $896 USD each
Discount: $5 USD of discount for South American Explorers Club Members
Discount 3%: Tour Operators or Travel Agencies Only
Students: $5 USD discount only with valid green ISIC card
Organized Groups: We offer private and any time departure
Group size: 6 participants per guide - We need minimum two participants to develop this tour
BOOK HERE: We highly recommended to book space prior your arrival to Arequipa
All prices stated above are subject to change.
Exchange rate $1 USD = S/. 3.02 (rate may vary daily).
NOT INCLUDED
Sleeping bag -15ºC (Can be hired in our local office $5 USD per day)
Binoculars
Breakfast on the first day
Tip for guide and camp staff
Hotel in Arequipa
International and national flight tickets
Airport tax
Alcoholic drinks
Personal horse to ride (Can be hired for $35 USD per day)
WHAT YOU NEED TO BRING/CARRY
Sleeping bag -15ºC (Can be hired in our local office $5 USD per day)
Small backpack (65lt)
Rain jacket or poncho, plastic ponchos can be purchased in Arequipa (just in the rain season Dec - April)
Strong comfortable and waterproof footwear
Sweater and jacket (something warm)
Bottle of water and purification tablets and purification tablets (Micropur are recommended and can be bought in local pharmacies in Arequipa)
Flashlight and batteries
Hat or cap to protect you from the sun
Sun block (sun protection cream)
Insect repellent
Toiletries, towel and toilet paper
Selection of small snacks, chocolate, dried fruit, biscuits etc
Camera, plenty of film and spare batteries
Swimsuit (you can swim in the hot springs - Chivay)
CONTACT US
For more information about the tour or you request a new date to departure for this tour, please contact us....
Some of our clients e-mail us saying our confirmation e-mails are placed to their spam folder rather than their inbox. We recommend to modify your JUNK or SPAM FILTER SETTINGS to receive our e-mail
peruadventurestours@hotmail.com
on the correct inbox. You may also want to add this email address to your list of known contacts. This will prevent our responses from being filtered into your Junk or Spam mail folder.