SANDBOARD AND SAND BUGGY TOURS IN PERU
SANDBOARD AROUND ICA AND NASCA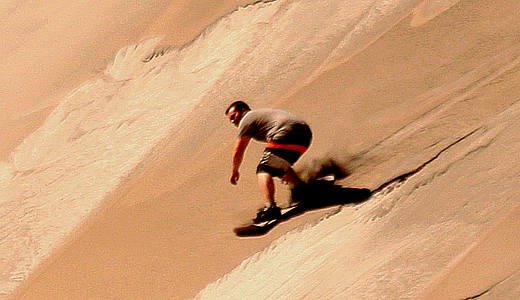 SANDBOARD IN AREQUIPA
Sandboarding tour is a fast growing activity around the globe and has strong roots in Peru, Australia, Japan, and Germany and is said originated in Egypt and China over a millennia ago when people used to skid down sand dunes during festivals - Boards range from 100cm to 160cm depending of if the pilot is looking for air, tricks or carves. Both beginners and expert snowboarders can enjoy Sandboarding - The basic are easy to pick up and on a lot of the tours offer variety of dunes to choose from with different gradients.
Peru have great geography with variety of dune range along the coast line – The top highest dune of Peru is named Cerro Blanco (White hill) located in on the east of Nasca on the way to Cusco is formed the terrific dune with 2070M and recognized as one the most attractive dune for Sandboard lovers – Of course there are very tall dunes from the north to south of Peru but many of them unexplored and not introduced to tourism industry.
Peru Adventure Tours is the pioneer offering variety of Sandboard & dune buggy (4WD) tours from half day up to 15 days of pure adventure Sandboarding and wild desert camping. Snowboarders looking for Sandboarding are welcome and we will bring to one of the Sandboarding destination and test your skill in one of the hottest sand dune or camping next of the sunset or under starry sky.
Sandboarding trip are available for beginners and intrepid customers wanting to get good memories in our of our desert adventure tours.
For more information about one of our customized tours don't hesitate to contact us by e-mail.
WE WILL RESPONSE AS SOON AS POSSIBLE
Some of our clients e-mail us saying our confirmation e-mails are placed to their spam folder rather than their inbox. We recommend to modify your JUNK or SPAM FILTER SETTINGS to receive our e-mails
peruadventurestours@hotmail.com
on the correct inbox. You may also want to add this email address to your list of known contacts. This will prevent our responses from being filtered into your Junk or Spam mail folder.