Arequipa
Trekking Tours
Climbing Tours
Biking Tours
Horseback Riding
Classic Tours
Sandboarding Tours

MIXED COLCA CANYON EXCURSION $255 USD Per Person
Colca Canyon Classic Tour And Trekking Into The Canyon 3 Day - 2 Nights
Colca mixed tour combine the van trip and classical trekking in the canyon. The tour to the Colca canyon start in the hotel of
Arequipa
, this tour is designed for traveler with limit of time to visit
Arequipa
region. Colca mixed tour include a nice private tourist van in the high Andes and trek into the canyon.
PERU ADVENTURE TOURS
organize daily departure to visit the second deepest canyon in the world, including trekking and view of the Andean Condor. Place we you will go are remote villages, deep valleys, big contrast between the Andean and European costumes.
This tour is lead by official experience tour guides and who will show you the best way for trekking in the Colca canyon. Welcome to the Colca valley.
ITINERARY OF MIXED COLCA CANYON EXCURSION
DAY 1: AREQUIPA - PAMPAS CAÑAHUAS - PATAPAMPA 4850M - CHIVAY HOT SPRING
Around 8am we start our daily private or shared guided tour to the second deepest canyon in the world, driving on the left side of Chachani mountain (6070m), continue going up to 4200m, is a Natural Reserve of Salinas and Aguada Blanca, is the nature habitat for the Vicuñas, one of South American camelidos, groups of Llamas, Alpacas, small lake (Bofedales), highlands views (Pata Pampa 4850m), snow caps and volcanoes, will stop every place to get short break getting pictures from all each place you like.
At 1pm we will arrive in Chivay town, located over 3600m, there you can choose any restaurant to get your lunch, after that we supply your room according the sellected hotel to leave your stuff and continue with the next activity.
At 7pm everyone (Private VIP Service & Backpacker Service staying in Chivay) will meet the tour guide in the lobby of the hotel and then transfer to the planetarium Maria Reiche, this is located at Casa Andina Hotel (Chivay). We invite you to immerse in the mysteries of the Colca Valley sky and enjoy the performance Colca deep Canyon, deep sky. You can learn how the ancient inhabitants of the Andes interpreted the night sky according to their myths and beliefs. The performances include projecting constellations in the Planetarium dome as well as observing the stars of Colca`s sky through a professional telescope.
After the Planetarium you will transfer to selected restaurant to have your dinner accompanied with life Andean music show (L - D).
DAY 2: CHIVAY VALLEY - COLCA CANYON - CONDOR CROSS VIEWPOINT - SAN JUNA DE CHUCCHO - OASIS/SANGALLE
At 10am transfer to Tapay viewpoint (3500m), located in the left rim of the canyon. Start trekking in the Colca Canyon descending for 4 hours to the Colca River (2160m), a descent of 1300 meters. We will cross to the other side of the canyon and begin our ascent upward.
12pm arrival to the lodge and resting place in San Juan de Chuccho village (2300 meters above sea level). Here you will get a delicious and energetic lunch.
2pm after our lunch, continue hiking for approximately four hours, crossing small villages (Malata and Cosñirhua), going up hills, over 2600m above sea level and down again to our next destination called Sangalle/Oasis, where we`ll find a nice place to spend the night with bamboo bungalows, pretty swimming pools between palm trees, surrounded by the Colca River.
7pm dinner with a nice campfire in the middle of this wonderful Oasis (B - L - D).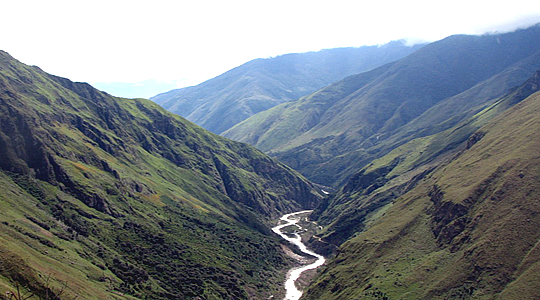 DAY 3: OASIS/SANGALLE - COLCA CANYON - CABANACONDE 3280M - CHIVAY - AREQUIPA
At 4am - 6am have breakfast and begin the ascent of three hours to the left rim of Colca Canyon, to Cabanaconde (3280m). This day we walk up 1050m, for the last hard and steep trail of our excursion.
8am - 11am travel by bus for 30 minutes to the Condor's Cross lookout, viewing many small towns all around the Colca Valley, located in the high part of the canyon. Optional visit to the hot springs of la Calera - Chivay 3600m.
At 1pm have lunch in Chivay and travel back four hours to Arequipa and complete our trip.
MIXED COLCA CANYON EXCURSION INCLUDES
Official English-Speaking tour guide
Shared tourist van and public bus (Backpacker Service only)
Private tourist van whole trip (Private Service only)
2 breakfast - 3 lunches - 2 dinners
One night in hotel in Chivay, this a room with private bath, hot shower and heat (3*)
One night into the Colca canyon (oasis/sangalle)
Entrance fee to the National Park - Colca canyon (some tour operators don't include this ticket)
Porter or horse to carry the backpacks (Private Service)
Trekking gear such as poles, backpacks and head lamp (without batteries)
First aid kit for all participants and our cam staff
Food and accommodation for our camp staff
Donkey or porter to carry your personal items (Private Service only)
TOUR SCHEDULE & COST 2012
DATE
TOUR
COST
Any day
(even the rain season)
MIXED COLCA CANYON EXCURSION $255 USD Per Person

Colca Canyon Classic Tour And Trekking Into The Canyon 3 Day - 2 Nights

Backpacker Service (Shared tourist van and public bus)
1 to more paticipants $255 USD each one

Private Service (Private van/guide)
2 participants $375 USD each one
3-4 participants $323 USD each one
5 to more participants $264 USDeach one
Discount: $5 USD for South American Explorers Club Members
Discount 3%: Tour Operators or Travel Agencies Only
Students: $5 USD discount only with valid green ISIC card
Organized Groups: We offer private and any time departure
Group size: between 8 participants per guide in backpacker service (trekking)
BOOK HERE: We highly recommended to book space prior your arrival to Arequipa
All prices stated above are subject to change.
Exchange rate $1 USD = S/. 3.02 (rate may vary daily).
NOT INCLUDED
Binoculars
Breakfast on the first day
Sleeping bag (only if you go to camp, previous according with the agency)
Persona horse to ride, can be hired for US$25 per day
Phone calls
Flight, bus and train tickets reservations
Tips for guide and camp staff
$4 USD entrance for hot spring LA CALERA in Chivay (last day)
WHAY YOU NEED TO BRING/CARRY
Small backpack (45lt)
Rain jacket or poncho, plastic ponchos can be purchased in Arequipa (just in the rain season Dec - April)
Strong comfortable and waterproof footwear
Sweater and jacket (something warm)
Bottle of water
Flashlight and batteries
Hat or cap to protect you from the sun
Sun block (sun protection cream)
Insect repellent
Toiletries, towel and toilet paper
Selection of small snacks, chocolate, dried fruit, biscuits etc
Camera, plenty of film and spare batteries
Swimsuit (you can swim in the hot springs - Chivay)
CONTACT US
For more information about the tour or you request a new date to departure for this tour, please contact us....
Some of our clients e-mail us saying our confirmation e-mails are placed to their spam folder rather than their inbox. We recommend to modify your JUNK or SPAM FILTER SETTINGS to receive our e-mail
peruadventurestours@hotmail.com
on the correct inbox. You may also want to add this email address to your list of known contacts. This will prevent our responses from being filtered into your Junk or Spam mail folder.