Arequipa
Trekking Tours
Climbing Tours
Biking Tours
Horseback Riding
Classic Tours
Sandboarding Tours

TRAVEL REPORT
May 2006
In Arequipa I used Peru Adventure Tours to go on a couple of mountain biking expeditions. One down the side of Misti which was absolutely fabulous and then used them again to go up to see the active volcano Ubinas and this was stunning. It was good biking and the views were spectacular! Normally I only use tour guides recommended in the guide books but this one is recognized by the footprint Website, not the book as are only a few years old. They were great and the Biking guide Saul Ceron were a considerate and funny person. They are on Zela 209 but the office is closed to the public during the week. I found out about them on the internet.
www.peruadventurestours.com
There were good value for money and knew what they were talking about. Highly recommended.
Catherine Pudner (electrolyte40(a)hotmail.com)
UK
BIKE COMPONENTS
Recemmend you to check the bike components before you hire or book a bike tour.
More information.....
CLICK HERE
HALF DAY DOWNHILL MOUNTAIN BIKING TOUR AROUND MISTI VOLCANO $50 USD Per Person - Group Service
Adventure Mountain Bike Trip Available For Beginners And Experienced Bikers (Tuesday - Thursday - Saturday)
The bike tour around Misti volcano is available for all mountain biking lovers and adventure travelers wanting to enjoy a nice view of mountains and countryside of Arequipa.
PERU ADVENTURE TOURS
feels completly proud to be the first professional mountain bike tour operator based at the bottom of
El Misti
volcano and Pichu Pichu Mount. Our company started our bike tours around Misti volcano on 2003, today we are the most recommended bike tour operator in Arequipa.
The volcanic land in Arequiopa is prefectly located to practice mountain bike tour all year, specially between December to April, this season of year the mountain looks white and green and mysterious cloud can be seing resting on top of Pichu Pichu and Misti volcano.
PERU ADVENTURE TOURS
runs the best downhill and cross country bike action on the best available mountain bikes and supporting by
4x4
machine and lead by tour guide.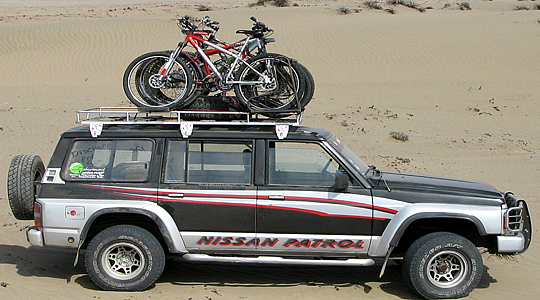 After 2006 many agencies in Arequipa offer mountain bike tours around Misti and Pichu Pichu volcano and all of then do same all alternative -
PERU ADVENTURE TOURS
renew the routes and offer different bike tour combining downhill, cross country and single track style mountain biking tour begining at
Chiguata valley
(3450m), located on the base of
Pichu Pichu
snowpeak, there is nice canyon propitious for bike tour. This part of the tour makes very interesting to ride through pre-Incan terracing and lovely countryside located at 3400m. The bike trip includes full adrenaline on the downhill style bike on a gravel road without traffic and land amazing land views from the mountain slopes to
Arequipa
.
This bike tour is dedicated for beginers and experienced bikers, you can be guided on dirt road or single trucks along the hills and agriculture fields.
PERU ADVENTURE TOURS
invites you to come our office and check, choose and test one available mountain bike before to book a trip to the famous and active volcan of Misti.
EXTREME CAUTION WITH A CHEAPER BIKING TOURS IN AREQUIPA
As responsible tour operator for biking tours we highly recommend checking the equipment to be used during your bike tour (helmet, bike gloves, etc.) - The most IMPORTANT thing is to check the gear quality and the frame size of the bike according to your height for better performance during the tour. Beware of many agencies or "tour operators's" offering this service as INTERMEDIARY causing false impressions without showing you the right equipment as the bike and developping bike trip without tour guide (just driver) risking your integrity and security for little money they obtain as commission/intermediaries.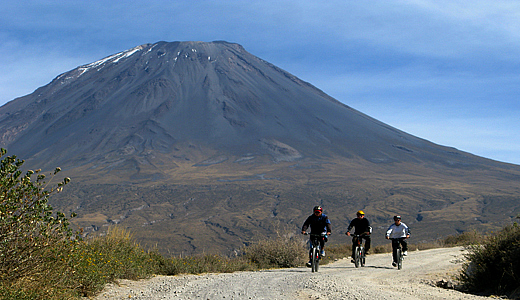 Volcan Misty Mountain Bike Tour In Arequipa Peru - Mountain Bike Tour In Arequipa - Downhill Biking From Misti Volcan - Arequipa Bike Travel Information - Biking Tours in Arequipa - Misti Volcan Cycling Tours - Bike Tour From Volcan Misti - Arequipa's Bike Tour Information - Arequipa Volcano Mountain Biking - Guided Trips In Arequipa - Day Bike Tours Around Arequipa - Full Day Mountain Bike Tours In Arequipa - Biking And Cycling Trips In Arequipa Peru - Bike Hire - MountainBikeTours - CyclingTours - Adventure Biking Tours From Misty Volcan - Downhill MTB Race From Volcan Mysti - PeruBikingTours - Rent A Bike In Peru - Mountain Bike Guides In Peru - Peru Biking Shop - Arequipa Cycling Tours - Bicycle Tours In Peru - PeruCycling - PeruBike - PeruBike Tour Company - Bike Tours - MTBTours - Mountain Biking And Adventure Trips In Peru - Volcan Misti - Tours En MTB
MISTI MOUNTAIN BIKE TOUR ITINERARY
We leave at 8:30AM or 1PM from our local office of Arequipa and then aboard one of our vehicles and drive up for 1 1/2 hours following uphill and serpentine dirt road getting impressive view around to drop off us to the slopes of Pichu Picchu Mountain.
The highest point we will reach is 3650M and known as Boques de Queñuas (Polylepis) located on the slopes of Pichu Pichu Mountain - At this point you get amazing view of entire valley of entire Chiguata, fully of Pre-Incan terraces, and of course view of the south face of volcan Misti and then receive safety talking about the route and mountain bikes (Gears and brakes) – The bike trip includes nice s of downhill following a gravel road to the bottom of the valley – This trip also offer great section of single track for experience bikers (around 6KM long) passing farming fields, seeing local on their daily activities, small river and springs.
The las section will be more than 1000M of challenge cycling on asphalt streets to enter of the city - Some section will be uphill and cross country style but this is available for bikers looking for some hard riding (8.5KM long) - The entire trip takes around 5 hours and you will be drop-off in your hotel and end of the trip.
BIKE TOUR AROUND VOLCAN MISTI INCLUDES
Private or shared 4x4 supporting vehicle whole trip (according your request)
Pickup from our office (Zela Street 209 - Downtown - Arequipa)
Drop-off at customer hotel (downtown only)
English-Speaking MT bike guide
GT - TREK - BIANCHI MT bikes in maintenance (full disc brakes)
Gloves; windproof and full-finger glove which can also be worn during the cold season or high altitudes
Helmet; light ventilated and comfortable for your head
Elbow and Knee pads available
Plenty snack and drinking water
Oxygen and first aid kit for all participants and our camp staff
Repair Kit and new parts
See our Mountain Bike Components...
CLICK HERE
PRICE TOUR FOR BIKING TOUR AROUND MISTI VOLCANO
DATE
TOUR
COST
Daily departures (all year)
HALF DAY DOWNHILL MOUNTAIN BIKING TOUR AROUND MISTI VOLCANO $50 USD Per Person - Group Service

Adventure Mountain Bike Trip Available For Beginners And Experienced Bikers
(Tuesday - Thursday - Saturday)

Group Service
$50 USD each
Tuesday - Thursday - Saturday

Private Service (Every Day)
2 participants $90 USD each
3 participants $80 USD each
4 participants $70 USD each
5 to more participants $60 USD each

GROUP SERVICE: This tour is available only on monday, wednesday and friday at 08:30hrs and 13:00hrs from our office of Arequipa - The minimum number has to be 3 participants to be develop otherwise we will post-pone for other day or cancel the trip and refund your deposit.

PRIVATE SERVICE: This service is available everyday at 8:30AM and 1PM from customer accommodation - This option requires minimum 2 participants to be done - The price of this option secure the depart of the trip.

Each option needs a deposit of $20 USD per person by PayPal to secure everything for the trip (last moment booking not always is available).

ORGANIZED GROUPS: We offer departures at any time during all week.
GROUP SIZE: 6 participants per each biking guide.
BOOK HERE: We highly recommended to book space prior your arrival to Arequipa.
EXCLUDED
Travel insurance
Mountain Bike insurance - Every participant is responsible for damage/loss of the bike in case this happens during customer trip
Hotel in Arequipa
Soft and alcoholic drinks - Customers under effect of alcohol or other drugs are prohibited to join this trip without money refund
Breakfast or lunch
Tip for guide and camp staff
Sun glasses
Binoculars
Cycling shoes
WHAT YOU NEED TO CARRY
Small backpack
Rain jacket or poncho (December - March)
Tennis or cycle shoes
One complete change of clothing during rainy season only
Wind proof jacket and long pants
Selection of your personal snack
Hat or cap to protect you from the sun
Sun block (sun protection cream)
Toiletries, toilet paper and others
Insect repellent
Camera, plenty of film and spare batteries
Sunglasses
BEST TIME FOR CYCLE - RAINING SEASON
The raining season in Arequipa region is between December and April - Some days can be heavy rain but after midday or all night - PERU ADVENTURE TOURS really recommend practice this trip during and after raining season because the landscape is amazing, very green, snow cover the mountains, noise and powerful rivers, no dust on the route and incredible contrasts for picture lovers.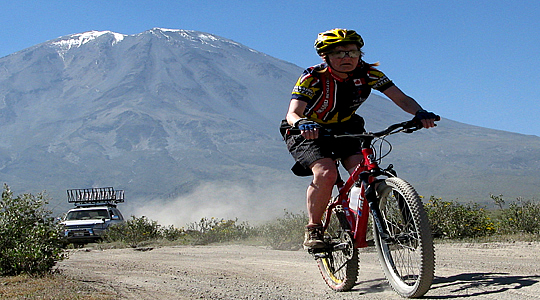 ADVICE FOR BIKERS
Normal physical conditions and summer clothes, biker's don't required acclimatization. One day before all the biker´s will have meeting with the mountain bike guide at our office or in the hotel, who will give a BRIEFING about this bike trip and also you can check the quality of bikes and gear will be used on this trip.
Normal physical conditions and summer clothes, bikers require good acclimatization over 4000m. One day before all the bikers will have meeting with the mountain bike guide at our office or in the hotel, who will give a BRIEFING about this bike trip and also you can check the quality of bikes and gear will be used on this trip.
Every participant is responsible for damage/loss of your bike in case this happens during customer trip - In case happen any damage/loss the participant need to be replace/fix the bicycle as was at the beginning of the trip - Our company recommend you to take care by yourself and avoid any accident or notify any bicycle troubles to your guide/driver as soon as possible.
PRIVATE SERVICE (Every Day)
Private Service for organized groups or families is available every day from hotels, bus stop or from airport of Arequipa. We really recommend booking Private Service and get more time for biking around Pichu Picchu and Misti Volcano - The depart for Private Service can be fixed anytime all around year but really recommend to arrange in advance.
IMPORTANT FOR GROUP SERVICE $50 USD P.P (Tuesday - Thursday - Saturday)
Costumers booking GROUP SERVICE ONLY are subject to any changes or trip cancellation in case the tour company cannot find more people for this tour - The GROUP SERVICE requires minimum 3 participants otherwise the trip will be suspended or postponed to next day and you will get a notification by e-mail to each costumer 2 or 1 day before the reserved date - This tour can be reserve directly in our local office but only if there are other participants otherwise will be not possible - We recommend you to send an email or call us before you arrive to Arequipa to warn us about your interest to book this tour and we will secure the places for you or open a new group.
DEPARTURES - BOOKING & FIRST DEPOSIT
The tour is available every day from our office of Arequipa at 8:30AM and 1PM - The end of the trip will be at your hotel (downtown only) - Last moment booking can be arrange in our office of Arequipa one day in advance for Group/Private Service but these services will be available ONLY if we have spaces in our transport or if our transport and tour guide are available for private service.
We really recommend to book this tour in advance through our booking form and secure your place with a first deposit via PayPal - The final balance of the trip has to be paid in our office of Arequipa ONE day prior the trip - The booking form and payment instruction will be sent to you via email under request ONLY.
Before you book this tour have a look the
TERMS & CONDITIONS
of our company.
CONTACT US
For more information about the tour or you request a new date to departure for this tour, please contact us.... Some of our clients e-mail us saying our confirmation e-mails are placed to their spam folder rather than their inbox. We recommend to modify your JUNK or SPAM FILTER SETTINGS to receive our e-mail
peruadventurestours@hotmail.com
on the correct inbox. You may also want to add this email address to your list of known contacts. This will prevent our responses from being filtered into your Junk or Spam mail folder.