TREKKING AND CAMPING IN THE COTAHUASI CANYON $415 USD Per Person
Classical Backpacking Trekking In 4 Days And 3 Nights
Cotahuasi Canyon Trekking is the deepest canyon in the world, situated in the northern of Arequipa, in the Union province. The Cotahuasi canyon, which extends from the foothills of the Solimana snowcapped mountain until the confluence of the Ocoña River, has 3535m deep in the Marpa sector, being the deepest part of a wonderful trip where you can enjoy revitalizing thermo medicinal waters, white glaciers and a great variety of flora and fauna. The canyon is full of a great variety of sceneries that increase its beauty thanks to the vigilant presence of the Snow-capped Coropuna and Solimana Mountains.
The weather diversity in this region has helped creating the adequate habitats for a variegated flora and fauna. Species such as the Andean condor (Vultur gryphus), the vicuña (Vicugna) and the millenarian natural treasures have found in the depths of the Canyon, which added to the archaeological and cultural attractions in the zone, collaborated on it being declared National Tourist Reserved Zone in 1988.
PERU ADVENTURE TOURS offer the experience of enjoying the wonders Coatahuasi canyon has, trekking along dazzling settings, crossing two hanging bridges that cross over the Cotahuasi River. The Cascade of Sipia is an impacting waterfall 150 metres high. Thanks to it you will be able to appreciate the power of the River and the depth of the Canyon. The water drops jumping everywhere form a constant rainbow that fills the place with magic colours. The place is ideal for the practice of mountain biking, canoeing, rafting, rock scaling, trekking, fishing, horseback riding, etc.
CotahuasiHike - 4 Days Trekking In The Cotahuasi Canyon - Trek In Cañon De Cotahuasi - Hiking And Camping In The Cotawasi Canyon - Trip To Sipia Waterfall - Cotawasi Trekking Tours - Cotahuasi River Tours - Hotels In Cotahuaso Canyon - Tours To Cotawasi Valley - Tours And Treks Around Cañon De Cotahuasi - CotahuasiTrek - Peru Cotahuasi Trekking Tours - Route To Cotahuasi Canyon - Lodging And Camping Zones In The Cotahuasi Region - Luicho Hot Spring In Cotahuasi Valley - Colonial Churches In Cañon De Cotahuasi - Every Day Guided Trips To Kotawasi Canyon - Tours To Cotahuasi Arequipa Peru - Pictures And Maps Of Tourist Circuits Of Kotahuasi
TREKKING AND CAMPING IN THE COTAHUASI CANYON ITINERARY
DAY 1: AREQUIPA - MAJES VALLEY - PETROGLYPHS OF TORO MUERTO - COTAHUASI CANYON
BOOKING GROUP SERVICE:
At 7AM pick up from your hotel and then transfer to bus stop and 3 hours of travel by public bus along the Pan American highway passing nice scenery of the desert region of Arequipa and finally we arrive Corire located in the Majes valley as known as the lower region of Colca canyon (600M) - The first place to visit will be the Petroglyphs of Toro Muerto, closer the left side of the river is located the Toro Muerto petroglyphs, is a volcanic rock area over approximately 5 km2, most probably the result of violent eruptions of the Coropuna and Chachani volcanoes. Consist of carved boulders strewn over hot desert. More than a thousand rocks of all sizes and shapes have been crudely, yet strikingly, engraved with a wide variety of distinct representations. No archaeological remains have been directly associated with these pictures they date from between 1000 and 1500 years ago, largely attributed to the Wari culture, though with probable additions during subsequent Chuquibambas and Inca periods of domination in the region. The engravings include images of humans, snakes, llamas, deer, parrots, sun discs and simple geometric motifs. Some of the figures appear to be dancing; others look like spacemen with large round helmets - obvious potential for the author Eric Von Daniken extraterrestrial musings.
Around 1PM return to Corire to get lunch and then we move to a place as known as Qerulpa and nice short uphill trekking on sand path – The scientists confirmed that area has been inhabited by dinosaurs 150 million years ago and today the park of Qerulpa preserves dozens of dinosaur footprints (Diplodocus & Giganotosaurus) in steep hills covered by sand – From top one of the highest hill you can get impressive view of entire valley and river of Majes.
Return to Corire and free late afternoon, diner and around 8PM we aboard the second public bus to Coatahuasi – The bus journey will be all night for about 8 hours and arriving to Cotahuasi next day very early (L - D).
BOOKING PRIVATE SERVICE:
This includes private transport and the tour start at 6AM from customer hotel – The tour includes all itinerary mentioned above but running by private transport and arriving to Cotahuasi around 6PM to sleep in comfortable room with private bath and hot shower – The final part of the private tour of this day includes nice stops up on the Andes to see the Coropuna Mount (6425M), the Solimana peak (6093M) and lot Andean scenery – Peru Adventure Tours highly recommend to book private service to get more time, comfort and enjoy the this first day with private vehicle.
DAY 2: COTAHUASI - SIPIA WATERFALL
BOOKING GROUP SERVICE:
Around 4AM you will arrive to Cotahuasi (2680M), check in at the hotel and rest till breakfast time.
Around 8AM breakfast and then begin nice downhill trekking for about three hours along Cotahuasi River – Today trekking includes nice scenery of huge walls of the canyon, very sunny day, passing small farming villages as Piro and Toro, several times crossing the Cotahuasi River and accompanied by relaxing lanscape.
Finally arrive to the highest part of Sipia waterfall (150m high) – This is one of the narrow section of the canyon where is well formed waterfall producing strong noise and according the position of the sun is possible to get view of the rainbow on the waterfall – Sipia is considered the intersection of the Andes and the begin of the cost and Pacific Ocean – The view of the canyon offer variety contrasting colors – This part of the canyon is considered the paradise for geography and hikers lovers thanks to has been considered the deepest canyon in the world – The trip includes nice picnic next to Sipia waterfall.
Around 2PM return to Cotahuasi hiking or private/public transport - Diner and rest in comfortable room (B – Picnic - D).
DAY 3: COTAHUASI - PUICA - LUICHO HOT SPRING
Around 10AM arrive to Puica (3660M) and then nice uphill trekking to discover pre-Inca´s ruins as known as Maukallaqta (3900M) – From top of the hill nice overlook all the valley and canyon giving us unforgetable experience.
Picnic in this amazing place and then return by foot (3 hrs) or by transport down to Alca (2730M) and late afternoon visit the thermal bath of Luicho (38°C) to relax the muscles - Evening camping next to the hot spring (Group Service) - For Private Service booking transfer to the hotel in Cotahuasi for diner and rest (B - Picnic - D).
DAY 4: COTAHUASI - AREQUIPA
BOOKING GROUP SERVICE
: After breakfast we explore hiking around Cotahuasi till lunch time (1PM), the place to visit will one the highest suspension brige and small lagoon on the countryside of Cotahuasi - Around 3PM aboard the public bus and 10 hours of travel back to Arequipa – Around 1AM you will have transfer from bus stop to your hotel in Arequipa and end of service.
BOOKING PRIVATE SERVICE:
Today at breakfast will at 7AM and then aboard the private transport and drive back to Arequipa – The journey includes some stops along the way for pictures as the Mirador de Cotahuasi to watch the flight of the Andean Condor's (1hr) and of course other stops to get more views of high mountains and lunch in Aplao – Around 4PM you will arrive to your hotel in Arequipa and end of service.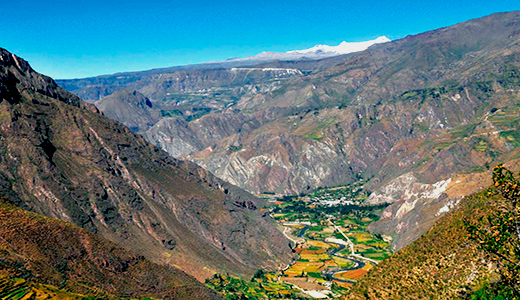 TREKKING AND CAMPING IN THE COTAHUASI CANYON INCLUDES
Official English-Speaking guide
Round trip public bus tickets (Group Service only)
Private transport (Private Service only)
2 nights of accommodation for Group & Private Service
All meals according the program
Tea time (hot drink, biscuit, pop corn)
Overnight in a family lodge (Groupr Service only)
Camping gear as four season tents and sleeping mattresses (Private Service only) - This need to be confirm at booking time
Entrance to Toro Muerto petroglyphs
Entrance to hot spring of Luicho
PRICE FOR TREKKING AND CAMPING IN THE COTAHUASI CANYON
DEPARTURE
TOUR
COST
Every Day
TREKKING AND CAMPING IN THE COTAHUASI CANYON $415 USD Per Person

Classical Backpacking Trekking In 4 Days And 3 Nights

Group Service (by public bus)
1 to more paticipants $415 USD each

Private Service (private van)
2 participants $625 USD each
3-4 paticipants $573 USD each
5 to more participants $451 USD each
Discount: $5 USD of discount for South American Explorers Club Members
Discount 3%: Tour Operators or Travel Agencies Only
Students: $5 USD of discount only with valid green ISIC card
Organized Groups: We offer private and any time departure.
Group size: 8 participants per guide - We need minimum 2 participants to develop this trek.
BOOK HERE: We highly recommended to book space prior you arrive to Peru.
All prices stated above are subject to change.
Exchange rate $1USD = S/. 3.02 (rate may vary daily).
NOT INCLUDED
Travel insurance
Binoculars
Breakfast on the first day
Sleeping bag (-10ºC can be hired in our local office of Arequipa)
Tip for guide and camp staff
Personal horse for ride, can be hired for $58 USD per day including a horseman and his food and accommodation
WHAT YOU NEED TO BRING/CARRY
Small backpack (45lt)
Rain jacket or poncho, plastic ponchos can be purchased in Arequipa (just in the rain season Dec - April)
Strong comfortable and waterproof footwear
Sweater and jacket (something warm)
Bottle of water
Flashlight and batteries
Hat or cap to protect you from the sun
Sun block (sun protection cream)
Insect repellent
Toiletries, towel and toilet paper
Selection of small snacks, chocolate, dried fruit, biscuits etc,
Camera, plenty of film and spare batteries
Swimsuit (you can swim in the hot springs of Luicho)
CONTACT US
For more information about the tour or you request a new date to departure for this tour, please contact us....
Some of our clients e-mail us saying our confirmation e-mails are placed to their spam folder rather than their inbox. We recommend to modify your JUNK or SPAM FILTER SETTINGS to receive our e-mail
peruadventurestours@hotmail.com
on the correct inbox. You may also want to add this email address to your list of known contacts. This will prevent our responses from being filtered into your Junk or Spam mail folder.