ROCK CLIMBING TOURS IN PERU
ROCK CLIMBING IN AREQUIPA
CUZCO ROCK CLIMBING
Rock climbing tour itinerary is coming soon.
ROCK CLIMBING IN NAZCA
Rock climbing tour itinerary is coming soon.
PERU ROCK CLIMBING INTRUCTION
Peru guided rock climbing tours are offered for beginners to advanced levels, single and multi-pitch climbs for everyone. Make the transfer from gym to real rock or go from dream to extremely experience with experienced rock climbing staff of PERU ADVENTURE TOURS.
Rock climbing in Peru is new growing outdoor sport, the rock climbing tour can be adapted for groups or individuals in half-day, full day or multi-days tours of single pitch or top roped climbing.
We also promote the rock climbing courses in one amazing day, you will learn about cliff line safety, basic movement on rock (including correct way to use your feet, balance and weight transfer, edging, smearing and use of side holds and lay ways), knots, rope handling, belay techniques and rock features.
The land of Peru offer numerous climbing areas with nice variety of crags at higher elevations tucked into the surrounding mountains between the coastal region, the Andes and the half down to the Amazon jungle.
ERU ADVENTURE TOURS includes all safety rock climbing equipments and experienced rock climbers lovers to bring to the most remote cliffs where you can learn and enjoy climbing big rock walls.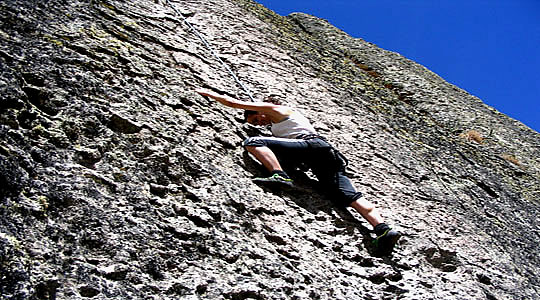 CONTACT
For more information about the tour or you request a new date to departure for this tour, please contact us....
Some of our clients e-mail us saying our confirmation e-mails are placed to their spam folder rather than their inbox. We recommend to modify your JUNK or SPAM FILTER SETTINGS to receive our e-mail
peruadventurestours@hotmail.com
on the correct inbox. You may also want to add this email address to your list of known contacts. This will prevent our responses from being filtered into your Junk or Spam mail folder.
ADDITIONAL BOOKING SERVICES
PERU TRAVEL INFORMATION
PERUVIAN GASTRONOMY INFORMATION
TYPICAL DRINKS OF PERU
PERU CLASSIC TOUR PACKAGE 17 days
May 23, 2007
Hi Saul,
Yes we are safely back on home turf and unfortunately already back at work!!!!
Unfortunately I returned to find out my grandfather has passed away so I have been a little busy.
We just wanted to say we had a fantastic time in
Peru
(except for the altitude sickness in Puno - I needed some oxygen!!!). The whole trip was very well organized and the accommodation was beautiful. I would say it has been my favourite holiday to date! I would recommend
Peru
and your
company
to anyone who wanted to visit South America. We haven't had a chance to look through our photos but when we do we will tell you a bit more about our trip and hopefully send you some shots.
Once again, thank you very much for a truly memorable experience.
Nita and Arifur
UK