ATV TOURS IN PERU – PERU 4x4 ALL TERRAIN VEHICLES – QUAD BIKING TOURS ALL OVER PERU
AREQUIPA QUAD BIKE TOURS
Quad Bike Tour Around Arequipa - Half Day Guided Tour
ATV Tour In Arequipa - Full Day
Quad Biking/ATV Tour To Misti Volcano - 3 Days
3 DAYS OF ADVENTURE TOURS IN AREQUIPA - Rafting, Mountain Bike, Quad Biking, Camping and Sandboarding
ATV TOURS IN CUZCO
Quad Bike Tour Around Cusco - Half Day Guided Tour
NAZCA ATV OFF-ROAD TOURS
All Terrain Vehicle (ATV) or Quad Bikes, tour are a great way to experience everything from the coastal sand dunes and oasis, Andean Mountains and deepest Canyons, from the cloud forest to the Amazon basin of Peru.
PERU ADVENTURE TOURS offer every level of ATV enjoyment. Whether you are a beginner wanting an easy ride or an expert looking for a challenge trails (expert extreme drivers), or you classify yourself somewhere in between, Peru ATV Tours offers you a wide variety of great trails, great scenery, and great fun lead by experienced camp stuff - off the beaten path and into a Peru rarely seen.
Your tour is conducted with state-of-the-art all-terrain vehicles, with experienced bilingual speaking guides. You can rest assured that your safety and well being are never an issue. As always we recommend that all tour participants be careful and follow instructions given by the guides. For expert drivers and ATV lover PERU ADVENTURE TOURS offer multi-day expeditions begin in the Pacific Ocean going up to the Andes (mountain passes more than 4000m high) and the downhill to dense jungle. The expedition goes driving through remote villages and almost abandoned dirt roads during the dry season of Peru (April to November), the multi-day expeditions are supported with professional drivers and 4x4 trucks including towing to carry the camping gear, water, food, gas and repair kit, aid kit and etc.
The multi-day ATV riding can be combining with camping, climbing to volcanoes and Snow Mountains, fishing and camping accompanied with spectacular wildness scenery of Peru.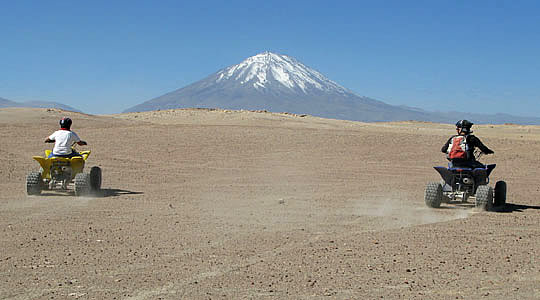 Peru ATV Expedition is the best way to discover the lands of the Incas, the ancestral Andean culture where never being before other travelers, the All Terrain Vehicle (ATV) will take you to amazing unique places in Peru. PERU ADVENTURE ATV Tours is dedicated to promoting the Inca culture by providing high quality educational tours of our local wilderness area while at the same time giving you the excitement of an enjoyable ATV adventure. Come and immerse yourself in our luscious landscape and connect with Inca history.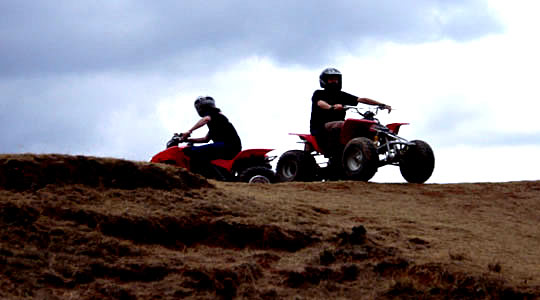 PERU ADVENTURE TOURS also offer half day ATV tours, full day ATV tours, advanced ATV tours (seasonal and for experienced riders), around Cusco, Arequipa and Ica region. Make your reservation advance and enjoy the best ATV tours in Peru.
For more information about safety talking, what to bring on this tour click on the link below
FAQ OF ATV/QUAD BIKE TOUR.
CONTACT US
For more information about the tour or you request a new date to departure for this tour, please contact us....
Some of our clients e-mail us saying our confirmation e-mails are placed to their spam folder rather than their inbox. We recommend to modify your JUNK or SPAM FILTER SETTINGS to receive our e-mail
info@peruadventurestours.com
or
peruadventurestours@hotmail.com
on the correct inbox. You may also want to add this email address to your list of known contacts. This will prevent our responses from being filtered into your Junk or Spam mail folder..