Arequipa
Trekking Tours
Climbing Tours
Biking Tours
Horseback Riding
Classic Tours
Sandboarding Tours

BIKE COMPONENTS
Recemmend you to check the bike components before you hire or book a bike tour.
More information.....
CLICK HERE
BIKING TOUR IN THE COLCA CANYON $475 USD Per Person
Biking In The Second Deepest Canyon In the World 3 Day - 2 Nights
Colca canyon is the second deepest canyon in our planet, double deep Grand Canyon of United States. Is located in the middle of two highest volcanoes Coropuna (6450m) and Ampato (6380m), this canyon is most famous place to visit by the tourist from every where in world, wonderful area to see the rich cultural remains, comes from 1400 years ago, immense varieties of flora and fauna, snow ranges, green valleys, old and colony town, mighty rivers crossing the Andes, thousand of pre Inca terraces, friendly and charm settlers live in this part of Peru. Here is our field work arranging everything what we mentioned before, we are happy showing to the visitors every place and old costumes lazy by our old cultures. We have traditional tours and new alternatives to explorer an extra mile in this great canyon.
TOUR ITINERARY OF BIKING IN THE COLCA CANYON
DAY 1: AREQUIPA - PAMPAS CAÑAHUAS NATIONAL RESERVE - PATAPAMPA (4850m) - DONWHILL MTB - CHIVAY - YANQUE HOT SPRING
At 8am we start our daily private tour to the second deepest canyon in the world, driving on the left side of Chachani mountain (6070m), continue going up to 4400m, is a Natural Reserve of Salinas and Aguada Blanca, is the nature habitat for the Vicuñas, one of South American camelidos, groups of Llamas, Alpacas, small lagoons next to the road (Bofedales).
At 11am arrival to the highest pass named Patapampa (4850m) from here you viewing nice mountainous range, death and active volcanoes such us Ampato, Coropuna, Ubinas and large extended of landscape. Briefing about the downhill mountain biking. Downhill biking on the nice serpentine payment road for beginners and for adventurous bikers this downhill offer many single track on 1300m of downhill. The mountain biking tours takes 2 hours viewing nice landscape through the small hills and springs.
At 1pm enter to the capital of Caylloma province, this town is named Chivay (3600m) and considerate the most important commercial town in all Colca canyon. Lunch at Chivay and then continue biking on le right bank of Colca River through pre Incas terracing and local people working on their daily activities. After 2 hours more arrival to Yanque village (3400m) and visit the main church and a local museum running by local government where is possible to appreciate remains of the Collahua culture.
At 5pm short downhill to the Colca River where we visit the Hot Spring (45ºC) located next of the river. Plenty time to enjoy the thermal bath and then transfer to the hotel in Yanque. Stay at nice and charm hotel at this quiet village without tourism (L - D).
DAY 2: YANQUE - COLCA CANYON - CRUZ DEL CONDOR VIEWPOINT - CABANACONDE - DOWNHILL LLAHUAR LODGE - HOT SPRING
At 6am camp breakfast and the transfer to Condor Cross viewpoint, at this place is possible to appreciate the fly of Condors or sometimes seating on the big rocks around the cliffs, two hours spending looking this amazing and biggest bird in the world, also viewing many villages at the deep part of this spectacular Canyon.
At 10am we take again our mountain bikes and downhill on the dirt road along the left side of this canyon. Nice downhill through pre Inca terraces and mountainous range. Short stop in Cabanaconde (3280m) for a energetic snack, after continue downhill to the deepest part of the canyon, descend on dirt serpentine road feeling the change of different ecological floors along the way. For experienced bikers are available technical single track along the way. For beginners we suggest to take the main road and enjoy the best views of the second deepest canyon in the world. At 2pm arrive to Soro (2000m) abandoned valley we cross the Colca River by suspension bridge build long time ago. We walk in a cactus forest and following nice track used by local people. Llahuar lodge is considerate the most quiet and recently discover place for stay in the bottom of the canyon. After late lunch you can enjoy the nature thermal baths next of the river. Stay in nice bamboo room accompanied by starry sky (B - L - D).
DAY 3: LLAHUAR LODGE - HUAMBO - AMPATO VIEWPOINT - EL PEDREGAL - AREQUIPA
At 6am after packing everything we take our country breakfast under sun rising and wonder view of a new day. Trekking by the same trail used day before until Soro valley where will be waiting our own private 4x4 vehicle and drive up to the pass (4100m) and downhill to Huambo town (3000m) and we will see some quite and nice farmers living from the agriculture, spectacular views of this dry and deepest area of this canyon. Continue travel in our 4x4 we will reach the highest point (4300m) of this day where is a perfect lookout of Ampato Volcano, driving around this volcano we will in the middle of two small Volcanoes of Qerqe plain. From here is possible to ride our MT bike all the way down from the highlands to the coast, descending 2800m at 40km. After 3 hours on our bikes we will be in EL PEDREGAL, from here we will take our 4DW and drive into the Panamericana highway to Arequipa. At 7-8pm enter to Arequipa, directly to your hotel and end service (B - L).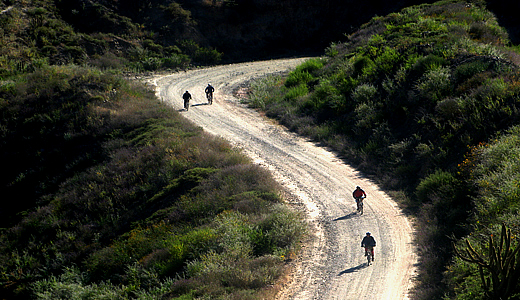 BIKING TOUR IN THE COLCA CANYON INCLUDES
Private 4x4 supporting vehicle (whole trip)
English speaking MT bike guide
GT - TREK - BIANCHI MT bikes in good maintenance (full disc brakes)
Windproof and full-finger glove which can also be worn during the cold season or high altitudes
Helmet; light ventilated and comfortable for your head
2 breakfasts - 3 lunches - 2 dinners
Plenty of snack and drinking water keep in cooler
2 nights in basic comfortable hotel
Tourist ticket of 70 soles or $30 US Dollars per person (Obligatory). This is the unique entrance to the Colca national park even if you don't stop at "Mirador Cruz Del Condor" (take care not many tour operators don't includes this tourist ticket), the entrance is valid to visit all the canyon but not valid for hot springs along the canyon
Entrance for the hot spring (some tour operators don't include this ticket)
Repair kits and new parts
Bottle of oxygen and first aid kit for all participants and our cam staff
Food and accommodation for our camp staff
See our Mountain Bike Components...
CLICK HERE
TOUR SCHEDULE & COST 2013
DATE
TOUR
COST
Any day
(even the rain season)
BIKING TOUR IN THE COLCA CANYON $475 USD Per Person

Biking In The Second Deepest Canyon In the World 3 Day - 2 Nights
Backpacker Service (Public bus)
1 to more participants $475 USD each one

Private Service (Private 4WD)
2 participants $475 USD each one
3-4 participants $425 USD each one
5 to more participants $398 USD each one
Discount: $5 USD for South American Explorers Club
Discount 3%: Members and Tour Operators only
Students: $5 USD of discount only with valid green ISIC card
Organized Groups: We offer private and any time departure
Group size: 6 participants per 4X4 vehicle and tour guide
BOOK HERE: We highly recommended to book space prior you arrive to Peru
All prices stated above are subject to change.
Exchange rate $1 USD = S/. 3.02 (rate may vary daily).
Private VIP Service, include supporting vehicle and the itinerary could be flexible according your request.
NOT INCLUDED
Alcoholic drinks
Breakfast or lunch
Tip for guide and camp staff
Sun glasses
Binoculares
Cycling shoes
Cycling clothes
Flight tickets confirmation
Phone calls
Camel bag, can be hired in our local office in Arequipa $3 USD per day
WHAT YOU NEED TO BRING/CARRY
Small backpack (45lt)
Rain jacket or poncho, plastic ponchos can be purchased in Arequipa (just in the rain season Dec - April)
Strong comfortable and waterproof footwear
Sweater and jacket (something warm)
Bottle of water, in the colca canyon you can buy driking water in every village
Sunglass to protect your eyes from sun and wind
Hat or cap to protect you from the sun
Sun block (sun protection cream)
Selection of small snacks, chocolate, dried fruit, biscuits, etc
Camera, plenty of film and spare batteries
Swimsuit (you can swim in the hot springs - Yanque)
CONTACT US
For more information about the tour or you request a new date to departure for this tour, please contact us.... Some of our clients e-mail us saying our confirmation e-mails are placed to their spam folder rather than their inbox. We recommend to modify your JUNK or SPAM FILTER SETTINGS to receive our e-mail
peruadventurestours@hotmail.com
on the correct inbox. You may also want to add this email address to your list of known contacts. This will prevent our responses from being filtered into your Junk or Spam mail folder.