PERU MOUNTAIN CLIMBING TOURS
AREQUIPA CLIMBING TOURS
ICA & NAZCA CLIMBING TOURS
For many mountain enthusiasts the chance to ascend the snow peaks of the Andes is irresistible challenge. The most demanding and popular place for mountaineering in Peru is the spectacular Cordillera Blanca in Huaraz region. There are many peaks over 5000m including an incredible 33 peaks over 6000m and Huacaran at 6768m, Peru's highest peak. To do a guided climb up any one of these huge mountains takes a minimum of 3 days or more depend on the difficulty and altitude.
Another popular region is Arequipa with several active volcanoes in the region. The most popular climb is the beautiful El Misti takes 2 days and does not require any previous mountaineering experience. Other volcanoes such as Chachani volcano, Ampato Mountain, Coropuna Mountain, Mismi Mountain, Pichu Pichu Snow-capped and Ubinas volcano can be climbed accompanied with an experienced mountain guide and all take a minimum of 2 days between the moths of May and November.
Our entire recognized guides are trained and good knowledge of each mountain, the best goal for mountain climbing tours are our camping and climbing gear, four season tents, new ice axe and crampons are available for all clients.
PERU ADVENTURE TOURS organise classic climbs and new alternatives combining canyon treks and climbing to mountain and active volcanoes in the south of Peru.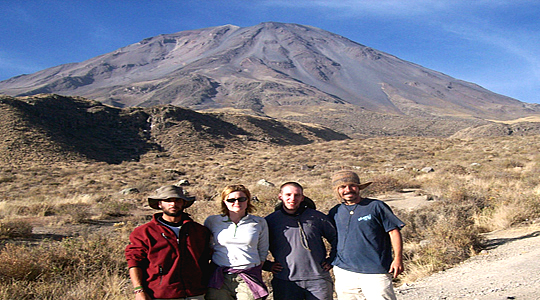 SNOW MOUNTAINS AND VOLCANOES AROUND AREQUIPA
Misti 5825M
Picchu Picchu 5664M
Chachani 6070M
Ampato 6288M
Hualca Hualca 6025M
Sabancaya 5967M
Ubinas 5672M
Mismi 5597M
Huaynaputina 4850M
CONTACT US
For more information about the tour or you request a new date to departure for this tour, please contact us.... Some of our clients e-mail us saying our confirmation e-mails are placed to their spam folder rather than their inbox. We recommend to modify your JUNK or SPAM FILTER SETTINGS to receive our e-mail
peruadventurestours@hotmail.com
on the correct inbox. You may also want to add this email address to your list of known contacts. This will prevent our responses from being filtered into your Junk or Spam mail folder.