Arequipa
Trekking Tours
Climbing Tours
Biking Tours
Horseback Riding
Classic Tours
Sandboarding Tours

PAMPAS CAÑAHUAS AND SUMBAY CAVE PAINTINGS - ANDEAN RUPESTRIAN ART SINCE $105 USD Per Person
Arequipa Wild And Paleolithic Tour - 8 Hours Trip With Private Guide And Transport
Pampas Cañahuas and Sumbay cave paintings are located in the National Reserve of Aguada Blanca and Salinas, behind
Mist
i and
Chachani
volcano and just 87km on the new way from Arequipa to
Puno
or
Cusco
(15°58'33.12"S - 71°20'57.43"O).
Pampas Cañahuas is the home for the rare wild animal as know Vicuña (vicugna). The Vicuña lives between 3800 - 4800m on the plateaus and slopes of the Andes Mountains. These wonderful animals are prohibit to be domesticated and are protected by Peruvian laws, because this animal produce extremely finest wool witch cost very expensive.
Arequipa
territory has great historic past. The first settlements on this zone data from Paleolithic Era (6000 - 8000 BC).
Sumbay cave keeps rupestrian rock arts, where is possible to see on the walls how the first humans on this part of the highlands practice to hunt animal such as camelidae (Huanacos, Vicuñas), foxes, pumas, deers and other extinct animals running away. Also this rupestrian art is good resources to know more of
Arequipa
history.
Inside of Sumbay cave is possible to see some tools as scrapers, disc shaped knives and burins for sewing.
PERU ADVENTURE TOURS
invite you to visit Pampas Cañahuas and Sumbay caves - Rock Art guided by professional and authorized tour guides and private van.
Sumbay Cave Paintings - Rock Art Of Sumbay - Rupestrian Art In Sumbay Caves - Sumbay Tours - Rock Art Tours - Rupestrian Day Trips - Sumbay Paleolithic Art - Arequipa Sumbay Caves - Peru Cave Paintings - Caves Art Pictures - Arequipa Paleolithic Caves - Pampas Cañahuas - National Reserve Of Aguada Blanca And Salinas - Peru National Reserve - Peru Paleolithic Tours - Arequipa Day Tours - Cave Painting Pictures - Arequipa Local Tour Guide - Chachani Volcano - Misti Volcan
For serious weather report about this region CLICK HERE ...
TOUR ITINERARY OF PAMPAS CAÑAHUAS & SUMBAY CAVE PAINTINGS
This tour departure at 8AM from your hotel by private van and professional accredited tourist guide. We go first to Yanahuara main square and visit the nice church of Yanahuara district. Keep going we arrive to Carmen alto lookout and spectacular view of the Chilina Valley and Chili River, from this point you can get the best picture of Misti volcano and Chachani snow-peak.
We drive along the road to Puno through farming town of Yura, from here is just uphill passing small cactus forest on the slopes of Chachani Mountain. After 1 hours of drive arrive to Pampas Cañahuas (4200m), this area is located inside the National Reserve of Aguada Blanca. Here you will observe plenty of elegant and rarely animals as know Vicuña (Vicugna), The Vicuñas are grazing along the plateaus on the back site of Chachani.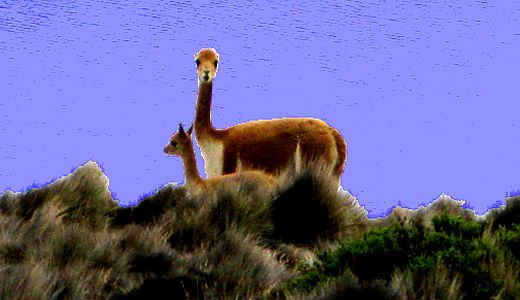 Keep driving arrive to Patawasi village and meet farmers keeping their Alpacas and Llamas on the slopes of the hills. Continue our tour we go to visit the most interesting point. Sumbay painting caves is located on the left side of the road, to get there we take we drive about half hour on gravel road to abandoned/ghost town of Sumbay.
Walk through nice rock formations and narrow rocky canyon until to the cave and finally you will find the rupestrian rock arts, these represent animals as Vicuñas, Llamas, Pumas, Ñandu - Also are figures of humans hunting and rare figures carved on the walls.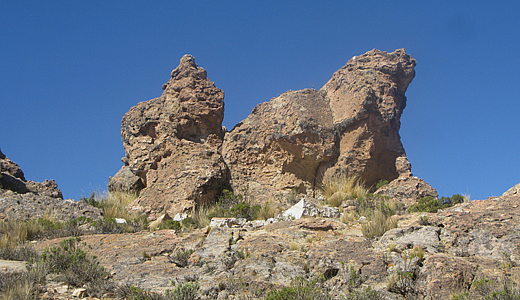 We stay around two hours in these places and then we go to visit some groups of Alpacas and Llamas and our guide will show you some daily customs about Andean people of this zone.
We make a picnic (box lunch) in next of Sunbay River with spectacular looks of Chachani, Misti, Pichu Pichu and another mountain between Arequipa and Puno department.
At 1PM we return by the same road to Arequipa, but 40 minutes before Arequipa we take dirt road to Quiscos and Yura Viejo valley. These valleys are located on the north site of Chachani and between volcanic hills. This is very reach valley where farmers work the same fields 3-4 times per year.
Around 4PM return to your hotel in Arequipa and end of service.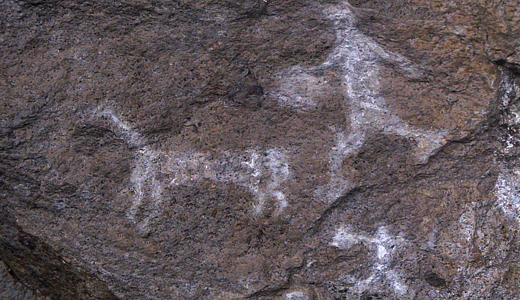 PAMPAS CAÑAHUAS AND SUMBAY CAVE PAINTINGS INCLUDES
Certified English-speaking tour guide
Private transport
Full drinking water and plenty snacks
Tables and camp chairs for picnic
TOUR SCHEDULE & COST 2015
DATE
TOUR
COST
Any day
(April to November)

Some days in the rain season, between december to March
PAMPAS CAÑAHUAS AND SUMBAY CAVE PAINTINGS - ANDEAN RUPESTRIAN ART SINCE $105 USD Per Person

Arequipa Wild And Paleolithic Tour - 8 Hours Trip With Private Guide And Van
Backpacker Service
Not able

Private Service (Van & Tour guide)
2 participants $105 USD each
3-4 participants $85 USD each
5 to more participants $70 USD each
Discount: $5 USD for South American Explorers Club Members
Discount 3%: Tour Operators or Travel Agencies Only
Students: $5 USD of discount only with valid green ISIC card
Organized Groups: We offer private and any time departure
Group size: 8 participants per guide
We highly recommended to book space prior you arrive to Peru
All prices stated above are subject to change.
Exchange rate $1 USD = S/. 3.02 (rate may vary daily).
NOT INCLUDED
Travel insurance
Soft and alcohol drinks
Breakfast or diner
Hotel in Arequipa
Tip or camp staff
Walking stick (can be hired from our office in Arequipa $2 USD per pair)
RAIN SEASON
December to March. Some days blue sky with good conditions to visit the National Reserve.
BEST TIME TO VISIT
April to December, specially on April because is the season when the Vicuñas birth and all mountain looks completely white.
WHAT YOU NEED TO BRING
Day backpack 30Lt
Windproof jacket
Strong comfortable and waterproof boots (December to April)
Sweater and thermal pants and every thing you can have to be warm
Hat or cap and sun block to be protected from the strong sun
Toilet paper
Camera, plenty of film and spare batteries
Sunglass is strongly recommended to protect your eyes from sun
Your personal medications
This tour is recommended for people like to know more about wild life such as South American Camelidae (Vicuñas, Alpacas and Llamas).
CONTACT US
For more information about the tour or you request a new date to departure for this tour, please contact us.... Some of our clients e-mail us saying our confirmation e-mails are placed to their spam folder rather than their inbox. We recommend to modify your JUNK or SPAM FILTER SETTINGS to receive our e-mail
peruadventurestours@hotmail.com
on the correct inbox. You may also want to add this email address to your list of known contacts. This will prevent our responses from being filtered into your Junk or Spam mail folder