2DAY TRIP TO LAGUNA DE SALINAS AND COLCA CANYON $385 USD Per Person - Private Service
Visit Salinas Salt Flats And The Wonders Of Colca Canyon
The Colca Canyon is located on the southern
Peru
in the Andes mountain range exist the second deepest canyon in the world, It is more than twice as deep as the Apurimac Canyon (Peru) and the Grand Canyon in the United States, the canyon's walls are not as vertical as those of the Grand Canyon. The Colca River birth in the Andes between Condoroma and Crucero Alto (above 4500-5000m), drops the water down to Pacific Ocean, this river have 4 names as Colca River, Andamayo River, Majes River and finally Camana River. The Colca Canyon register hard rain during December to April and the rest of the year is dry, sunny and cold weather.
The deepest part of the Colca Canyon is register between
Ampato
Mountain (6310m) and
Coropuna
snow-capped (6377m), on the left bank of the canyon exist a small town named Huambo and straight down of this town is located Cancco Valley (1720m) which is the greatest deep point that reaches a depth of 4590 meters.
The name Colca refers to small holes in the cliffs in the valley and canyon. These holes were used in Inca and pre-Inca times to store food, such as potatoes and other Andean crops. They were also used as tombs for important people.
The geography of the Colca Canyon are habitable, and Inca and pre-Inca terraces are still cultivated along the less precipitous canyon walls; they build stepped terraces to cultivate the ancestral potatoes, maize and other products of this region. The Colca Valley is a wonderful and colorful Andean valley with many small and remotes towns on the both side of the Canyon founded by Spanish conquers. The Spanish introduce and change many ancestral traditions as the religion. The Colca Valley keeps many colonial richest churches in all
Arequipa
regions.
The canyon is home of the Andean Condor (Vultur Gryphus), they are can be seen at fairly close range as they fly through the precipices. The Condor is the main tourist attraction and can be seen at "Cruz Del Condor", is a popular tourist stop, the pass where the Condors soar gracefully on the rising thermals occurring as the air warms.
The Colca Canyon is the main tourist attraction in
Arequipa
, the Colca Valley can be visit directly from
Arequipa
, from
Cusco
by 4WD or from
Puno
(
Lake Titicaca
) by private van. The Colca Canyon geography offer great terrain to practice outdoor activities such as
Trekking Tours
,
Climbing Tours
,
Horse Tours
,
Mountain Bike
,
River Rafting
, Camping, Bird Watching combining with relaxing visit to the numerous thermal baths and staying in charm and comfortable hotels along the Colca Canyon.
PERU ADVENTURE TOURS
organize daily visit to the Colca Canyon, with experience driver and official accredited tour guides and including good food, entrance to the park and the best hotels to stay in the second deepest canyon in the world.
2 Day Trip From Arequipa To Colca Via Laguna De Salinas - Tour Laguna De Salinas And To Colca Canyon - 2 Day Trip To Salinas Salt Flats And Colca Valley - Salinas And Colca Tour - Sumbay Cave Paintings - Guided Tour To Colca Valley - Guided Trip In The Colca Canyon - Tour Information Of The Colca Canyon - Trekking From Canocota To Chivay - Home Stay In The Colca Canyon - Colca Hot Sprint Tour - Peru Caves Painting Tours - Mirador Cruz Del Condor - 4x4 Tour In The Colca Valley - Peru Colca Valley Trip - Flamingos Watching Tours - Salinas 4x4 Tours - ArequipaTours - PeruTours - Tours To Salinas And Colca Canyon - Trek In The Reserva Nacional De Salimas
For serious weather report about this region CLICK HERE ...
DAY 1: AREQUIPA – SALT FLATS OF SALINAS - RESERVA MACIONAL DE AGUADA BLANCA Y DE SALINAS – PURUÑA ROCK FOREST - SUMBAY CAVE PAINTINGS – MIRADOR DE LOS VOLCANES - CHIVAY
Today the trip starts at 6AM from the accommodation of costumer located in Arequipa downtown - In case someone like to be picked up from bus station or from airport of Arequipa need to confirm this at booking time with a additional transfer cost (under request only) - Find below the highlights of this day trip:
LAGUNA DE SALINAS:
Around 8:30AM we will arrive to Laguna de Salinas (4300M) - This is a paradise for Flamingos (James, Chilean and Andean) and all bird-watch lovers are welcome on this trip to enjoy this amazing and natural spectacle – The lagoon is full of waters from January till June/July and then normally is dry with not possibilities to watch Andean birds as Falmingos and others – The trip includes 1 hours of lovely walking (flat) next of the lagoon on the way to town of Salinas Huito.
ANDEAN WILDLIFE:
Continue driving the 4WD on a dusty road we stop in different places to see very close the wild Vicuñas and other camelids as Llamas and Alpacas (domesticated) grazing next of the lagoon or wetlands - Thanks to the road we pass through remote Andean villages of San Juan De Tarucani and Hayllacucho, where there are Andean people still living in pure contact with nature as their ancestors.
PURUÑA ROCK FOREST:
Around 11AM our 4WD is going to take us to undiscovered rock formation located in middle of Reserva Nacional De Aguada Blanca Y Salinas - The curious forms of stone forest is due to wind erosion and heavy rains on this part of the Altiplano - Here we walk for 40 minute to explore the strange figures on a volcanic terrain that contrasts with its surroundings.
LUNCH TIME:
The place for lunch will be next of the Natural Reserve - This is small place with available toilet and surrounding by nice view of the backside of Volcan Misti and Chachani Mount.
RUPESTRIAN PAINTINGS OF SUMBAY CAVE:
The next stop will be to visit a small rocky canyon as known as Sumbay - There we walk for about 10 minutes to get bottom and find the caves where are the rupestrian arts dating 14.000 year ago thanks to the first human living as hunters and gatherer.
PATAPAMPA (4910M) "MIRADOR DE LOS ANDES
": A short stop on this place for nice pictures of Ampato (6288M) and Walka Walka (6025M) Mountain and one of the most active volcano in the south of Peru as known as Sabancaya (5976M) - From this point will be downhill drive into the Valle Del Colca/Chivay (3600M).
LA CALERA HOT SPRING (45°C):
Around 5PM transfer to the hot spring of "La Calera" to enjoy the thermal pools for about one hour - The admission to the thermal pools cost around $6 USD per person (excluded).
Around 6:30PM return to Chivay for check in the select hotel and then transfer to selected restaurant to have your diner accompanied with life Andean music show (Excluded).
At 8PM everyone (Private Service & Backpacker Service staying in Chivay) will meet the tour guide in the lobby of the hotel and then transfer to the planetarium Maria Reiche, this is located at Casa Andina Hotel (Chivay). We invite you to immerse in the mysteries of the Colca Valley sky and enjoy the performance Colca deep Canyon, deep sky. You can learn how the ancient inhabitants of the Andes interpreted the night sky according to their myths and beliefs. The performances include projecting constellations in the Planetarium dome as well as observing the stars of Colca`s sky through a professional telescope.
Return to the hotel and overnight.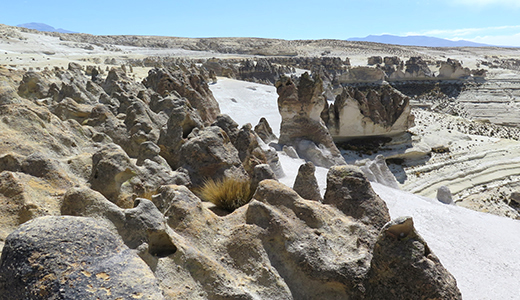 VERY IMPORTANT TO KNOW
The visit to the planetarium is restricted for participants who choose to stay in hotels OUTSIDE Chivay, even if you book Backpacker or Private Service - The visit to the planetarium during the rainy season (December to April) is subject to changes of the weather conditions - PERU ADVENTURE TOURS is not responsible for weather changes or suspension of the event by the direct administration of the planetarium (Casa Andina Hotel - Chivay) - The payment made for the service of planetary will be refunded to each participant at the end of the tour/trek - We appreciate your understanding for any inconvenience that may arise.
DAY 2: CHIVAY TOWN - COLCA CANYON - CONDOR CROSS VIEWPOINT – AREQUIPA
At 6AM will be breakfast in your hotel included as courtesy and then 2 hours of transfer in our transport to "El Mirador Cruz Del Condor" - This journey includes nice drive on the left bank of Colca River passing small towns with colonial churches and spectacular highlights as snow-capped, hanging tombs, cactus forest, and lot flora and fauna along Colca valley – Also we stop in some lookout to see lot agriculture terracing on the both side of Colca valley – Around 8AM start a short and alternative trekking along the canyon (Private Service only) to arrive to the Condor cross viewpoint to watch the fly of the biggest bird in the world – Luckily you can see the Condors very close like 10 meters away from you or sometimes they are seating on huge rocks next of cliffs facing the deep of the canyon – Free time to enjoy spectacular view of the canyon, get some relax OR 45 MINUTES OF NICE TREK ALONG THE CANYON LOOKING FOR MORE CONDORS (Recommended).
At 10AM we drive back to Chivay but along the way we stop getting nice views of the river and Colca valley, other colonial churches, small handicraft markets, and seeing local's people working the ancient's pre-Incan terraces.
Around 12:30PM arrive to Chivay to have lunch (Does Not Include) and then 30 minutes of free time for personal activities as visit the local Andean market or walk around.
Around 1:30PM meeting at Plaza de Central (main square) and then 4 hours of journey from Chivay to Arequipa – This transfer includes few stops to use toilet – The tour ends in your hotel of Arequipa around 5PM to 6PM.
TRIP TO SALINAS AND COLCA CANYON INCLUDES
Englihs-speaking tour guide
2 day of private transportation
1 night of hotel in Chivay or Yanque (3*) - The room includes private bath, hot shower, wi-fi, heat, amenities and next courtesy breakfast
Tourist ticket of 70 soles or $25 US Dollars per person (Obligatory). This is the unique entrance to the Colca national park even if you don't stop at "Mirador Cruz Del Condor" (take care not many tour operators don't include this tourist ticket), the entrance is valid to visit all the canyon but not valid for hot springs along the canyon
2 hours of short trekking in the Colca canyon (Second Day)
1 breakfasts - 1 lunch
Ticket to visit the Planetarium Maria Reiche/Projecting constellations - During the rainy season (December to April) the visit is subject to changes or cancellation by direct administration of the even - This event is included for customers choosing to stay in a hotel in Chivay only
Plenty of drinking water and snack during the tour
First aid kit for all participants and our cam staff
Food and accommodation for our camp staff
prices stated above are subject to change
Exchange rate $1 USD = S/. 3.02 (rate may vary daily)
IMPORTANT TO KNOW BEFORE YOU BOOK THIS TRIP
* This tour can begin from airport of bus station in Arequipa but not later than 8AM.
* The first day journey from Arequipa to Lagunas de Salinas and to rock forest of Puruña will be mostly on gravel dirt road (very bumpy) and awarded with unique view of the lagoon, flamingos (Juanuary to June), volcanoes as Pichu Picchu, Misti, Ubinas and Chachani, nice Andean valleys of San Juan de Tarucani and Huayllacucho.
* The first day of the trip will be "Off The Beaten Path" and we recommend to be ready to discover remote villages/places inside the national reserve.
* If you decide to book your own hotel in the Colca valley tell us at booking time to give you the cost of the trip without accommodation.
* THIS TRIP IS AVAILABLE ONLY BETWEEN APRIL TO DECEMBER - During raining season is not available because the level of the water in some rivers is to high and is not possible to cross with our vehicles.
TRIP COST TO LAGUNA DE SALINAS AND COLCA CANYON
DATE
TOUR
COST
Any day
between April and December
2DAY TRIP TO LAGUNAS DE SALINAS AND COLCA CANYON $385 USD Per Person

Visit Salinas Salt Flats And The Wonders Of Colca Canyon

Backpacker Service (Join a group/van)
No Applicable

Private Service (Private van & guide)
2 participants $385 USD each
3-4 participants $285 USD each
5 to more participants $235 USD each
Discount: $5 USD of discount for South American Explorers Club Members
Discount 3%: Tour Operators or Travel Agencies Only
Students: $5 USD of discount only with valid green ISIC card
All prices stated above are subject to change
Organized Groups: We offer private and any time departure
Group size: 6 participants per guide - We need minimum 2 participants to develop this tour
BOOK HERE: We highly recommended to book space prior you arrive to Peru and take Private Service
NOT INCLUDED
Travel insurance
Hotel in Arequipa
Soft and alcoholic drinks - Drunk people are prohibit to join the tour and no money refund.
Breakfast on the first day
1 diner on the first day
1 lunch on the second day
Tips for guide and camp staff
Horseback riding tours
Fishing gear
Entrance to the hot spring in Chivay $6 USD per person will be paid directly
WHAT YOU NEED TO BRING/CARRY
Small backpack 40lt
Rain jacket or poncho (December to April)
Strong comfortable and waterproof footwear
One complete change of clothing
Sweater and jacket (something warm)
Bottle of water
Flashlight and batteries
Hat or cap to protect you from the sun
Sun block (sun protection cream)
Insect repellent
Selection of small snacks, chocolate, dried fruit, biscuits, etc
Camera, plenty of film and spare batteries
Sunglasses
Swimsuit for the hot spring
Optional walking sticks or poles
DEPARTURES
Daily departures are available between April to November (dry season). During the raining season we don't really reommend because on the upper region of the canyon the rain is so hard.
PRIVATE SERVICE
Depart for private service for groups or individual are available any day during all year. We strongly recommend to book trip with private van or 4x4 vehicle to explore more the Colca canyon. This tour can be combined with private and directly transfer to Puno or to Cusco, please check this option at booking time.
CONTACT US
For more information about the tour or you request a new date to departure for this tour, please contact us....
Some of our clients e-mail us saying our confirmation e-mails are placed to their spam folder rather than their inbox. We recommend to modify your JUNK or SPAM FILTER SETTINGS to receive our e-mail
peruadventurestours@hotmail.com
on the correct inbox. You may also want to add this email address to your list of known contacts. This will prevent our responses from being filtered into your Junk or Spam mail folder.