PRIVATE GUIDED TOUR TO COLCA VALLEY
Discover The Upper And Low Zone Of The Colca Canyon In 3 Days - 2 Nights
Colca River Basin is situated in the extreme north east of the
Arequipa
region, the highest point of the basin is the
Ampato
snow- mountain at 6300 meters. The Colca Valley has about 180km. long and occupies only part of the
Colca
River basin, one comprising the districts of Callalli and Huambo.
The Colca Valley and Colca canyon is part of the South American tectonic plate, eroded by thousands of years by the longest river in the Peruvian coast. The area is surrounded by volcanoes as Sabancaya and the
Coropuna
and the
Ampato
.
The Colca River begins in the Andes, at the top of Condorama cruise. The valley itself where space begins arable margins becomes wider.
The Colca River reaches depths of up to 3400 meters on both sides and more than 180 kilometers long.
This is one of the deepest canyons in the world according some studies and expeditions, followed by the barrel of
Cotahuasi
canyon, formerly the deepest than the Grand Canyon of Unite State.
There are 16 villages of the ethnic descendants of Collahuas and Cabanas, of those who have inherited a rich cultural tradition.
Is one of the deepest and most beautiful canyons of
Peru
. Its deepest part (3400m) is located in the town of Canco, almost provincial boundary between Cailloma and Castilla province. The canyon is a geological formation caused by a fault in the earth's crust, where it continues to work on ancient erosion of the river of the same name.
After passing through the ancient town of Maca, the slope of the river increases dramatically and this is where the Colca Canyon starts itself. It reaches its greatest depth near the famous Cruz del Condor viewpoint.
Colca Canyon is the habitat of animals such as the Andean condor including for more than 100 species of birds, four types of camelids:
Vicuña, Guanaco, Llama and Alpaca
. In addition there are over 300 species of plants, of which 30 are cactus, not to mention the original green Yareta (cushion-shaped green that grows in areas of high altitude - Apiaceae Azorella).
One of the most valuable events of the visit to the canyon is the sunrise along the cliff where you can see the flight of about 20 condors.
The Colca Valley is ideal for recreational and artistic activities like painting, photography, poetry, and others, just as it is conducive for adventure sports like trekking, rafting, climbing, cycling, quad biking, horseback riding, bird watching, etc.
The traditional tour begins Valley near the town of Chivay, at the foot of Nevado Mismi, the farthest source of the
Amazon
River. It is from this area where the platforms or terraces curving whimsical growing along the river banks, dominate the landscape. PERU ADVENTURE TOUR will bring you in an amazing guided tour to discover the upper zone and the lower zone of the Colca Canyon. The tour description below includes no conventional visits along the left and right bank of the Colca River, passing through remote villages, walking along Inca trails, enjoying hot spring (man make), seeing from the best lookouts where other tour companies don't go you will get great pictures about this wonderful landscape.
PERU ADVENTURE TOURS guides know very well each corner of the canyon for better recognize this piece of rich and ancestral land.
Colca Valley Tours - KolqaTours - Colca Canyon Tours - 3 Day Trip To Colca Canyon - Hotel Aranwa Colca Hotel - 3 Day Excursion To Colca Valley - 3 Days Colca Tour - Tours Al Cañon Del Colca - Colca Tour 3 Day / 1 Night - Colca Valley Trips - Tour Information About Colca Valley - Tours In The Colca River - Hot Spring In The Colca Valley - Pampas Cañahuas - Canocota Trek - Las Ventanas Del Colca - Tourist Information About Chivay - Hotels In Cabanaconde - Tourist Transport In The Colca Valley - Adventure Tours In The Colca Valley - Lodging In The Colca Valley - ColkaTours
GUIDED TOUR TO THE COLCA VALLEY ITINERARY
DAY 1: AREQUIPA – PAMPAS CAÑAHUAS – LAS VENTANAS DEL COLCA – CALLALLI – TUTI – CANOCOTA TREK - CHIVAY HOT SPRING
Around 7AM we will meet in your hotel of Arequipa and then start our private guided tour to the second deepest canyon in the world, driving on the left side of Chachani mountain (6070m), continue going up to 4200m, is a Natural Reserve of Salinas and Aguada Blanca, is the nature habitat for the Vicuñas, one of South American camelidos, groups of Llamas, Alpacas, small lagoons as know Bofedales.
From Patawasi section we will take the gravel road to bring us to Las Ventanas del Colca. It is a geological formation located at 4300m this takes the form of a window. From this natural view can clearly see the road entrance to the Colca Valley (upper zone), and the confluence of the rivers of Colca and La Pulpera.
The view from Las Ventanas Del Colca offer good views for photographers, Las Ventanas Del Colca includes nice mountain, Llamas and Alpacas farmers living about 4000m. From here we will continue driving down to Sibayo (3880m) and then to Callalli (3820m), both places are typcal Andean remote village with some Spanish influence.
At 1PM we will be in Tuti (3800m), where we will have picnic as lunch through the high mountains of the upper zone of the Colca canyon.
Around 2PM we will cross the Colca River to the left bank of the canyon where we will find another remote village as known Canocota (3750m), from here we start ATERNATIVE 3 hours of pure trekking following ancient Inca trail along Waynalima canyon to the hot spring of La Calera. This walk offer spectacular view of the upper zone of the canyon, fully of pre-Inca terraces on the both bank of the canyon. PERU ADVENTURE TOURS really recommend this trekking considered as easy and enjoy the thermal pools of La Calera (42°C) - Around 5PM transfer to select hotel located next of Colca River and surrounded by pure nature (L).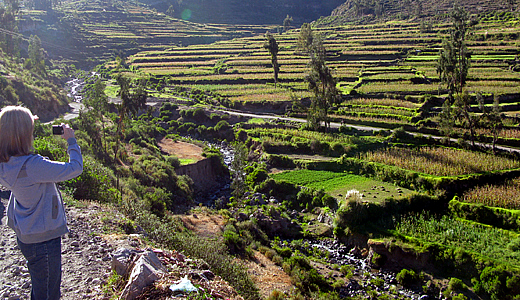 DAY 2: CHIVAY – COPORAQUE – ICHUPAMPA – LARY – PINCHOLLO – CONDOR CROSS – CABANACONDE
At 5:30AM will be the breakfast in the hotel and then aboard our prívate transport to visit the right bank of the canyon passing through remote villages as Coporaque (3580m), this village was the most important in the Incas times where the Spaniards found Inca castle covered with copper, silver and gold ornaments. Ichupampa (3400m) is another little farm town surrounded by pre-Incas terraces and friendly local people.
Finally we will arrive to Lari town (3350m) where is located the biggest colonial church in the Colca canyon. This town is supported by local farm people.
At 8AM we will cross again the Colca River to drive up to Pinchollo village (3600m) and then we connect to the Condor cross view (3750m) at this place is possible to appreciate the fly of Condors or sometimes seating on the big rocks, two hours spending looking this amazing and biggest bird in the world - After seeing the flight of the Condor we will start nice trek following a single trail along the canyon getting spectacular views of the canyon, little villages down in the right bank of the Colca River.
At 11AM begin ALTERNATIVE trekking along the Canyon seeing the deep of the Canyon and spectacular views of entire group terraces - Around 2PM trekers will arrive to Cabanaconde (3228M) where is HOTEL KUNTUR WASSI to get lunch prepared with local recipes.
Free afternoon for personal activities or optional walk to Achachigua view point to see more of the canyon - Diner will be served at 7PM (included) and rest (B - L - D).
OPTIONAL:
After lunch you can combine horseback riding or downhill bike trip around the canyon. These activities need to be confirmed at booking time.
These tours design just for participants chose the hotel in Chivay and Private VIP Service only because each activity demands around 3 hours.

3 HOURS OF HORSEBACK RIDING TOUR $85 USD Per Person - Not Included
This tour Includes nice riding through fully agriculture terraces on the left and right bank of Colca River, the main location of our horses is in Cabanaconde town whereyou will have nice introduction to the horses and begin the trip after safety talking and check the equipment's as saddles - The riding also countryside horseback tour and this is suitable for experienced and beginners riders - The tour can includes some gallop only if you know very well to ride the horses otherwise we don't recommend to try that to avoid any accident - Booking this tour you need to bring fleece or windproof jacket to kept warm the body during the riding time - This tours is not available if is raining or not available horses.
3 HOURS OF DONWHILL BIKE TOUR $85 USD Per Person - No Included
The mountain bike downhill from Cabanaconde to the bottom of the canyon as known as Soro - The trip include a gravel road all the way down with amazing view of huge and very steep walls - The mountain bike tour in the canyon can be done in 3 hours of pure downhill tand is recommended for mountain bike lovers thanks to good road condition - This ALTERNATIVE mountain bike tour is suitable for beginners and experienced bikers - The tour cost already includes mountain bike, gloves and ventilate helmets.
DAY 3: CABANACONDE - HUAMBO - LLUTA - HUANCA - YURA - AREQUIPA
Today we will wake up around 6AM and then country breakfast included by the hotel and around 8AM aboard the private transport and off-roading and uphill drive through huge mountains and downhill to remote village of Huambo (3316M) surrounded by lot Oregano plantation, other crows and is located between steep mountains.
From Huambo we continue off-roading driving up to 4200M from where we will get nice Andean view like Hualca Hualca and Ampato snow-capped - In 1995 was found a human mommy at the top of Ampato Mountain by American archaeologist and today the mummy is recognize as "Juanita the Ice maiden princes".
Continue travelling by private transport on dirt road we enter to Lluta, this is little town in remote area where foreigner people never go as tourist - PERU ADVENTURE TOURS staff are proud to show you this region of Arequipa where the local people still living as hundred years ago, working they fields and having lot respect for high mountains as their god.
The next Andean town is Huanca (3070m) where we will stop to have lunch seeing small canyons and snow-capped close of the village and then 3 more hours of transfer to Arequipa - Around 5PM arrive to customer hotel in Arequipa and end of service (B - L).
GUIDED TOUR TO COLCA VALLEY INCLUDES
Certified English-Speaking tour guide
Private transport

1 nights at Hotel Aranwa/Colca Lodge or Las Casitas del Colca
Tourist ticket of 70 soles or $25 US Dollars per person (Obligatory). This is the unique entrance to the Colca national park even if you don't stop at "Mirador Cruz Del Condor" (take care not many tour operators don't includes this tourist ticket), the entrance is valid to visit all the canyon but not valid for hot springs along the canyon
3 hours of trekking along the canyon of Huaynalima (Canocota/Chivay)
2 breakfasts - 3 lunches (The first and third day will be box lunches) - 1 diner
1 night at Hotel Kuntur Wassi in Cabanaconde - Considered the best one in this area
First aid kit for all participants and our cam staff
Food and accommodation for our camp staff
HOTELS IN THE COLCA VALLEY - COLCA HOTELS
Before you book this trip find below names and link of each hotel to stay in the Colca and get the correct information to stay in the Colca Valley.

ARANWA HOTEL RESORT SPA (Coporaque - First Night): This hotel is a dream, rich in legends and colonial Andean traditions, as well as breathtaking scenery. It is located in the district of Coporaque along the Colca River, 3 hours from the city of Arequipa... READ MORE

LAS CASITAS DEL COLCA (Yanque - First Night): The Casitas de Colca is located 160 km north of the city of Arequipa, close to the Colonial village of Yanque and just 8 km from the town of Chivay. This luxurious hotel is in the heart of the Colca Canyon, one of the world's deepest and most beautiful... READ MORE

HOTEL COLCA LODGE (Yanque - First Night): Located at an altitude of 3250 meters (10660 feet) above sea level, at two-and-a-half hours from the city of Arequipa, our hotel is built on the banks of the River Colca and is surrounded by hundreds of pre-Inca agricultural terraces that have been declared a Peruvian National Heritage... READ MORE

HOTEL KUNTUR WASI (Cabanaconde - Second Night): The Kuntur Wassi Hotel, a family-owed business, opened its doors July 7th, 2002 with the goal to offer the highest quality accommodations and service to our visitors. The hotel is located in Cabanaconde, which is the seventh town in the Colca tourist circuit. It is the closest three star establishment to the "Cruz del Condor" and is located at the start of the many trekking routes and other adventures of the Colca Canyon... READ MORE
TOUR SCHEDULE 2015 - COST IN US DOLLARS

LODGING

1 PAX

2 PAX

3 PAX

4 PAX

Aranwa Hotel Spa/Kuntur Wassi
Colca Lodge/Kuntur Wassi
Las Casitas Del Colca/Kuntur Wassi

958
1050
1450

1070
1160
1550

1285
1340
1935

1400
1470
2100

All hotels includes STANDARD rooms as single and double twins – If you want to stay in a better room request this by e-mail at booking time and we will arrange this only if is available and with additional payment.

AVAILABILITY: Every day even raining season (Dec-March)
DISCOUNT: $5 USD for South American Explorers Club Members
DISCOUNT OF 3%: Tour Operators or Travel Agencies Only
DISCOUNT FOR STUDENTS: $5 USD of discount only with valid green ISIC card

GROUP SIZE: As private service the group size can be 1 or more people in the same transport with tour guide and driver – The depart of this trip can be at any day and time from your hotel, airport or bus station of Arequipa.
MORE THAN 5 PARTICIPANTS REQUEST A GROUP QUOTE.
All prices stated above are subject to change.
Exchange rate $1 USD = S/. 3.02 (rate may vary daily).
DEPARTURES
Daily departures are available all year - The tour need to be booked in advance with a deposit as first payment.
PRIVATE SERVICE
Depart for private service for groups or individual are available any day during all year. We strongly recommend to book trip with private van or 4x4 vehicle to explore more the Colca canyon. This tour can be combined with private and directly transfer to Puno or to Cusco, please check this option at booking time.
NOT INCLUDED
Hotel in Arequipa
Travel Insurance
Soft and alcoholic drinks
Breakfast on the first day
Tips for guide and camp staff
Alternative horseback riding or biking tours
Fishing gear
Entrance to the hot spring in Chivay $5 USD per person will be paid directly
WHAT YOU NEED TO BRING/CARRY
Small backpack 40lt
Rain jacket or poncho (December to april)
Strong comfortable and waterproof footwear
One complete change of clothing
Sweater and jacket (something warm)
Bottle of water
Flashlight and batteries
Hat or cap to protect you from the sun
Sun block (sun protection cream)
Insect repellent
Selection of small snacks, chocolate, dried fruit, biscuits, etc
Camera, plenty of film and spare batteries
Sunglasses
Swimsuit for the hot spring
Optional walking sticks or poles
CONTACT US
For more information about the tour or you request a new date to departure for this tour, please contact us....
Some of our clients e-mail us saying our confirmation e-mails are placed to their spam folder rather than their inbox. We recommend to modify your JUNK or SPAM FILTER SETTINGS to receive our e-mail
peruadventurestours@hotmail.com
on the correct inbox. You may also want to add this email address to your list of known contacts. This will prevent our responses from being filtered into your Junk or Spam mail folder.