QUAD BIKE TOUR AROUND AREQUIPA $125 USD Per Person - Group Service
Discover The Countryside On 4 Wheels - Half Day Guided Tour
Arequipa
is a city in southern
Peru
and the nation's second most-important city. The city stands at the foot of the Misti volcano in the highlands.
Arequipa
has many fine colonial/Spanish buildings built of sillar, a pearly white volcanic rock used extensively in the construction of the city, from which it gets its nickname La Ciudad Blanca ("the white city").
It is often said that the city's name comes from the Quechua phrase "Ari, quepay" which means "Yes, stay". Nowadays one assumes that the name is from Aymara "ari" (peak) + "kipa" (locative) and means something like "near the mountain".
Arequipa
is situated has been occupied back to 5000 - 6000 BCE. In the15th century, the region, then occupied by Aymara Indians, was conquered by the
Inca
and served as an important supplier of agrarian products to the Inca empire. The modern city of
Arequipa
was founded on august 15th by Garci Manuel de Carbajal, an emissary of Spanish conquistador Francisco Pizarro. As the second largest city in
Peru
, Arequipa is influenced by both Andalusian and Spanish Colonial ideas and architecture, such as the popular Santa Catalina Monastery, the Goyoneche palace and the Casa de Moral. Arequipa has many valuable archaeological and touristy resources including the outdoor activities such as Mountaineering, biking, trekking and Quad Biking Tours.
For more information about safety talking, what to bring on this tour click on the link below
FAQ OF ATV/QUAD BIKE TOUR.
Quad Bike Tours In Arequipa Peru - Peru ATV Tours - Quad Bike Tours - Peru Adventure Quad's Exeditions - Peru Quad Biking Trips - Quad Biking Tour Itinerary - Quad Bik Off-Roading - ATV Off-Roading Tours - Peru Quad Adventure Tours - Quad Biking In Arequipa - Peru All Terrain Vehicles - ATV Adventures Tours In Peru - Adventure Tours In Peru - Arequipa ATV Day Trip - Arequipa Adventure Quad Biking Tours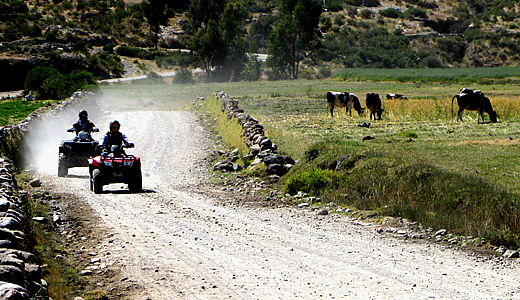 TOUR ITINERARY OF ATV TOUR AROUND AREQUIPA
This tour starts at 8AM or 12PM from our local office of Arequipa with a transfer fro abyou will meet the tour guide and then transfer from downtown to the countrysidout 40 minutes from downtown to countryside of Arequipa where is located our ATV base - Safety talking about the Quads and the route to follow for 3 hours riding - This peaceful countryside surrounded by pure nature, colonial houses, volcanic hills and spectacular views of Pichu Pichu, Misti and Chachani volcano.
Safety talking about how to drive the ATV and then the tour guide will provide helmet, gloves and goggles. The tour includes nice drive on paved and unpaved road along the agriculture fields (terraces) where the local people produce lots crows.
The distance to drive will around 35kms with the best views for picture of the real countryside of Arequipa. After 5 hours of guided tour you will be drooped to your hotel and end of the service.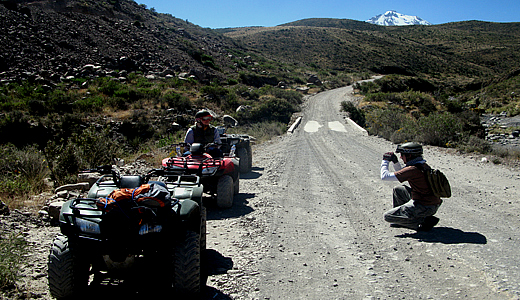 ATV TOUR AROUND AREQUIPA INCLUDES
Bilingual speaking tour guide (Spanish - English)
Private supporting vehicle (Private Service only)
Personal ATV-Quad Bikes - Easy to operate (Honda Foreman/Rancher)
Helmet - gloves - goggles - knee and elbow pads are obligatory to use
Enjoy snack and drinks included
Repair kit
All prices stated above are subject to change
Exchange rate $1 USD = S/. 3.02 (rate may vary daily)
PRICE FOR QUAD BIKING TOUR AROUND AREQUIPA
DATE
TOUR
COST
Any day
QUAD BIKE TOUR AROUND AREQUIPA $125 USD Per Person

Discover The Countryside On 4 Wheels - Half Day Guided Tour

Backpacker Service (Join group)
1 to more paticipants $125 USD each one

Private Service (Private 4x4 & guide)
2 participants $215 USD each one
3-4 participants $195 USD each one
5 to more participants $142 USD each one
Discount: $5 USD of discount for South American Explorers Club Members
Discount 3%: Tour Operators or Travel Agencies Only
Students: $5 USD discount only with valid green ISIC card
Organized Groups: We offer private service and any time/day according request
Group size: Small groups for more personal and fun experience - We need minimum two participants to develop this tour.
BOOK HERE: We higly recommend to book this ATV tour in advance, before you arrive to Peru.- Take Private Service, is the best way to enjoy this ATV tour.
NOT INCLUDED
Hotel in Arequipa
Flight tickets and airport tax
Taxi service, etc
Travel & accident insurance
RAINING SEASON IN AREQUIPA
Normally rains between December to March, but some days are with blue making more interesting the quad biking tour in the countryside of Arequipa. THe best season to do this tour is during and after the rain season when the mountain looks white and contrasting with the green plants and flowers on the hills. It makes more interesting for the picture lovers.
The sunny season is between April to November when the mountain lose snow and the lowlands looks more dry and the only contrast will be between the hills and the pre-Inca terraces where you will drive our Quad Bikes.
ADVICE FOR QUAD BIKE LOVERS
This outdoor activity don't demand to be fit to learn or makes long drives. You just need to be available to support the sunny days, the dirt and dusty road especially during the dry season (April to November).
PERU ADVENTURE TOURS guides really recommend you bring normal lents and not contact lent because will be so dusty and this can makes hard your eyes. Also is recommend to bring extra change clothes in case you get weat or dusty after the tour. PERU ADVENTURE TOURS will provide you hot shower in case you will need before to reurn to Arequipa or you plan to take night bus to somewhere in Peru. Don't forget to bring your towel if you plan to get shower after the tour.
ECOLOGICAL RESPECT AND ADVICE FOR QUAD BIKERS
Do not modify the busiest places and always use the existing track.
Do not tread on vegetation, using the same route to produce less environmental impact.
Always wear trash bags to save and return our waste and if possible pick up litter left by others who visit and pass through these places.
If you need heating or cooking recommend using space heaters, are more clean and safe.
Avoid open flames or make bonfires, and not to be under a tree, consider the wind, make a circle of stones to prevent the spread, turn it off well before retirement, be sure to turn it off well.
Do not throw cigarette butts, preferably not smoking in the fields and mountain paths.
Avoid making any noise while making the journey, the less noise and inconvenience caused to be better for our surroundings.
Raise the minimum circular dust.
Close gates, chains etc. leaving them as they was founded.
Never cut fences, chains, locks, etc. Always ask for a permit to access any destination if privately owned.
When passing through villages with existence of herds of cattle, horse riding, cyclists slow down or stop, prevent nuisance and accidents.
Cross rivers, streams, lakes etc. should be made for places that are already predetermined and thus avoid any risk of accident.
Check that the ATV does not have loss of fluids or other liquids.
WHAT YOU NEED TO BRING?
Small backpack.
Rain jacket or poncho (December - April).
Tennis shoes.
One complete change of clothing to be used after the tour.
Bottle of water.
Hat or cap to protect you from the sun.
Sun block (sun protection cream).
Selection of small snacks, chocolate, dried fruit, biscuits etc,
Camera, plenty of film and spare batteries.
Sunglasses.
Towel and sandals if you plan to get shower after the dusty ride.
IMPORTANT REQUIREMENTS
1 - The tour company reserves the right to refuse anyone that does not show experience or skill and many suspend any drivers that are causing or do not follow the guide's instructions.
2 - Children under 6 years old are not allowed.
3 - This tour is not for people with back problems or pregnant woman.
4 - We refuge people under the influence of alcohol and drugs.
5 - Always we recommend that all tour participants be careful and follow instructions given by the guides.
6 - Driver must be at least 16 years old.
7 - Driver must have valid ID.
8 - $400 USD of security deposit has to be done in our office of Arequipa just before to begin the trip.
9 - The use of helmet, knee pads, elbow pads and gloves are obligatory to use during driving time.
10 - All Quad/ATV riders need to sign up the risk contract before to go on the tour.
11 - Any personal accident or damage to our vehicle during the trip will be under responsability of the participant.
CONTACT US
For more information about the tour or you request a new date to departure for this tour, please contact us.... Some of our clients e-mail us saying our confirmation e-mails are placed to their spam folder rather than their inbox. We recommend to modify your JUNK or SPAM FILTER SETTINGS to receive our e-mail
peruadventurestours@hotmail.com
on the correct inbox. You may also want to add this email address to your list of known contacts. This will prevent our responses from being filtered into your Junk or Spam mail folder.