Arequipa
Trekking Tours
Climbing Tours
Biking Tours
Horseback Riding
Classic Tours
Sandboarding Tours

MTB COMPONENTS
Recemmend you to check the bike components before you hire or book a bike tour.
More information.....
CLICK HERE
CHILI RIVER RAFTING TOUR IN AREQUIPA $45 USD Per Person - Group Service
4 Hours Of River Trip Next Of Arequipa
Chili River is located between to colossal volcanoes as known as
Misti
and
Chachani
in Arequipa, the southern east of Peru territory. The river flows from the high Andes of Arequipa and the border of Cusco and Puno, there are mountain range and lakes from where drain the cold water (8°C) into the
National Reserve of Aguada Blanca y Salinas
, them the river goes down to Chilina Valley, Arequipa city and finally the river cut the dries desert between the Uchumayo and the Pacific Ocean.
The Chili River irrigate all the valleys like Chilina, Vitor and Chilca, where is the encounter with ocean. During the raining season (Dec-March) the river increase the level of water making dangerous for river rafting lovers. Before the founding of Arequipa in 1540 by the Spanish, the native inhabitants of this region, mainly farmers, lived in intimate relationship with nature, especially with the river, which they considered a deity.
Thanks to the crystal clear waters you can go rafting and kayaking - The benefits of the Chili river offers rapids for beginners and people who do not have much time to practice this sport outdoors with breathtaking views of the neighboring volcanoes Misti and chachani - It's a great experience for nature and adventure lovers. I welcome the adventure of the river valley of Arequipa, better known as the Chili River – "Chili in Aymara language means
rattle
for the sound it makes when the river drag stones or the zig-zag passage through the mountains".
Rafting Tours In Arequipa - Arequipa's River Rafting Tours - Chili River Rafting Tours - Peru Whitewater Rafting Tours - Arequipa Adventure Rafting Trips - Chili's River Rafting & Kayaking Tripss - Rafting & Kayaking In Arequipa - Whitewater Rafting Chili River - El Rio Chili - Arequipa Rafting - Rafting Rio Chili Arequipa - Rafting & Kayaking In Peru - Peru Rafting Tour Guides - Photos Of Rafting Rio Chili - Rafting Equipments - Kayaking In The Rio Chili - Rio Chili - Valle Chilina - Arequipa's River Guides - A Guide To Whitewater Rafting In Peru - Peru River Running Tours - Peru Adventure Rafting Trips
For reliable information about weather report of Arequipa region CLICK HERE...
CHILI RAFTING TOUR ITINERARY
Not more than 7KM outside
Arequipa
is the most frequently run local river as known Chili River with rapids class II - III - IV suitable for beginners and all ages.
The Chili River offer half day fun river rafting tour on the water flows off the snowcapped around
Arequipa
department.
Arequipa is one of Peru's premier bases for whitewater rafting. The best time to take river rafting tour in Chili River is between April to November, the raining season (Dec - March) is completely closed when the water can be dangerously high. The tour takes 1.5 hrs beginning in Chapi Chico (Charcani), also as known as Charcani and runs down to near of the Puente Chilina, the water journey is around 7km lead by the experienced rafters and safety kayaker.
PERU ADVENTURE TOURS invite you to be part of this great Chili River rafting tour with the most specialist whitewater guides. In addition you can also enjoy stunning sceneries
Chachani Mountain
and
Misti Volcano
.
The Chili River rafting tour leaves from your hotel at 8AM, 11AM or 2PM and return to the hotel after 4 hours.
RIO CHILI RIVER RAFTING TOUR INCLUDES
Transfer from hotel – Rio Chili - hotel
Certified bilingual tour guide every 4 or 6 participants by raft boat
Self-bailing rafts up to 4 & 6 people
Hi-flotation life-jacket
Helmet
Wetsuit - Different sizes
Neoprene booties or river shoes available on different sizes
Dry bags to safe your personal gear
1 paddle per participant
Safety kayakers
Snack (water, chocolate and fruits)
All prices stated above are subject to change
PRICE FOR RAFTING TOUR - RIO CHILI AREQUIPA
DATE
TOUR
COST
Any day between April to December

CHILI RIVER RAFTING TOUR IN AREQUIPA $45 USD Per Person - Group Service

4 Hours Of River Trip Next Of Arequipa


Backpacker Service (Join group)
1 to more paticipants $45 USD each one

Private Service (Private boat/guide)
2 participants $95 USD each one
3-4 participants $75 USD each one
5 to more participants $60 USD each one
Discount: $2 USD of discount for South American Explorers Club Members
Discount 3%: Tour Operators or Travel Agencies Only
Students: $2 USD of discount only with valid green ISIC card
Organized Groups: We offer private service and any time/day according request
Group size: 6 participants per each guide
BOOK HERE: We highly recommended to book space prior you arrive to Arequipa
NOT INCLUDED
Travel & Accident insurance (obligatory)
Pictures of your participation would be provided under request for $20 USD for boat group ONLY - This ADDITIONAL service is not included on the tour price
Breakfast or lunch
Hotel in Arequipa
Sun glasses
Tip and gratuities for our camp staff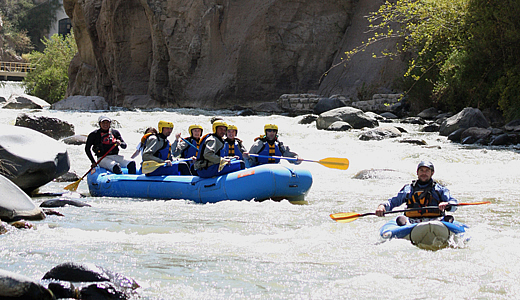 WHAT YOU NEED TO CARRY/BRING ON THIS TRIP
Sandals or running shoes (shoes that will not come off)
Hat or cap to protect you from the sun
Sun scream
Short pants and T-shirts
Long sleeved shirt and trousers (especially for those who burn easily)
Bottle of Water
Insect repellent
Toiletries (towel and toilet paper)
Camera, plenty of film and spare batteries
Sunglasses
Swimming clothes
Warn clothes for the end of the trip
Plastic bag to protect your personal things during the rafting time
RAINING SEASON
From December to March normally the river is not available for Rafters and Kayakers but some days the level of the water is low and is possible to run the river during the morning
ONLY
if there is good weather and of course under responsibility of each participant.
EXTREME CAUTIONS FOR CHILDREN AND ADULTS
The minimum age to be part of this tour is 10 years old and under supervision and responsability of the parents or adult guardian - Our company encourages children/adults to know swim and strictly follow the instructions of the boat guides and the safety kayakers.
Any accident that happens with children/adults during the development of the tour on the river will be the responsibility of each participant - Peru Adventure Tours recommends considering the risk of this adventure tour/sport and have travel insurance with comprehensive coverage.
Our company reserve the rights to prohibit people to practice this trip under effect of drugs or alcoholic drinks this in good way to protect to other participants and develop all activity providing the best - The company is no going to refund any money or postpone the trip (hour/day) in case this kind situation happen.
LAST MINUTE BOOKINGS
All these last-minute tours are scheduled to depart soon, so book now before it's too late. If you ended up waiting until the last minute to even consider booking your tour, you don't have to worry about organizing it by yourself - Let us to accommodate all your needs to get amazing experience of rafting in Rio Chili - For last moment booking you need to call us (973842688) or send us a text message (WhatsApp) to confirm the number of people in your group, date of travel, information of your hotel in Arequipa and we will work soon to help you.
Before you book this trip have a look the
TERMS & CONDITIONS
of our tour company.
CONTACT US
For more information about the tour or you request a new date to departure for this tour, please contact us....
Some of our clients e-mail us saying our confirmation e-mails are placed to their spam folder rather than their inbox. We recommend to modify your JUNK or SPAM FILTER SETTINGS to receive our e-mail
peruadventurestours@hotmail.com
on the correct inbox. You may also want to add this email address to your list of known contacts. This will prevent our responses from being filtered into your Junk or Spam mail folder.