Arequipa
Trekking Tours
Climbing Tours
Biking Tours
Horseback Riding
Classic Tours
Sandboarding Tours

HORSEBACK REPORT



ROCK CLIMBING ADSEILING ZIP-LINING AND RIVER RAFTING TOUR IN AREQUIPA $105 USD Per Person
Full Day Adventure And Amazing Experience In The Valley Of Chilina
Peru Adventure Tour introduce three outdoor activities in one place since 2011 – Rock climbing, zip-lining and river rafting in Chilina – Chilina is the name of the valley located between
Misti
and
Chachani
volcano, there is nice valley with fully terracing and thanks to the river also there big rock walls to practice rock climbing, abseiling and zip-lining.
The valley of Chilina offer great landscape to practice all these 3 activities just outside of Arequipa – All the activities are offered for beginners to advanced level combine with extremely experience in one day – This great mixed outdoor trip includes professional and experience guide and the best available equipment to practice rock climbing, abseiling, zip-line and rafting tour in the rio Chili.
All those trips are available every day between April to December (dry season) and easily can be book in advance through our website wih 50% of deposit as first payment and your place with be guaranteed.
This alternative is recommended for adventure travelers looking for nice and fun experience in
Arequipa
.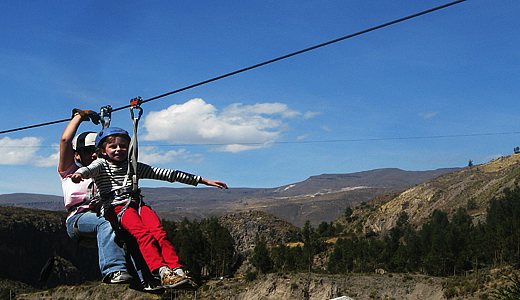 CHILI RAFTING TOUR ITINERARY
At 8AM we pass through your hotel of Arequipa or pick up from airport or from bus station to pick you up and begin this mixed and adventure day trip outside of Arequipa. The private transfer takes around half hour to reach the place as known as Chapi Chico by the locals – This nice place is located between Chachani Mount (6070m) and Misti volcano (5825m) and next of Chili River.
One of our camp staff will provide safety talking about each outdoor activity to practice today - The first sport to practice will be the rock climb with 8 routes available for beginners and experienced climbers – Easily you can spend up 4 hours trying to conquest the top of each route designed by our top rock climber guide – Around 12PM we begin to practice the challenge zip-lining to cross twice the Chili River – This very safety and nice activity to practice supported by our camp staff – The zip-line is also available for kids over 8 years old under parents responsibility and with tandem style.
Today include country lunch served next of the river.
Around 2PM Peru Adventure Tours invite you get great and fun time making rating in this great Chili River with the most specialist whitewater guides who will lead you around 7KM of pure adrenaline and supported by experience and safety kayaker – The rafting tour ends around 4PM and then transfer to return to your hotel and end of service.
TECHNICAL INFORMATION
ROCK CLIMB:
8 routes for beginners up to 5in French scale - 8 routes for experienced up to 7B in French scale – Different walls up to 30 meters high – Top rock style or leading style for experience rock climbers.
ZIP-LINING:
First cable line of 80 meters long and 30 meter high over the river – Second cable line of 25 meters long and 4 meter over the river.
RAFTING:
8 rapids class II – 7 rapids class III – 1 rapid class IIII – 7 kilometers and takes around 1h 30min – Cold water (4ºC) – Available between April to December.
TOUR INCLUDES
Transfer from hotel to place to practice outdoor activities
Professional bilingual tour guide
Self-bailing rafts up to 6 people
Hi-flotation life-jacket
Helmet, harness, rope, carabines, shoes and other safety gear
Paddle jackets
Neoprene booties or river shoes available on different sizes
Dry bags for personal gear
1 paddle per participant
Safety kayakers
Cold lunch per person
TOUR SCHEDULE & COST 2014
DATE
TOUR
COST
Any day between April to December

ROCK CLIMBING ADSEILING ZIP-LINING AND RIVER RAFTING TOUR IN AREQUIPA $105 USD Per Person

Full Day Adventure And Amazing Experience In The Valley Of Chilina


Backpacker Service (Join group)
1 to more paticipants $105 USD each one

Private Service (Private boat/guide)
2 participants $234 USD each one
3-4 participants $209 USD each one
5 to more participants $160 USD each one
Discount:$5 USD of discount for South American Explorers Club Members
Discount 3%: Tour Operators or Travel Agencies Only
Students: $5 USD of discount only with valid green ISIC card
Organized Groups: We offer private service and any time/day according request
Group size: 6 participants per raft boat
BOOK HERE: We highly recommended to book space prior you arrive to Arequipa
All prices stated above are subject to change.
Exchange rate $1 USD = S/. 3.02 (rate may vary daily).
NOT INCLUDED
Travel & Accident insurance (obligatory)
Pictures of your participation would be provided under request for $20 USD for boat group ONLY - This ADDITIONAL service is not included on the tour price
Pictures - If you like to get nice picture about your trip can be arranged hiring additional Kayaker for $30 USD - Confirm this at booking time
Breakfast or lunch
Hotel in Arequipa
Sun glasses
Tip and gratuities for our camp staff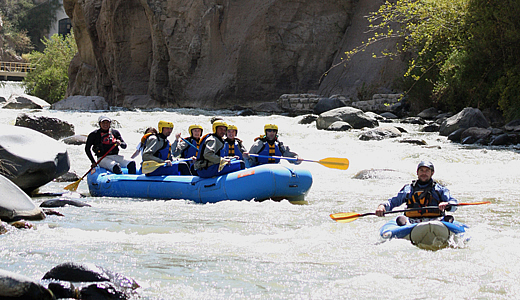 RAIN SEASON
December to March. The river is completely closed.
WHAT YOU NEED TO CARRY/BRING
Sandals or running shoes (shoes that will not come off)
Hat or cap to protect you from the sun
Sun scream
Short pants and T-shirts
Long sleeved shirt and trousers (especially for those who burn easily)
Bottle of Water
Insect repellent
Toiletries (towel and toilet paper)
Camera, plenty of film and spare batteries
Sunglasses
Swimming clothes
Warn clothes for the end of the trip
Plastic bag to protect your personal things during the rafting time
CONTACT US
For more information about the tour or you request a new date to departure for this tour, please contact us....
Some of our clients e-mail us saying our confirmation e-mails are placed to their spam folder rather than their inbox. We recommend to modify your JUNK or SPAM FILTER SETTINGS to receive our e-mail
peruadventurestours@hotmail.com
on the correct inbox. You may also want to add this email address to your list of known contacts. This will prevent our responses from being filtered into your Junk or Spam mail folder.
ADDITIONAL BOOKING SERVICES
PERU TRAVEL INFORMATION
PERUVIAN GASTRONOMY INFORMATION
TYPICAL DRINKS OF PERU
People interesting to take this ADVENTURE COLCA RIDING TOUR needs to know ride horse on the up and downhill, serpentine trails, jump over the water channels and understand the horses feeling.