ADVENTURE TOURS IN AREQUIPA $275 USD Per Person
3 Days And 2 Nights Of Outdoor Adventures And Nature
PERU ADVENTURE TOURS offer personal experience for traveler looking to get fun practicing safety outdoor activities around Arequipa – The ADVENTURE TOURS IN AREQUIPA includes the most exciting and top things to do as river rafting, MTB biking, camping, off-roading and Sandboarding on the wild places with high quality equipment and very qualify English-speaking tour guide.
ADVENTURE TOURS IN AREQUIPA design 3 days of pure adventure for travelers of different ages and medium level of physical condition – PERU ADVENTURE TOURS as responsible tour operator recommend arrange/book your travel insurance especially if you come to enjoy adventure activities in Peru.
Adventure Tours In Arequipa - Peru Challenge Trips - 2 Day Adventure Activities Around Arequipa - Adventure Camping Zone In Arequipa - Arequipa Quad Adventure Tours - Adventure Mountain Bike Tours - Best River Rafting Tours In Arequipa - Camping Information Of Arequipa - Peru Camp Ground - Arequipa Camping Zone - PeruCamping - PeruAdventure - AdventureToursInPeru - ArequipAdventure - Camping & BBQ In Arequipa - Rental Camping Equipment In Arequipa Peru
AREQUIPA ADVENTURE TOUR ITINERARY
DAY 1: AREQUIPA WHITE-WATER RAFTING TOUR – CAMPING OR HOMESTAY
At 1PM we begin the trip from your hotel/airport or from our local office of Arequipa – In case you like to be picking up from airport we will charge $10 USD per person – You need to confirm the picking up place at booking time.
Not more than 7km outside Arequipa is the most frequently run local river as known as Chili River with rapids class II - III - IV suitable for beginners and all ages. The Chili River offer half day fun river rafting tour on the water flows off the snowcapped around Arequipa department.
Arequipa is one of Peru's premier bases for whitewater rafting. The best time to take river rafting tour in Chili River is between April to November, the raining season (Dec - March) is completely closed when the water can be dangerously high. The tour takes 1.5 hrs beginning in Chapi Chico (Charcani), also as known as Charcani and runs down to near of the Puente Chilina, the water journey is around 7km lead by the experienced rafters and safety kayaker.
PERU ADVENTURE TOURS invite you to be part of this great Chili River rafting tour with the most specialist whitewater guides. In addition you can also enjoy stunning sceneries of Chachani Mountain and Misti volcano.
Around 5PM transfer to our campsite located 30min outside of Arequipa – The campsite includes baths, hot shower, Wi-Fi connection, diner under starry sky with nice camp fire and rest in tent or stay in a room with local family (D).
IMPORTANT:
In case the river is to high making dangerous for rafting this part of the trip will be changed with other outdoor activity as half day horseback riding outside of Arequipa - This change normally happen during the raining season between January to April - PERU ADVENTURE TOURS reserve the right to change the itinerary without previous notification.
DAY 2: MISTI MOUNTAIN BIKING TOUR – AREQUIPA COUNTRYSIDE QUAD BIKING – CAMPING OR HOMESTAY
At 7:30AM the local family will offer you country breakfast and then aboard our 4WD vehicles and drive around 1 hour to drop off us to the slope of Pichu Picchu Mount – There you will receive safety talking about route and mountain bikes (Gears and brakes) – The start point of the trip is known as Chiguata (3200m) where is nice and amazing valley of pre Incan terracing. There you will be given an explanation of the flora and fauna of this area - We began the first part of biking on dirt road crossing springs, seeing local people life and their daily activities, along the way we stop for the best pictures of conical form of Misti volcano from the south face. This part of the tour takes one hour and half and descending 700m to asphalt road and practice cross country ride style for 30 minutes till lower zone of the valley.
The second part of the trip includes driving our 4x4 up to slope of Misti volcano (3400m) which is recognized as the highest point reachable by our jeep – The way up includes serpentine and very dirt road getting us impressive view of Misti volcano and surrounding - The bikers will do downhill bike ride and fully adrenaline experience on dirt road to suburbs of Arequipa. This second part of the downhill will be more than 1000m of challenge cycling on gravel road and finally asphalt streets to enter of the city or to the base of PERU ADVENTURE TOURS (16°28'13.30"S - 71°28'22.36"O) – The tour guide will recommend you some places to get your lunch before to begin the second trip of this day.
Around 2PM we begin the Quad biking (ATV) outside of Arequipa as known as "La Campiña Arequipeña" – Safety talking about the quad (Gears & brakes) and protection equipment's to be used during this challenge trip – The tour includes biking on gravel and dirt road seeing agricultural terracing, little canyon, rivers, mountains, local farmers, typical little plaza with catholic churches build on sixteenth century with the arrival of the first Spanish in this part of Peru.
The quad biking tour in the countryside of Arequipa includes around 35km of pure driving and getting challenge support by experience English-speaking tour guide to lead to the most remote corners around Arequipa.
Around 5PM return to the base of PERU ADVENTURE TOURS to get hot shower, Wi-Fi connection, diner under starry sky with nice camp fire and rest in tent or stay in a room with local family (B - D).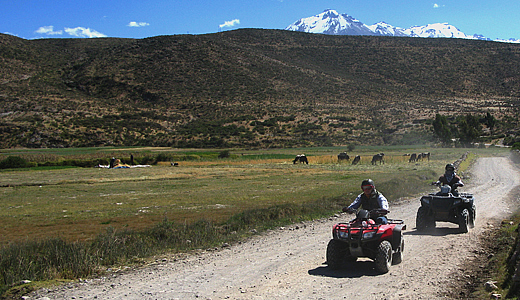 DAY 3: AREQUIPA OFF-ROADING AND SANDBOARDING TOUR
At 7AM will be the country breakfast included in the tour price and then travel by 4WD to the southwest of Arequipa by the highway to Tacna.
During the travel we pass the Uchumayo valley and from there we drive up to small rocky mountain from where you can appreciate spectacular view of the volcanic range surrounding the white city of Arequipa.
Downhill driving to the southwest we will take the first turn-on to the left and Off-road on the desert passing small dry canyons and wild terrain till a large green valley in middle of the desert and finally we arrive to undiscovered sand dunes - Safety talking and same recommend tricks to practice Sandboard – If this is your first time for Sandboarding is NOT problem, the dunes will be there waiting and you just need to do your best trick to slide down from the top to the bottom getting almost 35KMP - The Sandboarding is open for beginners and experts SNOWBOARDERS, welcome experts Sandboarding is something that you could easily become addictive.
Free style downhill ride on the dunes (stand up – seating or belly style) – The only hardest part of this tour is climb up to the top of the dune which is between 5 and 10 minutes only and then you can try many time as you can - From the top of the dune you can get spectacular view of the valley and river flu to Pacific Ocean. After 2 hours of Sandboard on the dunes we stop to have nice picnic in the shade of some threes in the middle of the desert.
After five hours of full adventure Sandboarding and off-roading tour we return to the city of Arequipa and end of service around 12:30PM (B).
SO A FEW THINGS BEFORE YOU GO IN OUR TRIP: * When going Sandboarding wear comfortable clothes, shorts and a t-shirt are ideal. Don't forget to take a hat, sunscreen, sunglass and plastic bag to protect your camera from the sand and dust.
* Every time you go for Sandboard use WAX, this need to be reapplied according to the instructions provided with your board – Remember NOT WAX no speed for your board.
ADVENTURE TOURS IN AREQUIPA INCLUDES
Local English-speaking tour guides
Local transfer from/to accommodation or campsite
2 nights at homestay or camping (tent, mats and sleeping bag)
Meals are included ONLY for campers (2 breakfasts and 2 diners)
Safety equipment according each outdoor activity
Rafting tour, MTB tour, camping, Quad biking and Sanboarding
Plenty of drinking water and snack (chocolates, fresh fruits and enerfy bars) during and according each activity
Hot shower facilities
NOTE
: If you like to make camping or stay in home with local family you need to confirm this at booking time - Chose anyone option to spend two nights.
AREQUIPA CAMPING ZONE INCLUDES
: This is located out of Arequipa - big green area for camping, tent and mats for every camper, hot shower facilities, baths, electricity connection, WI-FI, wood/charcoal barbecue grills, tables and benches
AREQUIPA HOMESTAY INCLUDES
: This is located in downtown and have a room with share bath, hot shower and some of them with wi-fi connection.
TOUR SCHEDULE & COST 2015
DATE
TOUR
COST
April to December
(Summer season)

ADVENTURE TOURS IN AREQUIPA $255 USD Per Person

3 Days And 2 Nights Of Outdoor Adventures And Nature


Backpacker Service (Join group)
1 up to more participants $275 USD each

Private Service
Under request only
Discount: $5 USD for South American Explorers Club Members
Discount 3%: Tour Operators or Travel Agencies Only
Students: $5 USD discount only with valid green ISIC card
Organized Groups:We offer private service and any time/day according request

Group size: Small groups up to 8 or 12 people for each activity.
BOOK HERE: We highly recommended to book space prior you arrive to Arequipa and take Private Service.
All prices stated above are subject to change.
Exchange rate $1 USD = S/. 3.02 (rate may vary daily).
NOT INCLUDED
Flight tickets to/from Arequipa.
Travel & Accident insurance (obligatory).
Pictures of your participation in our RAFTING TOUR would be provided under request for $20 USD for boat group ONLY - This ADDITIONAL service need to be confirmed at booking time.
Meals are NOT INCLUDED for people chose homestay in Arequipa.
Hotel in Arequipa.
Sun glasses.
Tip and gratuities for our camp staff.
AREQUIPA'S RAIN SEASON
The raining season in the region of Arequipa is from December to April - Some days can be very heave rain or some shower during all day, late afternoon or all night. During the raining is not recommend to do this tour avoid any risk of the electric storm.
Some days can be done but not all the circuit and this can be requested according the weather report and the conditions of the road and what are the river level.
MOUNTAIN AND VOLCANO TECHNICAL DETAIL
AREQUIPA:
2350 M.A.S.L – 16°23'55.52"S - 71°32'12.62"O (Main Square).
PICHU PICCHU VOLCANO:
5640 M.A.S.L - 16°26'30.69"S - 71°14'20.67"O (Main summit).
MISTI VOLCANO:
5825 M.A.S.L - 16°17'46.49"S - 71°24'38.10"O (Main summit).
CHACHANI VOLCANO:
6070 M.A.S.L 16°11'40.74"S - 71°31'55.00"O (Main summit).
PERU ADVENTURE BASE:
2450 M.A.S.L - 16°28'13.30"S - 71°28'22.36"O
ADVICE FOR FUTURE COSTUMERS
This excursion is graded EASY (for all ages) but high altitude makes hard to brief or walk if you don't have minimum of acclimatize to altitude and especially if this will be your first time in high altitudes.
- All participants should wear trekking shoes suitable for rugged terrain or jogging shoes at least – Also we recommend to bring wind proof jacket even if is not raining – Between April and November is the dry season but still cold even if is very sunny day.
- All participants must be in good health (no asthma, no respiratory disorders, no heart problems, no blood pressure problems).
WHAT YOU NEED TO CARRY/BRING
Small backpack
Rain Jacket or Poncho (December - March )
Hiking boots
Drinking water
Hat or cap to protect you from the sun
Sun block (sun protection cream)
Toiletries (towel and toilet paper)
Selection of small snacks (Chocolate, fruits, biscuits, etc)
Camera, plenty of film and spare batteries
Sunglasses
Headlamp for camping
4x4 RENTAL FOR $148 USD PER DAY
Toyota Prado and Toyota Land Cruiser - Nissan Patrol (Manual Transmission).
5 comfortable seats and 3 back seats plus roof luggage rack.
$148 USD per day and includes 280km FREE per day.
$0.40 USD per extra km.
Driver service $95 USD per day including his meals, salary and lodging in each destiny.
INCLUDES
Theft and private accident insurance (all Peru), GPS (Peru road mapping), Tow truck, Full tank of gas/diesel, Medical bottle of oxygen, First aid kit, Fire extinguisher, Cooler to keep fresh your drinks, Airport pick-up, Tents and foam sleeping mattresses (under request only), UHF radio with 25 sequences, Repair kit, Spare A/T or M/T tire, Winch (9.500lb) and Energy convertor (110v - 220v).
NOT INCLUDED
Diesel - Road toll taxes ($3 USD each time) - Parking cost - Extra payment for pick-up or drop-off in another city of Peru, pick up price vary according the distance of the city where you leave our transport.
CONTACT US
For more information about the tour or you request a new date to departure for this tour, please contact us....
Some of our clients e-mail us saying our confirmation e-mails are placed to their spam folder rather than their inbox. We recommend to modify your JUNK or SPAM FILTER SETTINGS to receive our e-mail
peruadventurestours@hotmail.com
on the correct inbox. You may also want to add this email address to your list of known contacts. This will prevent our responses from being filtered into your Junk or Spam mail folder.