Arequipa
Trekking Tours
Climbing Tours
Biking Tours
Horseback Riding
Classic Tours
Sandboarding Tours

MTB COMPONENTS
Recemmend you to check the bike components before you hire or book a bike tour.
More information.....
CLICK HERE
4X4 TOUR IN THE COLCA CANYON $397 USD Per Person
4WD From The Roof To The Bottom Of The Canyon 2 Days - 1 Night
Off Road Tour in the Colca cayon combine the best way to know all the canyon beginning in the white city of Arequipa going through the mountainous range and the volcanic range of south of Peru. Our 4x4 includes 2007 Toyota Prado Land Cruiser with insurance and experience driver who know the road very well.
This Off Road Tour includes 3 hours of trek in the deepest part of the canyon, natural thermal baths next of the Colca River and overnight in bamboo bungalows. Peru Adventure Tour offer the best alternative to discover the Cbanas and Collahuas people leaving along bank of the canyon, incredible drive on the highlands, rivers, remote villages, abandoned valley, pre Inca terraces and colorful typical clothes of the women on the Canyon.
4X4 tour offer to get closer "off the beaten path" while protecting natural and cultural resources from over-exploitation.
4x4 Tour In The Colca Canyon - Colca Tour By 4WD - Off-Roading Through The Colca Valley - Four Wheel Drive In The Colca Canyon - Adventure 4x4 Tours Along Cañon Del Colca - Peru 4x4 Tours - Adventure 4x4 Tours - Trip To Colca Valley - Transport Service In The Colca Valley - Lodging In The Colca Valley - Cañon Del Colca - Mirador Cruz Del Condor - Lodge Of Llahuar - Colca River - Information Of Cañon Del Colca
ITINERARY OF 4x4 TOUR IN THE COLCA CANYON
DAY 1: AREQUIPA - EL PEDREGAL - HUAMBO - SORO VALLEY - LLAHUAR HOT SPRING
At 7AM pick up from your hotel and departure to the Colca canyon in our private 4WD, travel to see the rest of the north part of Desierto de Atacama and drive up to the highlands crossing the valley of Vitor, Alto Sihuas, El Pedregal - short explore the remains of Wary culture named Huacan - Visit the south part of the Volcanoes range named Pampa Qerqe - Ampato mountain viewpoint (4300m). Downhill to the valley of Huambo surrounded by mountainous range. After short stop in Huambo (3200m) we will continue driving up again to the second pass of Chinini from where you can see the driest region of the canyon straight down of Huambo. After 2 hours driving down we will arrive to Soro (2000m - 2pm) abandoned valley, we cross the Colca River by suspension bridge build long time ago. We walk in a cactus forest and following nice track used by local people. Llahuar lodge is considerate the most quiet and recently discover place to stay in the bottom of the canyon. After late lunch you can enjoy the nature thermal bath next of the river. Stay in nice bamboo room under starry sky (L - D).
DAY 2: LLAHUAR HOT SPRING - SORO VALLEY - CONDOR CROSS VIEWPOINT - CHIVAY - PATAPAMPA 4850M - PAMPAS CAÑAHUAS - AREQUIPA
Today we wake up early morning and then short walk to find the 4x4 and then 2 hours of driving up to leave from the canyon - The route includes very challenge uphill road and then ALTERNATIVE trekking to the Condor Cross (1 hour)- After wait for the Condors flights - Visit several remote villages on the left bank of the second deepest canyon in the world - Arrival to Chivay to have lunch included and then drive up to the highest pass named Patapampa (4850m) and enter to the national reserve of Salinas and Aguada Blanca located on the northeast face of Chachani and Misti volcano, this reserve is home of Vicuñas, Alpacas and Llamas grazing on even terrain. Continue with the private tour we drive down to Arequipa surrounding Chachani snowcapped. At 5PM or 6PM arrive the hotel in Arequipa and end of service (B - L).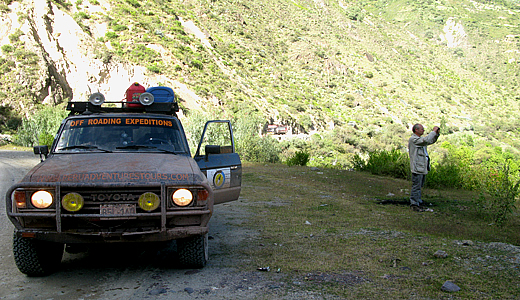 OPTIONAL EVERY DAY SEMI PRIVATE BUS TRANSFER FROM CHIVAY TO PUNO $60 USD EACH
If you plan to continue your travel to Puno instead to return to Arequipa easily you can continue to Puno (lake Titicaca) taking additional semi private bus transfer for $55 USD each - We have depart at 1:30pm from Chivay and arrive to Puno around 7pm and you can be drop off in your hotel or main square of Puno - This semi private bus transfer includes 2 stops ONLY to use toilet but not to visit tourist attractions along the way - The tickets for the seats need to be purchased at booking time of this tour to Colca canyon - We cannot guarantee any last moment bookings if you want to find available seats from Chivay to Puno.
4X4 TOUR IN THE COLCA CANYONINCLUDES
Private 4x4 vehicle
All mentioned tour with local guide
Tourist ticket of 70 soles or $30 US Dollars per person (Obligatory). This is the unique entrance to the Colca national park even if you don't stop at "Mirador Cruz Del Condor" (take care not many tour operators don't includes this tourist ticket), the entrance is valid to visit all the canyon but not valid for hot springs along the canyon
All mentioned meals in the program
1 night in bamboo huts into the Colca canyon
Meals and accommodation for our camp staff
Oxygen bottle and first aid kit for participants and our camp staff
TOUR SCHEDULE & COST 2015
DATE
TOUR
COST
Any day between April to December

4X4 TOUR IN THE COLCA CANYON $397 USD Per Person

4WD From The Roof To The Bottom Of The Canyon 2 Day - 1 Night


Backpacker Service (Join group)
No Applicable

Private Service (Private 4x4 Truck)
2 participants $397 USD each one
3-4 participants $318 USDeach one
5 to more participants $265 USD each one
Discount: $5 USD for South American Explorers Club Members
Discount 3%: Tour Operators or Travel Agencies Only
Students: $5 USD of Discount only with valid green ISIC card
Organized Groups: We offer private service and any time/day according request

Group size: 5 participants per each guide/4x4 truck
BOOK HERE: We highly recommended to book space prior you arrive to Arequipa and take Private Service.
All prices stated above are subject to change.
Exchange rate $1 USD = S/. 3.02 (rate may vary daily).
NOT INCLUDED
Alcoholic drinks
Binoculars
Entrance to the hot spring in Chivay or other ($6 USD per person)
Sleeping bag can be hired from our office in Arequipa
Breakfast on the first day and dinner on the last day
Tipping for guide and camp staff
Phone calls
Internal flight tickets confirmation
Travel insurance
RAIN SEASON
December to March. Some days are with blue sky permiting to cycle this zone.
BEST TIME TO DO THIS TOUR
After rain season (April to June) the mountains are completely covered with snow and the slops are cover with new vegetation making more nice for pictures.
ADVICE FOR VISITORS
We recommend to make your reservation in advance, we organize everythign before your arrive to Peru.
WHAT YOU NEED TO BRING/CARRY
Small backpack
Rain jacket or poncho for the rain season between December to March (plastic ponchos can be purchased in Arequipa)
Tennis shoes
One complete change of clothing
Flashlight and batteries
Hat or cap to protect you from the sun
Sun block (sun protection cream)
Insect repellent
Toiletries, towel and toilet paper
Selection of small snacks, chocolate, dried fruit, biscuits etc
Camera, plenty of film and spare batteries
Sunglasses
Swimsuit (for the hot springs in the Colca canyon)
Extra money (soles)
CONTACT US
For more information about the tour or you request a new date to departure for this tour, please contact us....
Some of our clients e-mail us saying our confirmation e-mails are placed to their spam folder rather than their inbox. We recommend to modify your JUNK or SPAM FILTER SETTINGS to receive our e-mail
peruadventurestours@hotmail.com
on the correct inbox. You may also want to add this email address to your list of known contacts. This will prevent our responses from being filtered into your Junk or Spam mail folder.