PARACAS NATURAL SEA RESERVE GUIDED TOUR $55 USD Per Person
World Heritage Natural Side - A Half Day Tour
Paracas is a Quechua name, means "raining sand". It is located 250km south of Lima. The Paracas bay is always remembered for the landing os September 8th, 1820 of Jose de San Martin and his army to begin the battle for Peru´s independence from Spain. Paracas is the departure point to reach the Paracas National Reserve, provides a sanctuary to 74 species of plants that grow in this extremely arid area, and to 216 species of birds, 16 types of mammals, 10 species of reptiles and 193 species of fish. Only protected natural marine area, it covers 3350 square kilometres, 65% of it sea and 35% land and islands. The Paracas National Reserve provides an opportunity to easily watch resident and migratory birds, including flamencos, red-legged cormorants, Inca terns, Peruvian boobies, Humboldt penguins, Guanay cormorant, Neotropical cormorant, Turkey vulture, etc.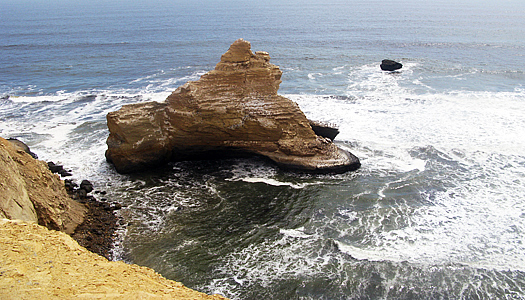 The archaeology also is present at this zone. In 1925 archaeology team reported the find of hundreds of mummy bundles in the Paracas peninsula area, Julio C. Tello were study the Paracas ancient culture which readiocarbon tests dated to 7000BC and a significant number of skulls that had trepanation marks.
Tour To Paracas National Reserve - Tour Information About Trip To Reserva Nacional De Paracas - Tour Reserva Nacional De Paracas Peru - Guide Travel Of Paracas Reserve - Land Tour To Paracas - Paracas Explore -Tour Company To National Reserve Of Paracas In Peru - Tour Guides For Reserva De Paracas - Hald Day Trip To Paracas Marine Reserve - Tour Information About Paracas Reserve - Hotels In Paracas - Bus Tours To Paracas - Wildlife Of Reserva Nacional De Paracas - ParacasTours -PeruTours

PARACAS NATIONAL SEA RESERVE GUIDED TOUR ITINERARY
At 8AM, 11AM or 2PM pick up from your hotel and then go by tourist bus to Paracas National Reserve, declared World Heritage Natural Side by UNESCO. The reason for this rich wildlife is the cold upwelling of the Humboldt Current. The sharp contrast between the desert and the sea also provides a stunning landscape. The tour begins with the excursion to this reserve of Paracas, Julio C. Tello Museum, continues the visit to the Cathedral and La Boveda, where we do short walk around the sea going in to the cave, several viewpoints of Wolves and Lagunillas beach, where it will be possible to be enjoyed the sun and the sea having lunch. These areas are considered by the geographic location one becomes strangest and richest ecosystems in the world.
The entire trip takes around 4 hours and ends with drop off at your hotel or bus station in Paracas/Pisco.
PARACAS NATURAL SEA RESERVE GUIDED TOUR INCLUDES
Private tourist van
Pick up from your hotel or bus station in Pisco/Paracas
English-Speaking tour guide
Entrance to the National Reserve of Paracas
Entrance to local museum
Drop off at your hotel or bus station in Paracas/Pisco
TOUR SCHEDULE & COST 2015
DATE
TOUR
COST
Any day
(All the year)
PARACAS NATURAL SEA RESERVE GUIDED TOUR $55 USD Per Person

World Heritage Natural Side - A Half Day Tour
Backpacker Service (Join a group)
$55 USD each

Private Service (private van/guide)
2 participants $105 USD each
3-4 paticipants $85 USD each
5 to more participants $55 USD each
Discount: $5 USD for South American Explorers Club Members
Discount 3%: Tour Operators or Travel Agencies Only
Students: $5 USD discount only with valid green ISIC card
Organized Groups: We offer private and any time departure
Group size: 12 participants per guide - We need minimum 2 participants to develop this tour
BOOK HERE: We highly recommend make reservation prior you arrive to Peru
All prices stated above are subject to change.
Exchange rate $1 USD = S/. 3.02 (rate may vary daily).
NOT INCLUDED
Hotel in Pisco or Paracas
Travel insurance
Alcoholic drinks
Breakfast / Lunch on the trip
Tips for the guide and camp staff
HOW TO BOOK THIS TRIP WITH PERU ADVENTURE TOURS?
To visit Peru through one of our tours you must make a reservation in advance.
We can help you to book your tour in 5 easy steps.
1. Send an enquiry
Use one of our e-mails mentioned at the bottom of each page of our website. You must need to be clear with your questions about the tour you like to book. We will appreciate if you add the tour link to be booked and will be easier for us to help you.
You need to fill up the date of the tour? How many people? What level/category of hotel? What type of room? And other specifications will be better and our experienced and professional travel advisor will customize a tour to fit your exact needs.
Also you can contact our office at 0051 (0)54 221658 or 0051 (0)54 973842688 to check availability for the requested tour. All reservation needs to make by e-mail at peruadventurestours@hotmail.com
2. Get a Quote
Our professional travel advisors will send you the best quote according your requested tour. The tour quote vary according the length of the tour, the accommodation, the sightseeing, meals, public or private transportation, air fares, equipments, etc.
3. Amend your tour for FREE
Our tip advisor will proposed you the acting tour plan within 24 hours or less, which you can further discuss the entire tour plan to suite your satisfactory. So feel free to express your wants, and take good advantages of your personal travel advisor's experience and advice.
Here you can further discuss all the details of the tour plan until you are totally satisfied with it.
4. Confirm & pay deposit of 50% at booking time
A payment of 50% deposit of the total amount must be paid to us at booking time. The balance is to be paid in full on your arrival date or just before to begin the tour (meeting day). If we receive your booking for less than 10 days prior to the tour start date, might we will ask for payment to be made in full once you confirm the tour, ask for this before you book the tour.
To find full information of our payment methods click on
PAYMENT GUIDE
.
5. Final Payment & Enjoy your tour
The final payment can be paid in different ways according each tour booked. One way when we meet you at the airport of Lima after your arrive to Peru. Other way is when we meet at your hotel one day before to start the service/tour, we use this method especially for people booking some hiking and climbing tours because we need to check the equipments as tents, ice axe, sleeping bags, etc. Normally the meeting time happens one day before depart between 6 to 8pm at the lobby of your hotel.
The final way is contacting the travelers just few minutes before to begin the service/trip; this can be at the hotel, airport, bus station or in our local offices.
After you confirm the booking form and the first deposit we will e-mail you mentioned how which option we will chose to arrange the final balance of the trip.
NOTE:
Some tours can be booked directly in our local offices in Cusco or Arequipa. If there is availability for the requested tour will be a pleasure to fit you on the tour and you can pay the full amount in US dollars cash or local currency (soles). We will help you, we will fit you on the tour ONLY if we have place. Ofcourse we DON'T guarantee any last moment departs. We really recommend making your reservation in advance and we will guarantee depart of the service/tour.
IMPORTANTE: Before you book this tour and arrange the first payment of this tour read our
TERMS & CONDITIONS
.
RAIN SEASON
Some cloudy days, specially in the morning between July and November.
BEST TIME FOR PICTURES
All the year, to get the best picture of the sea wildlife is better to go early morning or late afternoon. Dont forget to test the Ceviche, one of the most pupolar food of the
Peruvian cuisine
.
ADVICE FOR VISITORS
For birdwatcher we advice to take special orginized tour with private van guide and camp near of the stunning areas, where is possible to observe more species.
WHAT YOU NEED TO BRING/CARRY
Hat or cap to protect you from the sun
Sun block (sun protection cream)
Camera, plenty of film and spare batteries
Binoculars
Summer clothes
CONTACT US
For more information about the tour or you request a new date to departure for this tour, please contact us....
Some of our clients e-mail us saying our confirmation e-mails are placed to their spam folder rather than their inbox. We recommend to modify your JUNK or SPAM FILTER SETTINGS to receive our e-mails
peruadventurestours@hotmail.com
on the correct inbox. You may also want to add this email address to your list of known contacts. This will prevent our responses from being filtered into your Junk or Spam mail folder.