Ica
Trekking Tours
Climbing Tours
Biking Tours
Classic Tours
Sandboarding Tours

GUIDED LAND TOUR TO CHAUCHILLA PRE-INCA CEMETERY SINCE $55 USD Per Person
Discover Real Tombs Of Nasca Culture - 4 Hours Of Tour
At 7am or 3pm land trip to Chauchilla cemetery, located on the south of Nasca, in the middle on the desert closer to the Chauchilla valley. There you will see remains of the Nasca old culture. Also you will visit the artisan gold extraction and the work of craftsmen elaborating the finest ceramic of this part of Peru = 3 Hours guiding tour.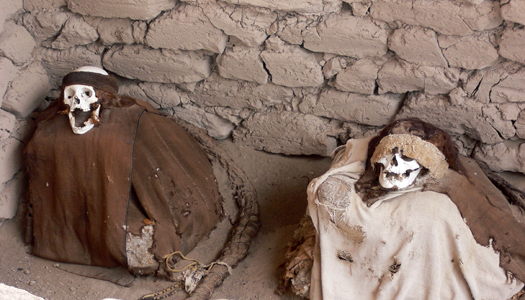 GUIDED LAND TOUR TO CHAUCHILLA PRE-INCA CEMETERY INCLUDES
Official English-Speaking guide
Shared tourist van (Backpacker service only)
Private tourist van (Private Service only)
Entrance to the complex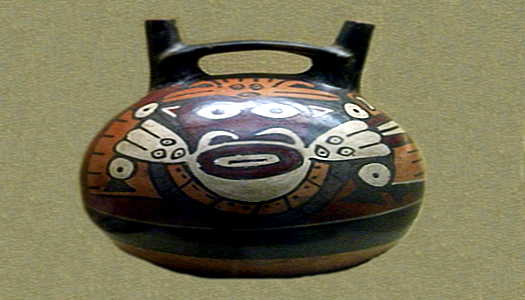 TOUR SCHEDULE & COST 2012
DATE
TOUR
COST
Departure available all year

GUIDED LAND TOUR TO CHAUCHILLA PRE-INCA CEMETERY SINCE $55 USD Per Person

Discover Real Tombs Of Nasca Culture - 4 Hours Of Tour

Backpacker Service (Join group)
1 to more participants $55 USD each

Private Service (private van/guide)
2 participants $105 USD each
3-4 participants $90 USD each
5 to more participants $75 USD each
Discount: $5 USD of discount for South American Explorers Club Members
Discount 3%: Tour Operators or Travel Agencies Only
Students: $5 USD of discount only with valid green ISIC card
Organized Groups: We offer private service and any time/day according request
Group size: 4 participants per each 4WD and tour guide
BOO HERE: We highly recommended to book space prior your arrive to Peru and take private service
All prices stated above are subject to change.
Exchange rate $1 USD = S/. 3.02 (rate may vary daily).
NOT INCLUDED
Alcoholic drinks
Hotel in Nazca
Breakfast on the first day
Tips for our guide and camp staff
HOW TO BOOK THIS TRIP WITH PERU ADVENTURE TOURS?
To visit Peru through one of our tours you must make a reservation in advance.
We can help you to book your tour in 5 easy steps.
1. Send an enquiry
Use one of our e-mails mentioned at the bottom of each page of our website. You must need to be clear with your questions about the tour you like to book. We will appreciate if you add the tour link to be booked and will be easier for us to help you.
You need to fill up the date of the tour? How many people? What level/category of hotel? What type of room? And other specifications will be better and our experienced and professional travel advisor will customize a tour to fit your exact needs.
Also you can contact our office at 0051 (0)54 221658 or 0051 (0)54 973842688 to check availability for the requested tour. All reservation needs to make by e-mail at peruadventurestours@hotmail.com
2. Get a Quote
Our professional travel advisors will send you the best quote according your requested tour. The tour quote vary according the length of the tour, the accommodation, the sightseeing, meals, public or private transportation, air fares, equipments, etc.
3. Amend your tour for FREE
Our tip advisor will proposed you the acting tour plan within 24 hours or less, which you can further discuss the entire tour plan to suite your satisfactory. So feel free to express your wants, and take good advantages of your personal travel advisor's experience and advice.
Here you can further discuss all the details of the tour plan until you are totally satisfied with it.
4. Confirm & pay deposit of 50% at booking time
A payment of 50% deposit of the total amount must be paid to us at booking time. The balance is to be paid in full on your arrival date or just before to begin the tour (meeting day). If we receive your booking for less than 10 days prior to the tour start date, might we will ask for payment to be made in full once you confirm the tour, ask for this before you book the tour.
To find full information of our payment methods click on
PAYMENT GUIDE
.
5. Final Payment & Enjoy your tour
The final payment can be paid in different ways according each tour booked. One way when we meet you at the airport of Lima after your arrive to Peru. Other way is when we meet at your hotel one day before to start the service/tour, we use this method especially for people booking some hiking and climbing tours because we need to check the equipments as tents, ice axe, sleeping bags, etc. Normally the meeting time happens one day before depart between 6 to 8pm at the lobby of your hotel.
The final way is contacting the travelers just few minutes before to begin the service/trip; this can be at the hotel, airport, bus station or in our local offices.
After you confirm the booking form and the first deposit we will e-mail you mentioned how which option we will chose to arrange the final balance of the trip.
NOTE:
Some tours can be booked directly in our local offices in Cusco or Arequipa. If there is availability for the requested tour will be a pleasure to fit you on the tour and you can pay the full amount in US dollars cash or local currency (soles). We will help you, we will fit you on the tour ONLY if we have place. Ofcourse we DON'T guarantee any last moment departs. We really recommend making your reservation in advance and we will guarantee depart of the service/tour.
IMPORTANTE: Before you book this tour and arrange the first payment of this tour read our
TERMS & CONDITIONS
.
RAIN SEASON
Never rain on this zone, maybe some cloudy days no more.
BEST TIME FOR PICTURES
All the year.
ADVICE FOR VISITORS
To take this trip aerly morning or late afternoon is not to hot.
WHAT YOU NEED TO BRING/CARRY
Hat or cap to protect you from the sun
Sun block (sun protection cream)
Camera, plenty of film and spare batteries
Binoculars
Summer clothes
CONTACT US
For more information about the tour or you request a new date to departure for this tour, please contact us....
Some of our clients e-mail us saying our confirmation e-mails are placed to their spam folder rather than their inbox. We recommend to modify your JUNK or SPAM FILTER SETTINGS to receive our e-mails
peruadventurestours@hotmail.com
on the correct inbox. You may also want to add this email address to your list of known contacts. This will prevent our responses from being filtered into your Junk or Spam mail folder.