WILDLIFE OF TAMBOPATA CANDAMO AMAZON RESERVE SINCE $1255 USD Per Person
Tambopata Candamo - Bahuaja And Sonene Reserve And Macaw Clay Lick & Sandoval Lake Tour 5 Days - 4 Nights
ambopata - Candamo and Bahuaja - Sonene National Amazon Reserve is located in the department of Madre de Dios, in the middle of Tambopata and Candamo Rivers. This amazing National Reserve is a 275,000 hectare conservation unit created by the Peruvian government in 1990 to protect the watersheds of the Amazonian plain. This environmental diversity had allowed at least 11 different types of forests to co-exist leading to an incredible biodiversity.
The number of species identified until in this area of pristine forest contains 700 species of bird, 32 parrot species (10% of the world's total), 191 species of mammals, 1234 types of butterflies and over 10,000 species of vascular plants, 155 varieties of dragonflies, 97 species of fish, 130 kinds of ants, 127 species of amphibians, 75 kinds of reptiles, 40 species of termites, 39 varieties of bees and more than 100 species of New World monkeys (the smallest one is no larger than a fountain pen; the largest is comparable to a chimpanzee).
Amongst these are 13 endangered species including the jaguar, the ocelot (felis pardalis), the giant otter (teronura brasilensis), giant armadillo (priodentes giganteus) and the harpy eagle (harpia harpyja).
This protected area preserves the Colpa De Guacamayos, this is one of the highlights and largest natural clay licks in the
Peruvian Amazon
. The green color of the cliffs attracts thousands of macaws, parrots and parakeet from the jungle and they fly far way to come to feed on the mineral salts contained in this area.
Less than 5000 people (equivalent to a minor league sports event) inhabit the reserve's "area of influence" to the north. They make a living off slash and burn agriculture, small scale gold mining, timber extraction, and hunting and fishing. One thousand Ese'ejas live in four titled communities within this area of influence. The undergoing pavement of the Inter-Oceanic highway, joining Brazil's north Atlantic coast with Peru's Pacific Coast and access to the Asian markets presents the principal threat over the midterm to this region's incomparable wilderness.
The Amazonian region occupies a total area of more than 7.5 million square kilometers, being part of the territory of nine countries: Peru, Bolivia, Brazil, Venezuela, Colombia, Ecuador, Surinam, Guiana and French Guiana. The Amazonia has 3,54 million square kilometers of continuous forest-covered areas, the largest in the world. Paradoxically, however, it is a soil with low fertility: 78% of it is acid and difficult to use for agriculture. Biodiversity is also the largest in the world: while there are 4 to 25 tree species per hectare in North America, there are between 40 and 300 different tree species in the Amazon forest. There are more than 5,000 species of trees.
The volume of rain in the Amazon river basin is truly amazing: more than 15 trillion cubic meters per year. Of the overall rainfall, 48% evaporates, 52% flows to the rivers, and ultimately to the sea.
The Amazon forest may be considered a kind of "ecological filter" for carbon dioxide (CO2) in the atmosphere, because the plants in the forest absorb more CO2 than they release.
There are daily flights from
Lima
/
Cusco
to Puerto Maldonado, also is possible to get there by bus or private 4x4 trucks (18 hours). Candamo and Tambopata National Reserve can be accessed by boat from Peru to Maldonado town (capital of Madre de Dios department), the boat trip along the river takes 2 up more hours, depending with section of the reserve goes your tour.
PERU ADVENTURE TOURS
arrange the amazing jungle trek/tours in the dense rainforest of Tambopata - Candamo and Bahuaja and Sonene National protected park. Every tour includes round trip flight tickets, lodging according your selection, experienced tour guide specialize in flora and fauna (resident biologists), foods, entrance fees, boat or canoe trip along rivers or lakes, evening guide treks, etc. During your stay in the lodge you will encounter a large variety of trees and plants as well as seeing many different insects and birds. If you are a birdwatcher lover
PERU ADVENTURE TOURS
recommends to staying a few extra days so you can do your own thing.
The lodges we use for lodging our customers are strategic located on close to a variety of attractions such as Collpas, communities and lakes.
PERU ADVENTURE TOURS
takes care of all your needs to discover the region's natural wonders and teach you about the different ecosystems, we arrange tour ranging from a week expeditions to explore the heart of - Candamo and Bahuaja - Sonene National National Reserve.
The Amazon rainforests of south eastern
Peru
is home to one of the world's highest biodiversity concentrations and has a spectacular array of flora and fauna species.
WILDLIFE OF TAMBOPATA CANDAMO AMAZON RESERVE TOUR ITINERARY
DAY 1: LIMA/CUSCO - PUERTO MALDONADO - TAMBOPATA CANDAMO LODGE
Arrive in the jungle town of Puerto Maldonado. You will be met at the airport and welcoming drinks and recognize of Puerto Maldonado town. After a refreshing drink you will make the 3-4 hours journey up the Tambopata River into the primary rainforest of the Tambopata Reserve zone with the opportunity to see local communities and wildlife along the banks of the river. You will arrive to Tambopata Lodge in the late afternoon. After refreshments you will go on a short introductory walk into the forest. In the evening you will go on a night walk to look for some of the nocturnal creatures of the forest.
Dinner and overnight stay at the eco lodge, the different sounds of the forest will be with us on our first night in the Amazon (L - D).
DAY 2: TAMBOPATA CANDAMO LODGE - BAHUAJA AND SONENE RESERVE - CAMPING
Early morning you will wake before dawn and cross the Tambopata River to walk through the jungle to visit the parrot clay lick on the banks of the River Gato. You will watch parrots and parakeets gather and feed on the clay. On the walk you may see animals such as monkeys and other interesting plants and insects. After breakfast you can relax in the beautiful surroundings of the lodge, go fishing or swim in a nearby waterfall. After lunch you will make the 1 1/2 hour journey further up the River Tambopata into the Bahuaja and Sonene National Park. This journey is an excellent opportunity to see birds and animals such as capybara, jaguar and large caiman. You will arrive at the site of the Chuncho Collpa in the late afternoon and establish camp on the river beach. You will watch the sun set and can swim in the river or have a go at catching some of the abundant fish. In the night you will attempt to see animals visiting the clay river banks to eat clay - and the animals that hunt them such as jaguar and caiman (B - L - D).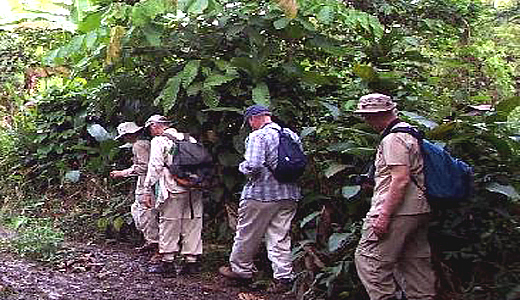 DAY 3: BAHUAJA AND SONENE NATIONAL PARK EXPEDITION - BIRD WATCHING TOUR
You will wake at dawn to the sound of Howler Monkeys and hundreds of parakeets wheeling through the red morning sky. You will watch several species of macaw and many species of parrots and parakeets gather to eat clay in the first few hours after sunrise. You will have a simple breakfast on the beach followed by a short walk through the forest to look for birds and animals. Then we will travel back down the river to the Tambopata Lodge for lunch. In the afternoon you can go for walk, relax, and go fishing or swimming or visit a local community. After an evening meal we will go to the river to get a close view of caiman, this is one type alligators (B - L - D).
DAY 4: MACAW CLAY LICK - LAKE SANDOVAL - TAMBOPATA CANDAMO LODGE
You will have breakfast and then make the journey back down the Tambopata River to Puerto Maldonado. You will arrive at Wasai Maldonado Lodge for lunch. In the afternoon you will Travel Down the Madre de Dios River and from there walk through the forest to the tranquil and beautiful Lake Sandoval.
At the lake your guide will paddle you in a wooden canoe to look for Giant River Otters and birds such as Hoatzin and Aningha. There is a wonderful sunset here. You will walk back through the forest to look for some of the nocturnal creatures of the forest and we travel back to the Tambopata Candamo Lodge for a Final evening meal (B - L - D).
DAY 5: TAMBOPATA CANDAMO LODGE - PUERTO MALDONADO - CUSCO/LIMA
After br eakfast will be the transfer to airport and flight back to Cusco or Lima, normally the flights departure around 10am (B).
B= Breakfast L= Lunch D= Dinner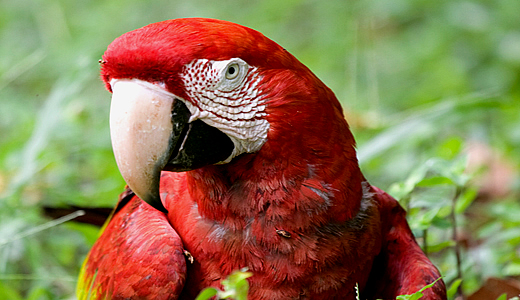 WILDLIFE OF TAMBOPATA CANDAMO AMAZON RESERVE INCLUDES
Assistances and transfer in /out in each city according the program
Resident naturalist tour guide, private guide if only if you book the trip with Private Service
Motorized Jungle Canoe Trips
2 Nights in the Tambopata Lodge and Research Center, the bungalow offers wonderful view onative vegetation or welcoming sunrise. Every bungalow has mosquito net, shower and baths facilities. In the night the lodge has lighted by a power
Entrance to the National Park of Tambopata (care many of the local tour operator don't include this ticket)
Meals (4B - 4L - 4D), vegetarian food are available in the restaurant located in the second floor with spectacular view of the rainforest
Flight from Lima/Cusco - Puerto Maldonado - Cusco/Lima
Airport tax according each flight
TOUR SCHEDULE & COST 2014
DATE
TOUR
COST
Any day
(April to November is the dry season)
WILDLIFE OF TAMBOPATA CANDAMO AMAZON RESERVE SINCE $1255 USD Per Person

Tambopata Candamo - Bahuaja And Sonene Reserve And Macaw Clay Lick & Sandoval Lake Tour 5 Days - 4 Nights


Backpacker Service (Join a group)
1 to more participants $1255 USD each

Private Service (private guide)
2 participants $2058 USD each
3-4 participants $1780 USD each
5 to more participants $1605 USD each
Discount: $5 USD for South American Explorers Club Members
Discount 3%: Tour Operators or Travel Agencies Only
Students: $5 USD discount only with valid green ISIC card
Organized Groups: We offer private tours and any time departure
Group size: 10 - 15 participants per guide - Private guide will be only if you book private VIP service
BOOK HERE: We highly recommended to book your toue prior you arrive to Peru
All prices stated above are subject to change.
Exchange rate US$1 = S/. 3.02 (rate may vary daily).
PRIVATE SERVICE
With this service we have support vehicle from the begining to the end of the trip and you will feel much confortable in case do you want to continue anymore.
NOT INCLUDED
Alcoholic and non-alcoholic beverages or bottled water
Sleeping Bag
Breakfast on the first day/lunch on the last day
Tips for guide and camp staff
Excess baggage charges
Additional nights during the trip due to flight cancellations
Insurance of any kind
Taxi service, phone calls orlaundry service
Reconfirmation of international flights and items of personal nature
Breakfast on the first day/lunch on the last day
Day pack
Rain gear
Insect repellent (with at least 25% 'deet')
Sleeping bag and sheets
Binoculars (imperative)
Flashlight with spare bulbs and batteries
Afterbite
Camera and extra films (asa 100 is good for lakes and river, but inside the forest you will need asa 400)
Long sleeve shirts and long trousers (thick and baggy fabric against mosquitoes)
T-shirts
Towel
Shorts/bathing suit
Sweater or light jacket
Sandals
1 pair each of hiking boots and light shoes
Sunhat
Sunglasses
Sunblock
Toilet paper
Plastic bags (to keep everything dry)
Personal hygienic and medical supplies
Copy of a valid passport
Copy of yellow fever and tetanus vaccinations
Money for soft drinks or beers, and handicrafts
Tip for guide and camp staff
WHAT YOU NEED TO BRING/CARRY
Small backpack
Rain jacket or poncho (plastic ponchos can be purchased in Arequipa/Peru)
Tennis shoes
One complete change of clothing
Water bottle and purification tablets (Micropur are recommended and can be bought in local pharmacies in Arequipa/Peru)
Flashlight and batteries
Hat or cap to protect you from the sun
Sun block (sun protection cream)
Insect repellent
Toiletries, towel and toilet paper
Selection of small snacks, chocolate, dried fruit, biscuits etc,
Camera, plenty of film and spare batteries
Sunglasses
Swimsuit (for the hot springs in the Colca canyon)
Extra money (soles).
CONTACT US
For more information about the tour or you request a new date to departure for this tour, please contact us....
Some of our clients e-mail us saying our confirmation e-mails are placed to their spam folder rather than their inbox. We recommend to modify your JUNK or SPAM FILTER SETTINGS to receive our e-mail
peruadventurestours@hotmail.com
on the correct inbox. You may also want to add this email address to your list of known contacts. This will prevent our responses from being filtered into your Junk or Spam mail folder.