PUERTO MALDONADO AND TAMBOPATA ECO ADVENTURE TOUR $1125 USD Per Person
Rainforest adventure to the Upper Tambopata National Reserve 4 Days – 3 Nights
Tambopata And Candamo and Bahuaja - Sonene National Amazon Reserve is located in the department of Madre de Dios, in the middle of Tambopata and Candamo Rivers. This amazing National Reserve is a 275,000 hectare conservation unit created by the Peruvian government in 1990 to protect the watersheds of the Amazonian plain. This environmental diversity had allowed at least 11 different types of forests to co-exist leading to an incredible biodiversity. The number of species identified until in this area of pristine forest contains 700 species of bird, 32 parrot species (10% of the world's total), 191 species of mammals, 1234 types of butterflies and over 10,000 species of vascular plants, 155 varieties of dragonflies, 97 species of fish, 130 kinds of ants, 127 species of amphibians, 75 kinds of reptiles, 40 species of termites, 39 varieties of bees and more than 100 species of New World monkeys (the smallest one is no larger than a fountain pen; the largest is comparable to a chimpanzee). Amongst these are 13 endangered species including the jaguar, the ocelot (felis pardalis), the giant otter (pteronura brasilensis), giant armadillo (priodentes giganteus) and the harpy eagle (harpia harpyja).
This protected area preserves the Colpa De Guacamayos, this is one of the highlights and largest natural clay licks in the Peruvian Amazon. The green color of the cliffs attracts thousands of macaws, parrots and parakeet from the jungle and they fly far way to come to feed on the mineral salts contained in this area.
Less than 5000 people (equivalent to a minor league sports event) inhabit the reserve's "area of influence" to the north. They make a living off slash and burn agriculture, small scale gold mining, timber extraction, and hunting and fishing. One thousand Ese'ejas live in four titled communities within this area of influence. The undergoing pavement of the Inter-Oceanic highway, joining Brazil's north Atlantic coast with Peru's Pacific Coast and access to the Asian markets presents the principal threat over the midterm to this region's incomparable wilderness.
The Amazonian region occupies a total area of more than 7.5 million square kilometers, being part of the territory of nine countries: Peru, Bolivia, Brazil, Venezuela, Colombia, Ecuador, Surinam, Guiana and French Guiana. The Amazonia has 3,54 million square kilometers of continuous forest-covered areas, the largest in the world. Paradoxically, however, it is a soil with low fertility: 78% of it is acid and difficult to use for agriculture. Biodiversity is also the largest in the world: while there are 4 to 25 tree species per hectare in North America, there are between 40 and 300 different tree species in the Amazon forest. There are more than 5,000 species of trees.
The volume of rain in the Amazon river basin is truly amazing: more than 15 trillion cubic meters per year. Of the overall rainfall, 48% evaporates, 52% flows to the rivers, and ultimately to the sea.
The Amazon forest may be considered a kind of "ecological filter" for carbon dioxide (CO2) in the atmosphere, because the plants in the forest absorb more CO2 than they release.
There are daily flights from
Lima
/
Cusco
to Puerto Maldonado, also is possible to get there by bus or private
4x4 trucks
(18 hours). Candamo and Tambopata National Reserve can be accessed by boat from
Peru
to Maldonado town (capital of Madre de Dios department), the boat trip along the river takes 2 up more hours, depending with section of the reserve goes your tour.
PERU ADVENTURE TOURS arrange the amazing jungle trek/tours in the dense rainforest of Tambopata - Candamo and Bahuaja - Sonene National protected park. Every tour includes round trip flight tickets, lodging according your selection, experienced tour guide specialize in flora and fauna ( resident biologists), foods, entrance fees, boat or canoe trip along rivers or lakes, evening guide treks, etc. During your stay in the lodge you will encounter a large variety of trees and plants as well as seeing many different insects and birds. If you are a birdwatcher lover PERU ADVENTURE TOURS recommends to staying a few extra days so you can do your own thing.
The lodges we use for lodging our customers are strategic located on close to a variety of attractions such as Collpas, communities and lakes.
PERU ADVENTURE TOURS takes care of all your needs to discover the region's natural wonders and teach you about the different ecosystems, we arrange tour ranging from a week expeditions to explore the heart of - Candamo and Bahuaja - Sonene National National Reserve.
The Amazon rainforests of south eastern
Peru
is home to one of the world's highest biodiversity concentrations and has a spectacular array of flora and fauna species.
ECO ADVENTURE TOUR ITINERARY
DAY 1: LIMA - PUERTO MALDONADO - TAMBOPATA NATIONAL RESERVE
Around 7amd we will pass through your hotel in Lima to pick up and then transfer to airport of Lima and catch the flight included to the jungle of Puerto Maldonado (2 hrs) - A staff member will wait for you at the airport to transfer you to Puerto Maldonado Eco Lodge. There you will be welcomed with a delicious tropical juice while the guide will give you a brief explanation of the tour and last minute tips. After that transportation by road during 40minutes to the shortcut trail through the amazon jungle to the Lodge. We will change our vehicle to one specially designed to fully enjoy the adventure. Little by little we will leave human presence behind, as we go deeper into the jungle. This journey will take between 1 and 2 hours until we reach the Private Reserve of Wasai.
Box Lunch.
Once we are there, we will initiate a trek of introduction to the ecology in a tour of approximately 3 km towards the Lodge which is located on the banks of the river Tambopata. during the walk you will be able to appreciate the different types of forests such as swamps, bamboo forest, hi terrace forest, low land forest and with luck some animals of the Amazon.
Once in the Tambopata River you will be accommodated in your bungalows, which have terraces and hammocks to relax. The ones who wish can swim in the river with the assistance of the guide or any staff member. free time the rest of the afternoon until dinner After dinner search Caymans in the Tambopata River.
You will enjoy the sounds of the jungle during the night. Overnight at Wasai Tambopata eco lodge (L - D).
DAY 2: MACAW'S CLAY LICK TOUR
Early wake up around 4:30 am to take a light breakfast (coffee or mate), to begin with our 90-minutes journey upstream to the Macaw Clay Lick "El Chuncho" in the Bahuaja-Sonene National Park. We will have the opportunity to enjoy the beautiful natural sceneries and wildlife of the riverbanks. At our arrival, if weather permits, we will observe one of the greatest wildlife spectacles where hundreds of parrots and different species of macaws gather to eat clay, an unforgettable experience. Then, we will walk through the river beach searching for animal footprints while we have refreshment. In the middle morning we return to the lodge to have a late breakfast and then take a rest to relax, or enjoy the facilities and the surroundings of Wasai.
(Around 12 am) We leave again to take a 5 minute river journey to enjoy "Cascadas del Gato" (Cat Cascades), where we will swim in a "natural Jacuzzi". If you wish, you can join us to fish in the river where inhabit more than 250 species of fish.
Return to the lodge .Lunch will be served between 1:30 to 2pm After lunch, we will have a new ethno botanical walk into the rainforest by the Tambopata cross path, to learn about plants and medicinal trees of the area; and to observe the amazing jungle ecosystem where we will see walking palm trees, giant lupuna trees, snake trees and so on. At nightfall, free time to enjoy the night - Overnight at Wasai Tambopata lodge (B - L - D).
DAY 3: AMAZON ADVENTURE TOURS
Awakening at the lodge is one of the most impressive spectacles of sound and color in the Amazon. Visitors may rest, take a coffee or walk through the surroundings of the lodge by themselves or with the assistance of a guide until breakfast and see many different types of birds, butterflies, mammals and tropical flowers. Breakfast will take place between 7 to 9 am, and then we will start a short boat trip for about 30 minutes upstream the Tambopata river to enjoy the view and get to the starting point of our Kayak adventure in the sector known as The Gold Island.
After a brief training on kayaking, you will make your way back to the lodge downstream with the guide paddling next to you. There will be also a motorized boat for any assistance. The ride downstream on kayak is calm and with some small class 1 rapid, which make it fun. It is possible to see birds in the river banks. The ride ends on the Gato River, where depending on the river level you have two different possibilities. When it is low a beautiful cascade where you can swim is formed. If the level of the river is high it is possible to paddle through the river in kayak against the stream. It is also possible to swim in the surroundings of the cascade. Return to the lodge at midday to have lunch and a rest.
In the afternoon we will make a short ethno botanical walk of 1 km until the swamp area where the adventure complex is located. There you will be able to enjoy different adventure activities between the trees: Suspended bridges, Zip Lines of over 100 m, rope bridge, floating ropes, tri lines, etc. Night walks Relax in the lodge and dinner - Overnight at Wasai Tambopata Lodge (B - L - D ).
DAY 4: FLIGHT FROM PUERTO MALDONADO TO LIMA OR CUSCO
Breakfast .You will wake up with the beautiful sunrise of the jungle to leave the lodge. Road trip to Puerto Maldonado (2hrs), transfer to the airport. During the way back you will still have the opportunity to see wild animals and enjoy the fresh morning of the Peruvian Rainforest. At mentioned time flight back to Lima or Cusco – This flight is also included – End of the service (B).
ECO ADVENTURE TOUR INCLUDES
Assistances and transfer in /out in each airport (Lima & Puerto Maldonado)
Resident naturalist tour guide
Motorized Jungle Canoe Trips
3 Nights at Wasai Tambopata Lodge, the bungalow offers wonderful view of native vegetation or welcoming sunrise. Every bungalow has mosquito net, shower and baths facilities
In the night the lodge has lighted by a power
Entrance to the National Park of Tambopata (care many of the local tour operator don't include this ticket)
Meals (3B - 4L - 3D), vegetarian food are available in the restaurantlocated in the second floor with spectacular view of the rainforest
Flight from Lima/Cusco - Puerto Maldonado - Cusco/Lima
Airport tax according each flight
TOUR SCHEDULE & COST 2014
DATE
TOUR
COST
Any day
(April to November is the dry season)
PUERTO MALDONADO AND TAMBOPATA ECO ADVENTURE TOUR $1125 USD Per Person

Rainforest adventure to the Upper Tambopata National Reserve 4 Days – 3 Nights


Backpacker Service (Join a group)
1 to more participants $1125 USD per person

Private Service (Private guide)
2 participants $1758 USD each one
3-4 participants $1580 USD each one
5 to more participants $1230 USD each one
Discount: $5 USD of discount for South American Explorers Club Members
Discount 3%: Tour Operators or Travel Agencies Only
Students: $5 USD of discount only with valid green ISIC card
Organized Groups: We offer private tours and any time departure
Group size: 10 - 15 participants per guide - Private guide will be only if you book Private VIP Service
BOOK HERE: We highly recommended to book your space prior you arrive to Peru
NOT INCLUDED
Alcoholic and non-alcoholic beverages or bottled water
Sleeping Bag
Breakfast on the first day/lunch on the last day
Tips for guide and camp staff
Excess baggage charges
Additional nights during the trip due to flight cancellations
Not camping
Transfer from airport to hotel in Cusco or Lima
Insurance of any kind
Taxi service, phone calls or laundry service
Reconfirmation of international flights and items of personal nature
Breakfast on the first day/lunch on the last day
Day pack
Rain gear
Insect repellent (with at least 25% 'deet')
Sleeping bag and sheets
Binoculars (imperative)
Flashlight with spare bulbs and batteries
Afterbite
Camera and extra films (asa 100 is good for lakes and river, but inside the forest you will need asa 400)
Long sleeve shirts and long trousers (thick and baggy fabric against mosquitoes)
T-shirts
Towel
Shorts/bathing suit
Sweater or light jacket
Sandals
1 pair each of hiking boots and light shoes
Sunhat
Sunglasses
Sunblock
Toilet paper
Plastic bags (to keep everything dry)
Personal hygienic and medical supplies
Copy of a valid passport
Copy of yellow fever and tetanus vaccinations
Money for soft drinks or beers, and handicrafts
Tip for guide and camp staff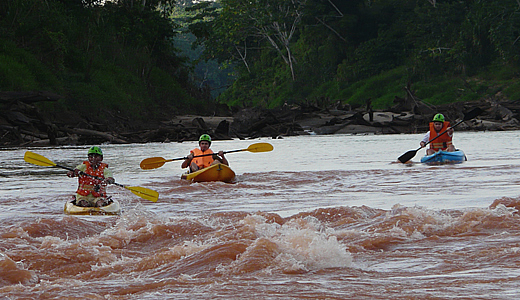 PRIVATE SERVICE
Private tours in the jungle are dedicated for bird watching lover, can be guided by resident biologist who knows all the birds in this protected area. PERU ADVENTURE TOURS recommend booking a private tour to enjoy more and stay extra days in the jungle, we arrange lodgings according our costumers request.
WHAT YOU NEED TO BRING/CARRY
Backpack 50 Lt
Rain jacket or poncho (plastic ponchos can be purchased in Cusco/Peru)
Strong comfortable and waterproof footwear
One complete change of clothing
Sweater and jacket (something warm)
Water bottle, also you can buy in the lodge
Flashlight and batteries
Hat or cap to protect you from the sun
Sun block (sun protection cream)
Insect repellent
Toiletries, towel and toilet paper
Selection of small snacks, chocolate, dried fruit, biscuits etc,
Camera, plenty of film and spare batteries
Sunglasses
Swimsuit
You also need to bring your original passport to show at the airport in Puerto Maldonado
Personal mosquito net
You also need to bring your personal medications
CONTACT US
For more information about the tour or you request a new date to departure for this tour, please contact us....
Some of our clients e-mail us saying our confirmation e-mails are placed to their spam folder rather than their inbox. We recommend to modify your JUNK or SPAM FILTER SETTINGS to receive our e-mails
peruadventurestours@hotmail.com
on the correct inbox. You may also want to add this email address to your list of known contacts. This will prevent our responses from being filtered into your Junk or Spam mail folder.