Cusco
Trekking Tours
Biking Tours
Horseback Riding
Classic Tours
ATV Tours

BIKE COMPONENTS
Recemmend you to check the bike components before you hire or book a bike tour.
More information.....
CLICK HERE
TOUR TO MORAY AGRICULTURAL LABORATORY – MARAS SALT MINES $145 USD Per Person - Group Service
Moray Agricultural Terraces And Salineras De Maras – Half Day Guided Tour
Maras and Moray are located on the northwest of Cusco, just 1 hour driving through Andean villages as Chinchero and the picturesque town of Maras. This colonial town preserves mansions and pretty church surrounded by typical and rustic buildings where the local's live dedicated to the agriculture.
One of the main attraction next of Moray is located gigantic natural holes in the surface of the land that were used to construct in their contours agricultural terraces or platforms with their respective channels of irrigation, is because a prototype of conservatory or biological experimental station enough outpost for his time that helped to that the American man of the antiquity inherited to the humanity a 60% of the vegetal products that consumes, that the Andean man consumes a thousand and average of diverse varieties of Popes, hundred and means of maize, and very many other products produced till today by local farmers. This amphitheater of Moray also is known as agricultural laboratory, made up of four circular terraces that seem to disappear within the highlands, by way of an artificial crater.
Apparently, the place was an Inca agricultural research center devoted to crop experimentation over different altitudinal levels of their land (some more than 100m deep). The terraces were built on retaining walls filled with fertile soil and watered by complex irrigation systems, allowed to grow more than 250 plant species. Through the use of concentric terraces and because the temperatures at each level are different from each other, have played all ecological zones covering the rule of the Inca empire.
Incan agricultural terraces at Moray, These consist of several terraced circular depressions that are believed to have been used to study the effects of different climactic conditions on crops. The depth of the pits (the largest is about 30 m deep) creates a temperature gradient of as much as 15°C between the top and the bottom.
Other interesting place to visit is "salt mines", also is called Salinas de Maras were was the largest salt mines in the region to be operated from the Incas and the colonial period, where they were the first salt-producing center in the southern part of the saw.
There are salt mines whose exploitation is as old as the Inca Empire. Resident's saline water channeled emanating from the floor of a spring called "Qori Puquio" - into pools in which, by the effects of the sun, evaporates leaving salt on the surface which is then processed and sold in local market.
In Salinas de Maras are constituted by about 3000 small wells with an area average of about 5ms², during the time of drought they fill every 3 days with salt water that emanates from natural spring located on the superior part of wells so that when evaporating the water, the salt contained in this one is solidified gradually. Later the salt is struck and thus granulated; the salt later will be pocketed in plastic bags and shipment to the markets of the region; today that salt is being iodized reason for which, its consumption is not harmful.
PERU ADVENTURE TOURS invite you to visit these spectacular places located on the left bank of Urubamba River.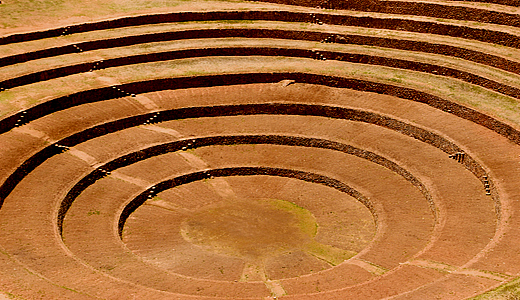 MORAY AGRICULTURAL LABORATORY – MARAS SALT MINES TOUR ITINERARY
The tour to Moray agricultural laboratory and to Salineras de Maras can be departing at 8AM or 12PM from your hotel located in Cusco or in the sacred valley of the Incas.
The tour runs with private van and English-speaking tour guide. Along the way to get there we will stop at Chinchero archaeological site and the Andean market in town.
After one driving firstly we arrive to Maras town located on the head of Moray and Maras salt mine. Short downhill walk to get into the amphitheater where the tour guide will explain more about this spectacular Inca site.
The next place to visit will be Las Salineras of Maras, walking into the salt water wells to see how the local's show us the process to get the salt using artesian system.
After 6 hours of full guided tour we return to your hotel and ends of the tour.
MORAY AGRICULTURAL LABORATORY – MARAS SALT MINES TOUR INCLUDES
Private transpor from to Cusco
English-speaking tour guide
Entrance to each archaeological site according this tour itinerary
Plenty of snack and drinking water (Private Service only)
Optional walking tour under request (Private Service only)
TOUR PRICE TO VISIT MORAY AND MARAS SALT FLATS
DATE
TOUR
COST
Any day
(April - November)
TOUR TO MORAY AGRICULTURAL LABORATORY – MARAS SALT MINES $145 USD Per Person - Group Service

Moray Agricultural Terraces And Salineras De Maras – Half Day Guided Tour
Group Service
1 to more paticipants $145 USD each

Private Service (Private van/guide)
2 participants $253 USD each
3-4 paticipants $218 USD each
5 to more participants $192 USD each
Discount: $5 USD of discount for South American Explorers Club Members
Discount 3%: Tour Operators or Travel Agencies Only
Students: $5 USD of discount only with valid green ISIC card
Organized Groups: We offer private and any time departure
Group Size: 6 participants per guide - All prices stated above are subject to change.
BOOK HERE: We highly recommended to book your spaces prior you arrive to Peru
NOT INCLUDED
Travel insurance
Soft and alcoholic drinks
Breakfast or lunch
Tips for guide and camp staff
Hotel in Cusco or in the sacred valley of the Incas
Binoculares, walking poles and others
WHAT YOU NEED TO BRING/CARRY
Small backpack
Hiking boots or tennis shoes are welcome
Bottle of water
Flashlight and batteries
Hat or cap to protect you from the sun
Sun block (sun protection cream)
Insect repellent
Rain gear is necessary only during the raining season (November - April)
Selection of small snacks, chocolate, dried fruit, biscuits etc
Camera, plenty of film and spare batteries
Sunglasses
Extra money (soles)
This site is operated by PERU ADVENTURE TOURS a legally constituted company to the Peruvian government, which operates from offices in Arequipa and Cusco in Peru. In accordance with the relevant statutory provisions referred in Peru Tourism law, its regulations, its decrees and other legislation applicable in both the country and abroad are issued these general conditions and responsibility as outlined below, which govern the provision of services on the one hand between the passenger or user of services "CLIENT", by other hand the "TRAVEL AGENCY" by the other hand the entities of the service providers such as airlines, hotels, restaurants, transport, guides and other tourism-related services and in connection with this contract.
For more information about full information of terms and conditions
CLECK HERE
.
RAIN SEASON
November to March. Some days are with blue sky permiting to visit these Inca sites.
CONTACT US
For more information about the tour or you request a new date to departure for this tour, please contact us....
Some of our clients e-mail us saying our confirmation e-mails are placed to their spam folder rather than their inbox. We recommend to modify your JUNK or SPAM FILTER SETTINGS to receive our e-mails
peruadventurestours@hotmail.com
on the correct inbox. You may also want to add this email address to your list of known contacts. This will prevent our responses from being filtered into your Junk or Spam mail folder.