THE RALLY DAKAR TOUR - BE PART OF 2014 EDITION RACE - LIVE THE FINISH OF THE ADVENTURE $1855 USD Per Person
WELCOME TO THE ULTIMATE ADVENTURE OF 2014 DAKAR RALLY TOUR (January 14th to 18th)
The 2014 is the sixth edition of Dakar Rally in South America and the 35th running in the world.
The Rally Dakar Tour 2014 begins in Rosario/Argentina and ends in Valparaiso/Chile. One more time the landscape of South America will be part of the challenge and adventurous international off-road competition.
After three consecutive years of Dakar Rally experience (since 2011) PERU ADVENTURE TOURS is coming prepare again the most adventurous 4x4 guided tour across Chile territory following the Dakar Rally day by day from January 14th to January 18th, 2014.
The DAKAR RALLY TOUR 2014 offer great opportunity to see this off-road competition in different terrains and weather conditions along 2300km on the dries desert in Chile.
The DAKAR RALLY TOUR 2014 includes to explore from the north to the south of Chile, will offer the Dakar Rally a different angle of attack on the Pacific Coast, the Atacama's dunes will be the extreme test for the quads, motorbikes, 4WD and trucks. Far from a ride along the coast between Iquique and Valparaiso provide racing scenario, with exceptional landscape in every remote corner well opportunity to celebrate the survivors of this extremely rally in the world.
This DAKAR RALLY TOUR 2014 includes full equipped 4x4 trucks (Toyota Prado Land Cruiser - Toyota Land Cruiser or Nissan Patrol), with experienced driver to drive on hard terrain and extreme conditions, camping gear as 4 season tents and inflate mats for camping, English tour leader knows the route of Rally Dakar 2014.
MAP OF RALLY DAKAR TOUR 2014
To see a large map of the raally dakar 2014 edition CLICK on the map. Thanks to www.dakar.com
TOUR LENG

6 Days - 2261KM to drive from Calama to Valparaiso/Chile

DATE OF BEGINNING
January 14th, 2014 at 8AM in Calama/ Chile - All costumers will be picking up from their hotels in Calama.
PLACE AND DATE OF MEETING
On January 13th, 2014 at 7PM in Calama/ Chile - On Janaury 5th, 2014 we will confirm the exactly meeting point to check any final detail aboaut the tour - Every customer needs to confirm the NAMD, ADDRESS and phone number of hotel where are living in Calama.

DATE OF ENDING

Valparaiso/Chile on January 18th, 2014

ROUTE
CHILE: Calama, Iquique, Antofagasta, El Salvador, La Serena and Valparaiso (Finish).

ROAD – SURFACE

Paved road, gravel road, muddy roads, dunes, rivers, beaches, deserts, valleys, etc.

DISTANCES DAY BY DAY
JANUARY 14: Calama - Iquique 386KM
JANUARY 15: Iquique - Antofagasta 419KM
JANUARY 16: Antofagasta - El Salvador 501KM
JANUARY 17: El Salvador - La Serena 535KM
JANUARY 18: La Serena - Valparaiso 420KM

WEATHER

Summer season (Hot up to 38ºC and down to 8°C)

MIN. OF PARTICIPANTS
4 per each 4x4

MAX. OF PARTICIPANTS

Five 4x4 trucks PER TOUR LEADER

TYPE OF TRUCK
Toyota Land Cruiser 4000cc

BRIEF ITINERARY

Get ready for some big days of driving to follow the 2014 Dakar rally tour - We witness the action like no other tour - From the start (Calama) to the finish (Valparaiso) we take you where the action is far away from the expatiator watch point that were mentioned by the Dakar organization (Amaury Sport Organization) - The 2014 Dakar Rally Tour itinerary includes pure drive following the rally - We drive into the desert/dunes to find the best scenery and get closer to each competitor – Pure and extreme off-roading 4WD finding nature viewing to live a unique experience crossing the north desert of Chile. This itinerary is just indicative and we reserve the right to alter the exact route as further information becomes available if the Dakar organization change the waypoints, stage or change the route between the stages.

2014 DAKAR TOUR INCLUDES

Well-equipped 4x4, experienced off-road drivers, 1 night of camping, camping gear as 4 season tents and inflate mats, 3 nights of hotel (2/3*) in double twin room occupancy, English-speaking tour leader, cooking gear, fuel for whole trip, road roll taxes, parking and Maps of the route.

DAKAR TOUR COST

$1855 USD Per Person – 4 Participants in each 4x4

NOT INCLUDED

Any personal items, visas, etc - International & domestic flight tickets – Airport transfers - Interior access to bivouacs (to be purchased on-site - The ASO (Amaury Sport Organization)) – Alcoholic and soft drinks - Travel insurances - Health insurances - Accident insurances – Additional tours along the trip – Food (we'll be following the rally and this can be shared according our interests and possibilities) – Hotel in Valparaiso (January 18th, 2014) - Tip for the camp stuff.

3 NIGHTS OF LODGING

The names and descriptions of lodging are subject to confirm after the first payment for this tour - The hotels to stay in each city or town are rated with 3 stars, private bath and hot shower - PERU ADVENTURE TOURS reserve the right to modify/change of location of each hotel according the Dakar stage and logistics.
4x4 RENTAL FOR DAKAR RALLY RAID 2014
PERU ADVENTURE TOURS offers 4WD to rent and follow the Dakar Rally Raid from Calama to Valparaiso (Chile) – The 4WD are well equipped for off-roading and drive on extreme terrain.
The rental cost includes experienced off-roading drivers to make very pleasant your Dakar experience – To follow the Dakar Rally Raid we recommend to hire a real 4WD as Toyota LAND CRUISER or Nissan PATROL.
If you are interesting to rent one of our 4WD you must need request by e-mail to peruadventurestours@hotmail.com

DAKAR PICTURES - DAKAR RALLY RAID PHOTOS - IMAGENS OF DAKAR RALLY TOUR
Dakar Tour 2012:
Off-roading trip includes Tacna, Arequipa, Ica and Lima - Available picture
CLICK HERE...
Dakar Tour 2013:
includes Peru, Argentina and Chile - To find available picture of entire trip
CLICK HERE...
PERU ADVENTURE TOURS reserves himself the right to change the itinerary. As the Organization of the DAKAR RALLY 2014 comes out with some late changes, the itinerary is due to changes at any time.
LINK STAGE:
a route that mostly follows the road network which the competitors must take to reach the start of the special stage, or the bivouac once the special has been completed.
SS:
selective section, also known as a "special". This is the portion of the stage during which the vehicles enrolled in the race are timed.
PERU ADVENTURE TOURS reserves the right to change the itinerary. As the Organization of the Dakar Rally comes out with some last moment changes of the itinerary/stage.
We really recommend making your reservation in advance and we will guarantee your spot for the DAKAR RALLY TOUR 2014.
LIMIT:
Each 4x4 will be occupied by clients and a driver at most (5) - each customer will be able to carry 20 kilos excess baggage.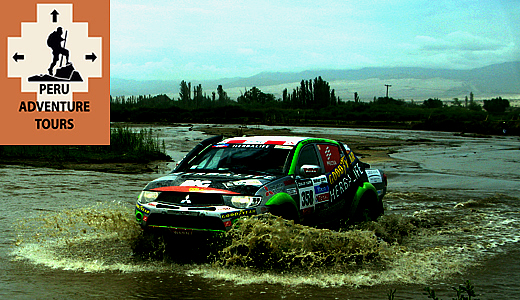 HOW TO BOOK THIS TRIP WITH PERU ADVENTURE TOURS?
We can help you to book your tour in 5 easy steps.
1. Send an enquiry
Use one of our e-mails mentioned at the bottom of each page of our website. You must need to be clear with your questions about this tour and will be easier for us to help you.
You need to tell us how many people are in your group? and other specifications will be better and our experienced and professional travel advisor will customize a tour to fit your exact needs. All reservation will be accept via e-mail (
peruadventurestours@hotmail.com
)
Also you can contact our office at 0051 (0)54 221658 or 0051 (0)54 973842688 to ask anything about the DAKAR RALLY TOUR 2014.
2. Tour Quote
The DAKAR RALLY TOUR 2014 cost $1855 USD per person - The price already includes all mentioned above - If there is a group of 2 or 3 people want to book a 4x4 as private service to follow the DAKAR RALLY TOUR 2014 from Calama to Valparaiso (Chile) the total cost to pay will be $6.220 USD ($1.555 USD x 4 Participants).
If there is a group of 1, 2 or 3 people will share the 4x4 with other participants – In case the group size is over 5 people PERU ADVENTURE TOURS will divide in two to share other 4x4 with other participants during the whole DAKAR RALLY TOUR 2014.
3. Amend your tour for FREE
Our trip advisor will proposed you the acting tour plan within 24 hours or less, which you can further discuss the entire tour plan to suite your satisfactory. So feel free to express your wants, and take good advantages of your personal travel advisor's experience and advice.
You can further discuss all the details of the tour plan until you are totally satisfied with it.
4. Confirm & pay deposit of $500 USD at booking time
A payment of $500 USD deposit of the total amount must be paid to us at booking time. If we receive your booking for less than 10 days prior to the tour start date, might we will ask for payment to be made in full once you confirm the tour, ask for this before you book the tour.
To find full information of our payment methods click on
PAYMENT GUIDE
. The price of DAKAR RALLY TOUR 2014 don't includes any bank or wire fee - You must need to check any additional fee with your bank or online payment method.
5. Final Payment & Enjoy your tour
The balance need be paid in full one week before to begin the DAKAR RALLY TOUR 2014 (December 20th, 2013) - You can use the same payment method to pay the final balance of the trip.
After you arrange the final balance you must need to send us receipt of your deposit, this can be sent via e-mail - After we confimr the reception of your final balance you must need to print the booking form and save this untill the meeting day.
IMPORTANT:
On January 13th we will have the meeting in Calama/Chile to welcome the DAKAR RALLY TOUR 2014 - For the recognition of all participants - For introduction of our camp stuff as the guide, drivers and 4x4 as well - To exchange ideas of the tour - To answer your last minute questions about 6 days of pure adventure on four wheel drive.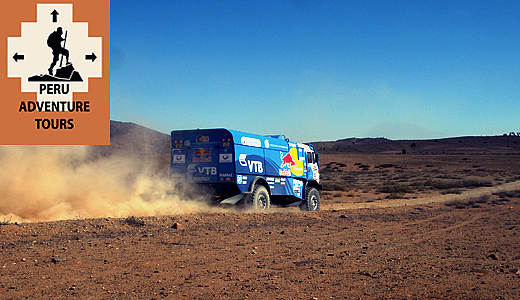 MEETING DAY - MEETING POINT
The place of the meeting will be in Calama (Chile) on January 13th, 2014 at 7PM - The place is coordinating with a private setting only for participants and availability of parking for our 4x4 - The name and address of the meeting point will be published in this website before on January 5th, 2014.
We recommend booking your hotel In Calama for better logistics of your activities before the start DAKAR RALLY TOUR 2014.
IMPORTANTE: Before you book this tour and arrange the first payment of this tour read our
TERMS & CONDITIONS.
CAMPING GEAR TO BE USED ON THE RALLY DAKAR TOUR 2014
PERU ADVENTURE TOURS will provide camping equipment for each participant of RALLY DAKAR TOUR 2014.
TENT (Four season)
You will get a tent for 2 and 3 people capacity with enough room for backpacks. The tent good enough for heavy rain and well ventilated for hot weather - each tent includes moquito net.
FEATHER SLEEPING BAG (-10°C)
Clean and big sleeping bag will be provided for each camping night.
INFLATE MATS
This thermal roll inflate mat is very comfortable to be used in compaq terrain or on soft sand.
For more information of each camping gear click
HERE...
WHAT TO BRING/CARRY
Backpack of 60lt or more capacity
Headlamp
Towel
Clothes for summer and winter weather
Sunscreen
Sun hat
Sunglass
Sport shoes or boat and sandals for feet resting
Insect repellent
Swiss army knife
Camera and spare batteries
Personal medicines
Pillow for long journey
Rain jacket and rain pants
Swimwear
Binoculars
Good book to read on relaxing places
And other thing you will need during this trip.
LEVEL OF EXPERIENCE
The trip is only suitable for travelers with some 4x4 off-road experiences – This expedition includes many hours of travel each day, long riding days will be normal in this tour - The Dakar event takes place in very remote landscape with difficult access routes and this can cause some delay or inconvenience to any of our 4x4 so we suggest a lot of patience and remain calm until our camp staff solve the problem. PERU ADVENTURE TOURS recommend being in good physical - People having lung, heart or blood circulation problems should consult their doctor for the altitude.
CONTACT US
For more information about the tour or you request a new date to departure for this tour, please contact us....
Some of our clients e-mail us saying our confirmation e-mails are placed to their spam folder rather than their inbox. We recommend to modify your JUNK or SPAM FILTER SETTINGS to receive our e-mails
peruadventurestours@hotmail.com
on the correct inbox. You may also want to add this email address to your list of known contacts. This will prevent our responses from being filtered into your Junk or Spam mail folder.