FULL DAY TRIP FROM AREQUIPA COLCA CANYON AND TRANSFER TO PUNO $110 USD Per Person - Group Service
Every Day Departs To Visit The Canyon And Ending In Puno
One day tour to Colca canyon or Colca valley includes amazing highlights of the one deepest canyon in world – The depart of one 1 day trip to Colca canyon and transfer to Puno can be fixe any day during all year - You'll be covering quite a change in altitude on day one of your Colca Canyon trip: starting at 2300m in Arequipa, you'll climb to a mountain pass at 4800m before descending into the Colca Valley at 3500m. Because you've spent a couple of days in Arequipa you won't have much trouble adjusting to the altitude - The canyon itself is as stunning as those amazing condors makes unforgettable experience during your visit this region of Peru.
The full day trip from Arequipa Colca canyon and then transfer to Puno are supported by experienced driver and professional tour guide how knows the route very well making perfect trip from Arequipa (white city) to the Puno as known as the highest navigable lake in the world.
Thanks for chose Peru Adventure Tours to enjoy this trip.
Full Day Trip To Colca Canyon And Transfer To Puno -- Colca Day Trip - Arequipa Colca Puno One Day Tour - Tour To Colca And Ending In Puno - One Tour From Arequipa To Puno Through Colca Canyon - ColcaTour - Day Tours To Cañon Del Colca - Day Excursion To Colca - ArequipaColcaPuno - Tours To Colca Valley - Day Trip To Mirador Cruz Del Condor - Private Transport From Arequipa To Cañon Del Colca - Tour Guides For Colca Cañon - Car Trip To Colca Valley - ColcaTour - PeruTours
For serious weather report about Colca canyon & Mismi Mountain
...CLICK HERE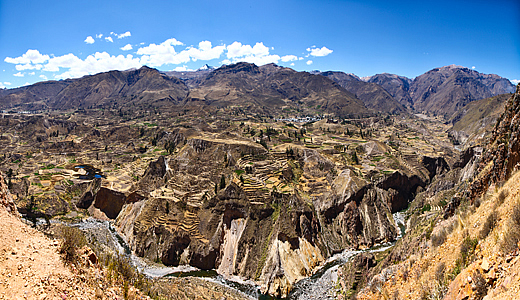 AREQUIPA - PAMPAS CAÑAHUAS - PATAPAMPA (4850M) - CHIVAY - CONDOR CROSS VIEWPOINT - ROCK FOREST - LAGUNILLAS - PUNO
Today between 3AM and 3:30AM you will be picking up from your hotel by the tour guide and transport. This tour begins with directly travel to the first and most important town as known as Chivay (3600M) - This journey takes around 4 hours on paved road through Altiplano and higland landscapes.
At 7AM you will be in Chivay (3600m), this is inter Andean town located on the left bank of the canyon surrounded by agriculture fields and viewing nice scenery of the upper zone of the canyon.
Continue traveling with some stops for pictures according the tour guide recommendations, you will see thousands of agriculture terraced dating from Inca and pre Inca times, build over cliff. Along the way you will get off the transport for more contact with local people and feeling the pure nature of the Colca Canyon.
At 8AM arrive to the most important point of the Colca Canyon, this is the condor cross lookout. Plenty time for wait and see the mighty Andean Condor (Vulture Gryphus). Those birds normally fly around the Cruz Del Condor and you can get the best pictures of impressive walls and of remote little towns located inside the canyon.
After we decide to return driving we take the same dirt road to Chivay, along the way we stop at different viewpoints to see the carved rock, it was model where the ancient architectures testing which part of the terrain was appropriate to build the terraces in the other site of the canyon. Continue going will stop next of huge cliff where is possible to see hanging tombs on the volcanic hillsides.
You will arrive to Maca where is possible to observe nice colonial church from XVI century, next of this town is possible to see people from these regions dedicated life solely to work the terraces, therefore you will see many fields full of crops as corn, amaranth, kiwicha, potatoes, corn and more native product of Peru.
Driving along the canyon you will see the great Colca River and small communities located on both bank of the canyon.
At 11:30AM we arrive to Chivay and OPTIONAL visit to the hot spring of La Calera, located on the head of Chivay town, you can enjoy the thermos medicinal and outdoor pools with are 45º Celsius, we will stay 1 hour in this place (Private Service).
After relaxing swim return to Chivay to have delicious lunch included in the tour package. After lunch you have free time to explore little big the town and the handicraft market.
At 2PM we aboard the private transport and drive uphill following the paved road to the highest point between as known as Patapampa (4850m) as known as the Andean lookout where you can see the volcanic range of the south of Peru, snow-capped as Ampato where the ice maiden "Juanita" was founded in 1995 near of the summit. We drive downhill to Toqra Pampa and stop near of small lagoons to watch Andean birds as Caracara, Andean goose, Pink flamingos, ducks, ibis and etc.
We continue driving through the Altiplano and getting off from the transport and you will appreciate very closer the Andean camels as known Llamas and Alpacas grassing the Andean grass named Ichu. The last stop on this tour will in the National Reserve of Aguada Blanca and Salinas, where you will be lucky to see the Vicuñas (Vicugna) running on this high plateaus on the back side of ChachanI snow-capped and Misti Volcano. The Vicuñas are protected and wild animals living above 3800m and next to them will be easy appreciate big groups of Llamas and Alpacas grazing next of the road.
From the national reserve of Aguada Blanca and Salinas we take other paved road to Puno - The costumers booking PRIVATE SERVICE will be guided to some places as the rock forest of
Puruña
where easily we can appreciate human and animals figures thanks to the erosion of the wind and heavy rain on this region - The next point to stop will be at
Lagunillas lake
, this is very nice point to watch impressive landscape surrounding the lake where the locals practice trout farming to provide to gourmet restaurant in Arequipa and Puno - The PRIVATE SERVICE also includes other stops to enjoy more scenery along the way making this transfer more flexible and arrive to costumer hotel around 7PM end of service at your hotel in Puno.
FULL DAY TRIP TO COLCA AND ENDING IN PUNO INCLUDES
Official English-Speaking tour guide
Pick up from hotel in Arequipa
Private tourist transport from Arequipa - Colca canyon - Puno (PRIVATE SERVICE only)
Shared minibus up to 19 people (BACKPACKER SERVICE only)
Tourist ticket of 70 soles or $25 US Dollars per person (Obligatory). This is the unique entrance to the Colca national park even if you don't stop at "Mirador Cruz Del Condor" (take care not many tour operators don't includes this tourist ticket), the entrance is valid to visit all the canyon but not valid for hot springs along the canyon
1 breakfast
Drop off in Puno around 7:30PM
Medicinal oxygen and first aid kit for all participants and our cam staff
All prices stated above are subject to change
COST TRIP FROM AREQUIPA COLCA AND TRANSFER TO PUNO
DATE
TOUR
COST
Daily departures


FULL DAY TRIP FROM AREQUIPA COLCA CANYON PUNO $110 USD Per Person

Fixed Derpats Every Day To Visit The Canyon And Ending In Puno

Backpacker Service
1 to more paticipants $110 USD each

Private Service (Private van/Guide)
2 participants $265 USD each
3-4 paticipants $215 USD each
5 to more participants $175 USD each
Discount: $5 USD for South American Explorers Club Members
Discount 3%: Tour Operators or Travel Agencies Only
Students: $5 USD of discount only with valid green ISIC card
Organized Groups: We offer private and any time departure
Group size: Up to 19 people per tour guide
BOOK HERE: We highly recommended to book space prior you arrive to Peru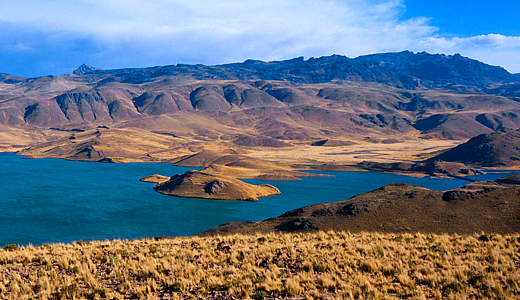 NOT INCLUDED
Travel insurance
Alcoholic drinks
Hotel in Arequipa and Puno
Lunch in Chivay
Tips for guide and camp staff
No mentioned tours
Entrance to the hot spring in Chivay $6 USD per person
WHAT YOU NEED TO BRING/CARRY
Small backpack 40lt
Rain jacket or poncho (December to April)
Strong comfortable and waterproof footwear
One complete change of clothing
Sweater and jacket (something warm)
Bottle of water
Optional flashlight and batteries
Hat or cap to protect you from the sun
Sun block (sun protection cream)
Insect repellent
Selection of small snacks, chocolate, dried fruit, biscuits, etc
Camera, plenty of film and spare batteries
Sunglasses
Swimsuit for the hot spring
Optional walking sticks or poles
THE THERMAL POOLS OF LA CALERA
The hot spring complex is open since 5MA to 7PM - People booking the PRIVATE SERVICE have enough time to visit and enjoy the pools around 11:30am until lunch time (1pm) this thanks to their private transport and tour guide - Thanks to the PRIVATE SERVICE you can arrive earlier or latter to your hotel in Puno.
Costumers booking BACKPACKER SERVICE are subject to the decision of entire group and ONLY if time permit they can visit and enjoy the hot spring for less than one hour.
In both cases EVERYONE need to paid $6 USD or 15 soles as entrance to the thermal pools - The admission cost don't includes towels but you can use the showers, toilet and arrange 30 minutes of massage session for $15 USD or 45 soles.
IMPORTANT FOR PRIVATE & BACKPACKER SERVICE
Full day trip from Arequipa Colca canyon and then to Puno is consider one of the best alternative for people wanting to visit the canyon and end the trip in Puno around 7PM. Peru Adventure Tours recommend to costumers booking PRIVATE SERVICE to do this tour - Costumers booking BACKPACKER SERVICE
ONLY
are subject to any changes transportation between Colca canyon and Puno - The BACKPACKER SERVICE don't includes any stops on the way between Colca canyon and Puno, this will be direct transfer with one stop to use toilet on the half way and arriving in Puno around 7:30PM (Drop off at Plaza de Armas).
CONTACT US
For more information about the tour or you request a new date to departure for this tour, please contact us....
Some of our clients e-mail us saying our confirmation e-mails are placed to their spam folder rather than their inbox. We recommend to modify your JUNK or SPAM FILTER SETTINGS to receive our e-mail
peruadventurestours@hotmail.com
on the correct inbox. You may also want to add this email address to your list of known contacts. This will prevent our responses from being filtered into your Junk or Spam mail folder.